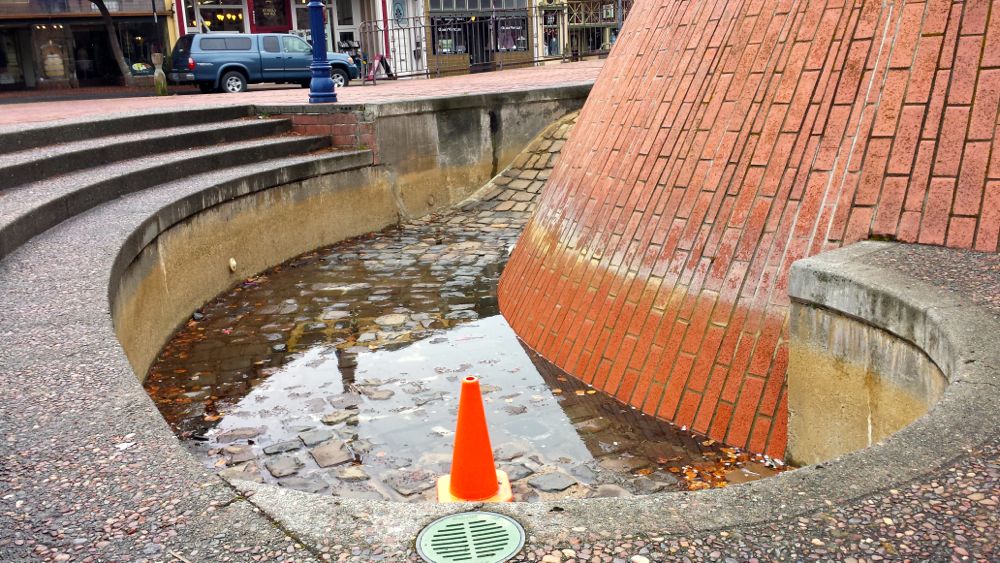 The Gazebo fountain in Old Town Eureka is turned off.
It's sort of embarrassing, this situation: Here we are in a state suffering historic drought, and Humboldt County has more water than it knows what to do with.
Last week, Governor Jerry Brown stood in a brown Sierra Nevada meadow — one that's typically buried under five feet of snow this time of year — and announced the state's first mandatory water restrictions. Cities and towns across California will have to reduce their water use by 25 percent after the State Water Resources Control Board (SWRCB) implements Brown's order, probably sometime in May.
Those regulations, implemented by local authorities, will most likely include the cities and towns here in Humboldt County, even though the county's primary supplier, the Humboldt Bay Municipal Water District, has too much water on its hands.
"We do have a surplus of water because of the pulp mills not being in existence," said John Friedenbach, the district's business manager. Twenty years ago there were two thirsty pulp mills on the Samoa peninsula, consuming roughly 50 million gallons of water every day as they converted wood chips to pulp. But no more.
Regardless, the district will maintain rights to that water until at least 2029. If, at that point, the region can't demonstrate a continuing beneficial use for those tens of millions of daily gallons then the state could take those rights back. That's a long-term problem (slash opportunity), and the district's board has been exploring various options.
In the meantime, though, Humboldt County may well have to cut back on usage along with everyone else — taking shorter showers, refraining from watering our lawns, turning off decorative fountains and more.
Friedenbach said district staff is working on a letter to the SWRCB asking for an exception to the regulations. The district hopes to explain our region's unique situation: "Even if we conserve here locally, it doesn't benefit other water districts because we're not set up to transport water."
Other districts in the state are connected through the California State Water Project, which collects water from Northern California rivers and redistributes it south — mostly to urban users in the Bay Area and SoCal, with about 30 percent going to Central Valley irrigation. Water districts connected through that system can transfer water through the system. But not here.
Last month, before Brown's announcement of more extreme measures, the state Department of Water Resources continued the emergency drought regulations that went into effect last year. Friedenbach said local staff requested alternatives or flexibility in applying those regulations locally, given our excess water. Their response? "The did not act on our request," he said. So there's not much reason to expect a different answer this time around.
Since Governor Brown's announcement, his prescription has been criticized for focusing on residential and commercial conservation while largely giving agriculture a pass. Agricultural uses consume close to 80 percent of the state's developed water supply.
Congressman Jared Huffman commended Gov. Brown on Facebook last week for his "strong leadership" on the issue. "But," Huffman continued, "why continue to ignore the Water Buffalo in the room? Huge mega-farms in the Central Valley continue to get a pass on actual conservation requirements."
While acknowledging that some agricultural restrictions have been made and many farms have reduced their water use, Huffman noted that others are receiving full deliveries, "and many have simply cranked up their groundwater pumps, causing a regional groundwater depletion and aquifer subsidence crisis that will have long lasting effects."
Huffman called out one industry in particular, saying, "A new form of legalized gambling is rampant in our Central Valley: according to CA Dept. of Agriculture, in the midst of this extreme drought, 70,000 acres with 8.3 million NEW almond trees were planted! That's the opposite of conservation."
Almond trees are extremely water-intensive, their fields cannot be left fallow, and most of the state's almonds are exported to Asia. Meat, alfalfa, pistachios and walnuts have also been called out for their excessive water demands.
The whole situation is enough to make an economist squirm: pent-up demand across the state and excess supply here in the northwest corner. Isn't there some way to take advantage of the situation?
Quite possibly, yes, said Friedenbach. For years now people have suggested selling water to other districts, exporting it in giant water bags via barge, and Friedenbach said that remains a possibility. District staff also commissioned a study on pipeline distribution, either south through Mendocino and into Sonoma County or east, tapping into the California Water Project. The projected cost of that project would make our water competitive, price-wise, with other potential extraordinary measures such as desalination.
"Those are long-term possibilities," Friedenbach said.
More immediate (and cheap) opportunities for the district may lie in expanding the local customer base, selling to communities such as Fortuna, Rio Dell and Trinidad, which are not served by the current system. Trinidad, in particular, has expressed concern about its water supply.
Another potential use for the excess water is enhancing instream flows — that is, dedicating a portion of the water released from the Ruth Lake reservoir to benefit habitat in the Mad River.
"We're working with Fish and Wildlife and the National Marine Fisheries [Service] to see what type of benefit there could be to different species," Friedenbach said.
For now, though, is there any reason beyond government mandates for locals to cut back on their water use? Friedenbach feels it's a matter of principle.
"In general, water is a valuable resource we shouldn't waste," he said. "Conservation is always beneficial."
Starting next month, it will also be mandatory.
For more info on drought regulations and conservation tips, check out SaveOurWater.com.
Note: The headline on this story was changed to reflect the fact that the water surplus is limited to the Humboldt Bay Municipal Water District, which does not serve the entire county.