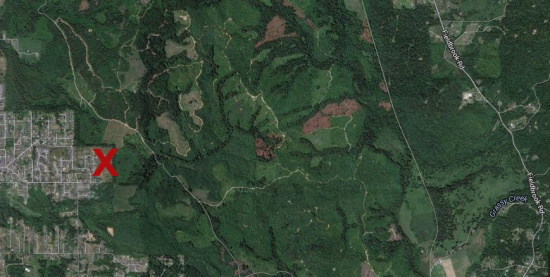 On Easter afternoon, just after 1:30 p.m., McKinleyville resident Bruce Smith was working in his home on Dragonfly Drive when he heard gunshots in the greenbelt behind this house. He didn't think much of it at first; people are always shooting on that stretch of Green Diamond land between McKinleyville and Fieldbrook.
But then Smith heard something loudly click against the side of the house. And then he heard a window upstairs shatter. And then he realized that someone was firing at his house. He yelled out "Stop shooting!" and then he called the cops.
The sheriff's office responded quickly, Smith told the Outpost this morning. Deputies surveyed the situation and walked up to a spot on Green Diamond land where they figured the shots had been fired. There they found shell casings – .22 longs – as well as boot prints and ATV tracks.
Bruce Smith said that he can't be sure exactly why his home was fired upon, but he doesn't think it was accidental. The four or bullets that hit his house all struck within about a 10-foot radius of one another. The spot where the deputies located the shell casings is some 300 or 400 yards away. To Smith, those two factors, together, say that it was not a hunter with poor aim. Far more likely that someone was deliberately aiming for the window.
"Seems odd to me that from that distance you'd get four hits on a house in roughly the same area," Smith said.
Lt. Wayne Hanson of the Humboldt County Sheriff's Office told the Outpost this afternoon that he has not yet received a report from the deputies who responded to the scene, but he confirmed Smith's account and said that the office is actively investigating the case.
"Obviously we do take it seriously, whether it was intentional or not," Hanson said.
Gary Rynearson, a spokesperson for Green Diamond, said this afternoon that the company is working with the sheriff's office on the case. Though people often hike along the logging roads on Green Diamond's 3,645-acre McKinleyville Tract – and also bring their ATVs and guns along, as Smith can confirm – Rynearson underlined that the company has a no-trespassing policy on that land, unless someone asks and received permission from the company in advance. Rynearson asked neighbors who witness trespassing on the McKinleyville Tract to report all such incidents to the company.
In the meanwhile, he said, Green Diamond is doing all it can to help law enforcement's investigation of yesterday's shooting.
"We understand that the neighbor is understandably upset, and we're working with the sheriff's office to figure out what happened," he said.