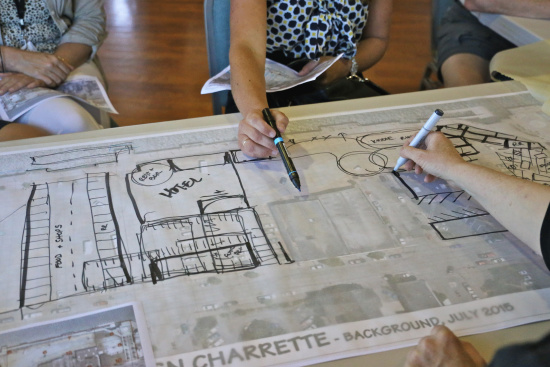 If you're of a certain gaming age, you likely spent many hours building pixelated metropolises in the computer game SimCity. It's fun to play God. You want to build a kids' playground next to the nuclear power plant? You could do that in SimCity in just a couple clicks, no city planning experience or higher education required. All was possible.
That's kind of how it felt at the Wharfinger Building this week. After much pre-planning, the City of Eureka set out to gather community input with the hope of finding something resembling consensus on what directions to take with future waterfront development. All were invited to the multi-day design charrette. After some initial site tours, those that attended broke into groups, huddled around tables and had their whimsical conceptual designs visually validated by designers from the Waterfront Collaborative who sketched the ideas onto large maps depicting the bayfront section of Eureka between C and F streets.
There are no bad ideas in brainstorming. Thus, any and all suggestions were considered and maybe sketched out onto the map to see how they would fit. How about an ice skating rink? Let's put that over there. I want another saloon. Well, let's have it extend over the bay! Doesn't Eureka need a waterpark? Yes!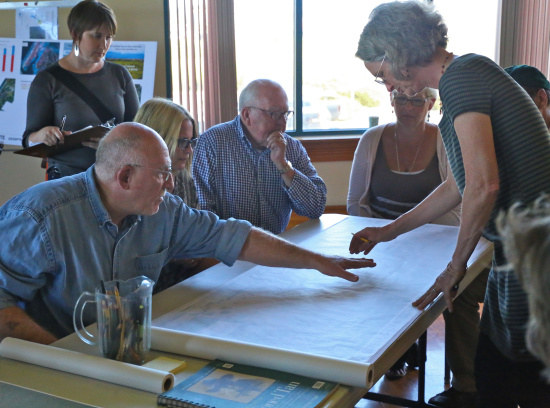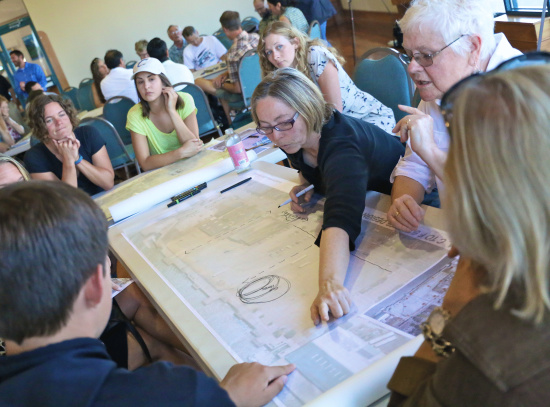 "We have an untapped resource here," one of the amateur designers, retired Eureka resident Midge Catching, announced at one of the three tables collaborating Wednesday. "We have tracks that run all the way down to Target. We could be running speeders there." They were drawn on the map by GHD landscape architect Jessica Hall who encouraged the armchair city planners to consider all options.
"What about this building?" Hall asked the table pointing to the old North Coast Co-op building. "Does it stay or does it go?"
"Can it go?" asked Catching.
"Sure!" Hall replied. The table was cool with the building's demolition. With a stroke of the pen, it was gone.
While participants certainly had fun designing the waterfront of their dreams, the point of the charette process is to isolate which ideas people are most interested in seeing become reality. According to Eureka City Manager Greg Sparks, he's hoping to find common themes favored by community members which can then be presented to potential developers.
"Then you can take these ideas to developers and show them concepts that have already been vetted with the community," Sparks said. "If they try to do something totally different they may have a harder time."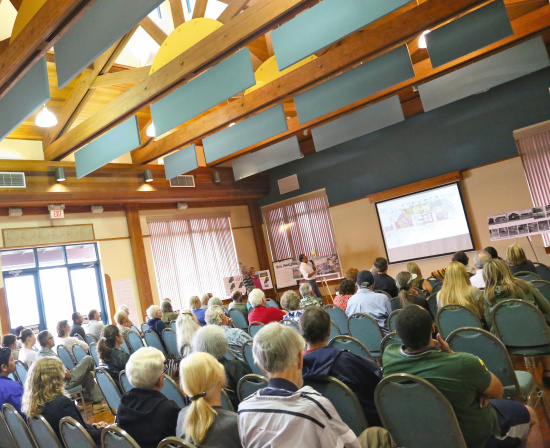 With the community's dreams collected, city staff will spend the next month or so synthesizing them down into something that can be presented to the Eureka City Council for further discussion on how to move forward.
If you'd like to get an up close look at what a week of visual brainstorming looks like, you're in luck. All of this week's sketches will be on display during Arts Alive (6-9 p.m.) at Redwood Curtain Theatre. Go get your critique on. Here's a few to get you started.