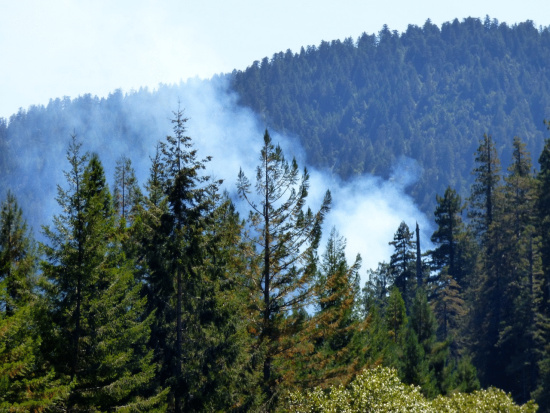 UPDATE, 4:24 p.m.: Reader Dave Sczepanski, who sends in the photos above and below, says:
We drove down to picnic in the Redwoods at Bull Creek this afternoon only to be soon interrupted by a CalFire spotter plane and air tanker right overhead. Then the trucks and firefighters took over the parking area. Not long after a helicopter came for water. Time to leave!
###
UPDATE, 3:38 p.m.
Needed to enhance the dispatch on the Bull fire due to lack of crews. 2 acres.

— CAL FIRE HUU (@CALFIRE_HUU) August 14, 2015
###
UPDATE, 3:07 p.m.:
Bull Creek fire holding at 1 acre. Aircraft returning, engines taking action to contain.

— CAL FIRE HUU (@CALFIRE_HUU) August 14, 2015
###
A small wildfire has broken out west of Weott in Humboldt Redwoods State Park this afternoon. According to the local Calfire office's twitter account, the fire is about a quarter of an acre in size, and is just off Bull Creek Road.
Outpost reader Jackie Helton, who lives in the area, tells us that a spotter plane, an air tanker and a helicopter have been sent to attack the blaze, and scanner traffic indicates that numerous ground forces have been deployed as well.
We'll update when we know more.
At scene of 1/4 acre vegetation fire off lower Bull Creek Road, Humboldt Redwoods SP. Full wildland response arriving.

— CAL FIRE HUU (@CALFIRE_HUU) August 14, 2015
General vicinity of the fire.