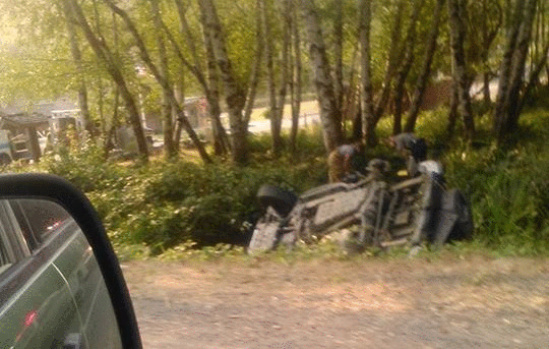 Reader-submitted photo.
Two people suffered major injuries on just north of Orick yesterday evening, after a northbound big rig slammed into the side of a car that is believed to have paused on the highway after pulling out of a driveway.
The driver of the Kenworth — William Hall, 57, of Coos Bay — was not injured. The two occupants of the car — driver John Drexler, 20, of Cupertino, and passenger Christiana Bridges, 19, of Morgan Hill — were taken to Mad River Hospital with major injuries. Bridges was later airlifted to Mercy Hospital in Redding, and is in critical condition.
Officer Matt Harvey of the California Highway Patrol told the Outpost this morning that investigators believe that Drexler had been pulling out of a driveway just north of Davidson Road, when for unknown reasons he came to a stop in the northbound lane. At that moment, the Kenworth came around a corner and slammed directly into the car, flipping it and sending it over the side.
Harvey said that there were many witnesses to the crash, and that investigators will be interviewing them over the coming days.
###
UPDATE, 10:32 a.m.: Press release from the California Highway Patrol:
On the evening of Monday, August 17, two occupants sustained major injuries after a 3-axle semi-truck traveling northbound on US-101, north of Orick, collided into a Toyota FJ Cruiser.

At approximately 5:20 p.m., 57 year old William Oda Hall of Coos Bay, Oregon, was driving a 2013 Kenworth 3-axle semi-truck northbound on US-101, north of Davison Road, within the posted speed limit. 20 year old John Henry Drexler, V of Cupertino, California, was driving a 2012 Toyota FJ Cruiser while stopped in a private driveway adjacent US-101. Drexler drove the Toyota from the driveway into the northbound lane of US-101, directly into the path of the Kenworth, and stopped.

The front of the Kenworth collided into the driver's side of the Toyota, causing the Toyota to skid off the west edge of US-101 and down a steep embankment, where it came to rest on its passenger side. Drexler and his right front passenger, 19 year old Christiana Bridges of Morgan Hill, California, were transported by ground ambulance to Mad River Community Hospital with major injuries. Bridges was then transported by air ambulance to Mercy Medical Center in Redding in critical condition. Hall was uninjured.

All occupants were wearing their seatbelts at the time of the collision and DUI is not believed to be a factor. The CHP Humboldt Area office is investigating this traffic collision.