UPDATE, 9:40 a.m.: Brittany Powell of the Eureka Police Department gives the Outpost a rundown of what is known about this incident so far.
At about 6:45 a.m., the EPD was called out to the "North 40" parking lot of the Bayshore Mall — the overflow parking just north of the mall proper. There, they found the victim, who was driving the car pictured in the EPD tweets below.
He told them that he had been parked in the lot when he witnessed a group of males fighting with a woman. The victim attempted to intervene, at which point the males began to attack him with a lead pipe. One brandished a firearm. The victim made it to his car and attempted to drive away, but the attacking males leaned in through a window and held on to the steering wheel, forcing his car into a tree. At some point, the victim said, a shot was fired.
The victim is being treated for his injuries at St. Joseph Hospital, Powell said. Police are still investigating.
More soon.
###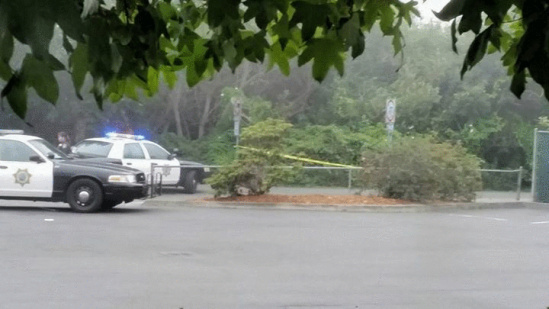 There is a large police presence on Eureka's Bayshore Way, just north of the Bayshore Mall, this morning.
We'll have more on this later, but for now the Eureka Police Department's Twitter account has a few details, and a some photos:
EPD investigating a reported assault that occurred this morning near Bayshore Way by the mall. pic.twitter.com/Xi4BxRArL2

— Eureka Police (@Eureka_Police) August 18, 2015
Male victim claims suspects pointed a pistol at him, attacked him with a pipe, and caused him to crash while attempting to drive away

— Eureka Police (@Eureka_Police) August 18, 2015
Details are sketchy and EPD (Det. Gordon) would like to talk to anyone who witnessed the incident. pic.twitter.com/dZP8hExFFm

— Eureka Police (@Eureka_Police) August 18, 2015