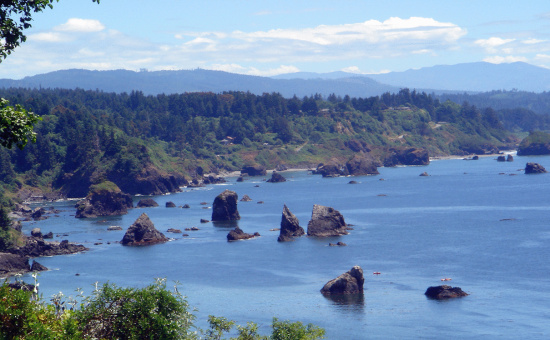 Former Trinidad planning commissioner Sam Pennisi and his wife Sharon Ferrett have agreed to pay an undisclosed amount of money to the Tsurai Ancestral Society five years after allegedly hiring workers to cut down trees on sacred tribal ground to improve the view from their home, attorney Zachery Zwerdling told the Outpost today.
In a separate but related case, the City of Trinidad has agreed to spend $20,000 improving the tribal heritage site — longtime home and burial ground for a subset of the Yurok tribe — before transferring ownership back to tribal entities.
The case has dragged on since 2010, when Pennisi was investigated for hiring a landscaping company to clear trees and brush from the bluff beneath his home, which overlooks Indian Beach just south of Trinidad Head. The work area fell within the boundaries of the historic Tsurai Village, which holds cultural, historical, and spiritual significance to the Tsurais, a subset of the Yurok people.
In a lawsuit filed that year, Zwerdling alleged that his clients, the Tsurai Ancestral Society, suffered "ongoing shame, humiliation, embarrassment and anger" at the disruption of the site, Zwerdling said today. "They're going to be compensated," he added. "There's some justice here. We're relatively pleased with the outcome, though we're not pleased with the time it took."
In his defense, Pennisi alleged that he had implied permission from the City of Trinidad. A separate suit was filed against the city in 2013 alleging that it had failed to protect the Tsurai Study Area, which the Coastal Conservancy deeded to the municipality in 1978. The City has scheduled a special meeting for this Wednesday when the City Council will hear a report on the agreement.
Zwerdling said that, in accepting responsibility, the City of Trinidad has agreed to spend $20,000 toward trail management, improved signage, vegetation management and efforts to keep people off of sacred burial sites. "None of this would have happened if there had been good signage," Zwerdling said.
Per the agreement, the City will be given a year to make the improvements to the property and transfer ownership of the site, hopefully to the nonprofit Tsurai Ancestral Society and the Yurok Tribe jointly. "If both happen within a year the claims will be dismissed," Zwerdling said.
As for the dollar amount of the Pennisi/Ferrett settlement, Zwerdling would only say, "It's substantial."
"I think the results we've obtained are fair, and we're happy for the recognition of wrongdoing," he said. "But we're sorry it took so long. It should have been done years ago."
Zwerdling added that he's hopeful the Tsurai Village site will be better protected in the future. "Slowly, word is sinking in with the community that this is an important cultural resource, and we should protect it and take care of it."