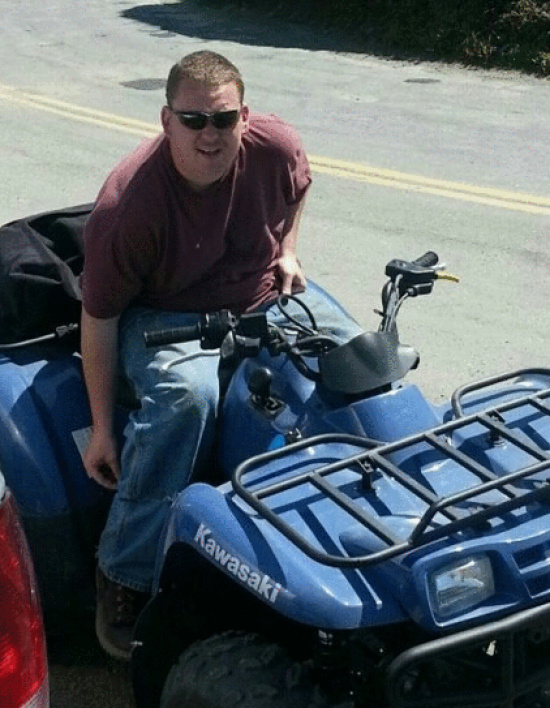 Dale Otto Elliott-Lewis, age 26, left this earth to go fishing with his grandfathers in heaven on August 22, 2015 in San Francisco, surrounded by his loved ones.
Dale was born on July 25, 1989, in Fortuna to Tammy L Lewis and Edward Elliott IV. He was raised in the Rio Dell and McKinleyville area. He graduated in 2007 from Tsura High School in McKinleyville.
Dale loved spending time with his friends and family. His proudest moment was being in the delivery room when his niece Kendra Rae was born. He also loved to spend time with "Rufus" Ray Bellach, his great cousin. He loved playing youth football in Fortuna as a child. He was always getting himself in to trouble and getting hurt. It seemed like we were at the ER with him every Sunday. He loved to spend time at Ruth Lake camping, fishing, hunting and swimming.
Dale had many nicknames. His Aunt Janifer called him "Dalezer" from the day he was born. His cousin Tiffany always called him "Delbert." His Great-Grandpa Burns called him "Dozer," because he was like a bulldozer
As a child Dale loved to catch snakes with his cousin Tyson Bellach and sneak them into their grandmother's house in Rio Dell, putting them in the dresser drawers. That came to a stop when one came out slithering across Grandma Karen's kitchen floor!
When he was about 10 years old it was raining really bad. His grandparents' back yard was flooding. He got into a plastic swimming pool as a boat and got a stick and rowed out to the back of their yard to rescue his English springer spaniel, Copenhagen. He did very well until the dog got into the pool–boat with him and he flipped the boat over and they both got soaked.
He was the best little weed-puller in town. When he would get in trouble at school he would spend days pulling weeds as a punishment.
Dale was a loving son, brother, grandson, uncle, nephew and cousin. He will be missed by all that new him and loved him.
He is survived by his parents, Tammy and Keven Lewis of McKinleyville, and Edward Elliott IV of the Concord area; his sister Alexandria "Allie" Elliott of Kansas and Caitlynn Goodwin Washen of Tracy; his grandparents Karen and Chuck Moore of Naselle, Wash., Helen Elliott of Rio Dell and Elaine Lewis of McKinleyville; his niece and pride and joy Kendra Rae Stauffer of McKinleyville; aunts and uncles Janifer and Ray Filyau of Willow Creek, Fred W Elliott Jr. of Rio Dell, Sherry and David Hill of McKinleyville, and Michelle and Jonathan Shaddix of McKinleyville; his cousins Tyson Bellach of Rio Dell, Heather Bellach Todd (Sean) of Texas, Tiffany Bellach Drake (Jeff) of Kentucky, Mary Bellach of Rio Dell, Maxwell Elliott of Rio Dell, Fred Elliott III of Fortuna, Bella Elliott and Caroline Elliott, both from Rio Dell, Amanda Dutro (Dave) of Arizona, Melissa Villalores (Rick) of Fortuna and Michaela Hill of McKinleyville.
He was preceded in death by his grandfathers Dale Bellach and Fred Elliott Sr. and Cecil Lewis, and Aunt Ingrid Morgan
Family and friends are invited to a celebration of life that will be held at Azalea Hall in McKinleyville (1620 Pickett Rd. McKinleyville) at 3 p.m. on Saturday August 29, 2015. Please come and share your stories or memories of Dale.
The family would like to thank the Hospital and staff at UCSF for the care and support that they gave to Dale and his family.
###
The obituary above was submitted by Dale Otto Elliott-Lewis' family. The Lost Coast Outpost runs obituaries of Humboldt County residents at no charge. See guidelines here. Email news@lostcoastoutpost.com.