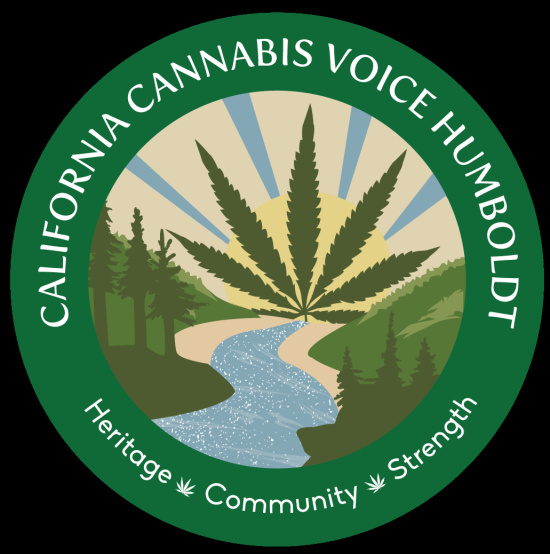 Political action group California Cannabis Voice Humboldt (CCVH) presented its public comments to the Humboldt County Board of Supervisors this morning, and Supervisor Rex Bohn had the meeting's best punchline. He thanked CCVH board member Terra Carver for her group's willingness to spend so much time and effort crafting a proposed land use ordinance to govern outdoor cultivation of medical marijuana, even in the face of much public criticism.
"A lot of people are willing to throw stones," Bohn said, "but it's not easy to stand up there and get stoned."
Big laugh.
CCVH had asked permission to make another public presentation at the meeting in order to update the board on its drafting process. The group recently wrapped up a 45-day period of accepting public feedback on the seventh draft of its ordinance and the accompanying excise tax initiative. During that time it received 44 comments via email and the group's website.
The group delivered those comments to the board and asked to bring the eighth draft of the ordinance to the board at its Sept. 15 meeting.
Carver said CCVH is in the process of receiving comments from public agencies, and she thanked the members of the public who offered critiques and other feedback, including representatives of the Environmental Protection Information Center (EPIC), the Nature Conservancy and CalTrout.
"We received no comments from the Northcoast Environmental Center or Humboldt Baykeeper," Carver said somewhat pointedly, though she noted that NEC Executive Director Dan Ehresman had his critiques published here on the Outpost. CCVH is publishing a series of responses on its website, with the first appearing yesterday. Carver said the group intends to publish seven responses altogether, addressing all of the NEC's stated concerns.
Third District Supervisor Mark Lovelace asked for some clarification about what's expected at the Sept. 15 meeting. CCVH has suggested in the past that it will bring forward its draft ordinance as a ballot measure, backed by voter signatures, which would require the board either to adopt the ordinance as written or put it before voters in an election.
"My understanding," Lovelace said, "is that for the county to adopt [the ordinance] without going through the full public process, it [the ordinance] would have to have the weight of signatures of voters behind it." Therefore, he continued, CCVH couldn't possibly ask the board to consider passing the ordinance at its Sept. 15 meeting, right?
Carver said CCVH is merely bringing forward its next draft at that point. After that, she said, "all options are still on the table."
Bohn noted that there are at least two separate marijuana-related bills before the state legislature currently, with two of them possibly getting melded into one, and Governor Jerry Brown's office has promised some action on those bills by this afternoon. (How Brown might facilitate this action in the state legislature was left unsaid.)
Both Bohn and Supervisor Estelle Fennell said their primary concern is maintaining local control over regulations, and Fennell said she's been assured by State Senator Mike McGuire that his bill, SB 643, has those controls built in. The proposed combined version of that bill and Assembly Bill 266 includes a mature canopy limit of 22,000 square feet — larger than anything proposed by CCVH.
"However, Humboldt County can make that smaller," Fennell said. "That's the local control issue McGuire is talking about. That is something we have to do: make sure Humboldt County has a say in what we see as the best way to move forward for the environment and the community."
Supervisor Ryan Sundberg noted that the county may want to take its own action on establishing an outdoor cultivation ordinance based on the work that's been done by CCVH. He expressed appreciation for the work that CCVH has done, adding, "I just don't think we're there yet." But it's important that the county do something, he said. "If we don't do something, the state's gonna do it for us," he said.
Like Fennell, Sundberg mentioned that the limits being discussed at the state level are far less restrictive than what's been proposed locally, and he noted approvingly that CCVH's proposed drafts have all included an option for the Board of Supervisors to tinker with the language as they see fit.
"That gives me comfort, knowing that's in there," Sundberg said. "Not a lot of people know that's in there."
Lovelace noted that the public comments hadn't been made available on CCVH's website and asked if they would be. Carver said she'd let the board know by 5 p.m.
After the morning session and upon request, CCVH provided a copy of those public comments to the Outpost. They can be downloaded through this link. The comments include both praise and criticism, though much of it comes from anonymous or pseudonymous sources.
A "T Miller" commended the group via its website, saying, "This is a necessary and well thought out first step towards creating legal guidelines for cannabis farming within Humboldt county." Someone under the name Anthony, on the other hand, wrote, "Your group is nothing but a wolf in sheep's skin; a large scam."
A few of the comments are quite in-depth, with enumerated suggestions for specific improvements, while others simply refer to the objections raised by the NEC.
The board unanimously agreed to review CCVH's eighth draft of the ordinance at its Sept. 15 meeting.