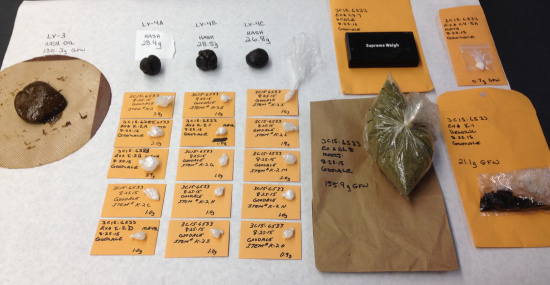 From the Eureka Police Department:
On 08/25/15 at about 10:26 a.m., Detectives with the Eureka Police Department's Problem Oriented Policing Unit (POP) served a search warrant at an apartment on the 100 block of I Street in response to numerous citizen complaints.

Inside the apartment, Detectives located 21 grams of Heroin, 24 grams of Methamphetamine, and 220 grams of Hash all packaged for sales. Scales, over $1,000 in cash, and a Butane Honey Oil extraction lab were also located inside the apartment. Two people were contacted inside the apartment and arrested.

Caleb Hanevik, 37 of Eureka, was arrested for manufacturing a controlled substance, possession of a controlled substance for sales, possession of Methamphetamine for sales, and possession of Marijuana for sales. Lynzi Mcintire-Morgan, 22 of Eureka, was arrested for possession of Methamphetamine and possession of drug paraphernalia.

Anyone with information concerning suspected drug activity, or other nuisances occurring in the City of Eureka is encouraged to call the Problem Oriented Policing Unit at (707) 441-4373.