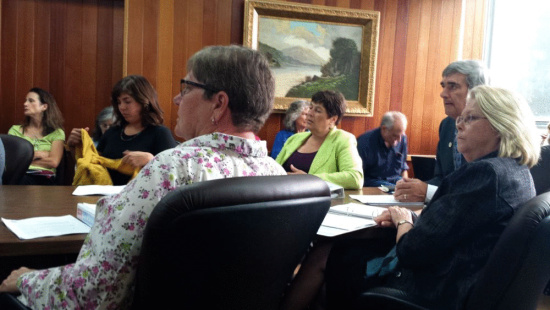 Yesterday afternoon, the Eureka City Council held a special meeting to discuss recent changes at the Multiple Assistance Center (aka "the MAC"), a homeless facility run through a collaboration between the nonprofit Redwood Community Action Agency (RCAA), the Humboldt County Department of Health and Human Services (DHHS) and the City of Eureka, which owns the building.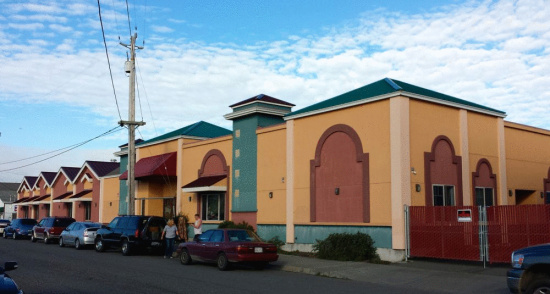 Locals have been concerned about changes at the MAC since early this year, when the county and RCAA announced plans to repurpose the facility. In recent years the MAC has primarily served as a transitional housing facility for homeless families, who lived there for as long as 18 months while receiving a variety of services and looking for permanent housing.
But now the city is pursuing a new strategy to combat homelessness. Informed by a policy paper from Focus Strategies, a Sacramento-based research firm dedicated to ending homelessness, Eureka has adopted an approach known as "Housing First." This strategy, which has been gaining traction around the country, holds that permanent, stable housing is the primary need among the homeless. Other approaches to solving homelessness try to move people through different levels of housing and treatment programs in hopes of making them "housing ready." The Housing First approach, in contrast, assumes that people will be better off if they start from the stable base offered by permanent housing.
DHHS and (despite some internal reluctance) RCAA decided that rather than serving families, the MAC should be used as a rapid-re-housing facility serving the neediest, highest-risk chronically homeless people in the community. Over the course of several months the two agencies worked to find housing for the 18 families who'd been living in the MAC, and on July 1 the facility reopened offering services to a new population.
Rather than meeting in their usual chambers, Mayor Frank Jager and the members of the Eureka City Council gathered at one end of a long conference table in a second-floor conference room at City Hall. City and county staff filled the rest of the seats around the table and, as the clock on the wall approached 4 p.m., concerned citizens filed in and placed themselves in the metal-framed chairs lining the perimeter of the room. Eureka Police Chief Andy Mills took a seat next to DHHS Director Phil Crandall. A man and woman found seats at the back of the room. She held a notepad while he gripped a folded-up Times-Standard.
"This will be good," the man said quietly to the woman. "Find out what's going on."
By the time the meeting began, more than two dozen people had arrived.
City Clerk Pam Powell took roll call and Jager called the meeting to order before handing the floor over to Barbara LaHaie, DHHS's assistant director of programs.
The primary purpose of the MAC, she explained, is housing, not services. The idea, she said, is this: "Get 'em in; get 'em out."
# # #
Late last week the Outpost sat down with three of the most important people in this new endeavor to hear details about how the first month has gone. LaHaie was joined by RCAA Community Services Director Lorey Keel and DHHS Senior Program Manager Sally Hewitt.
They described the array of daunting challenges that comes with serving this particular community, but they also said they're confident that the new approach stands a better chance at making a dent in our region's homelessness problem.
"From my perspective it's going really well," Keel said. "We have some very high-need clients in there [the MAC], and they're doing remarkably well. Some had been without health care for a long time. Now they're in there, getting stable and having their health care needs taken care of by Mobile Health Services of Open Door."
Homeless people living on Eureka's streets or in the greenbelt behind the Bayshore Mall can get referrals to the MAC through a variety of other programs. There's the Mobile Intervention and Services Team (or MIST), a joint effort between DHHS and the Eureka Police Department, as well as the Open Door Health Clinic, RCAA's Street Outreach Program, the dining facility at St. Vincent De Paul (aka "free meal") and various other DHHS programs, including the in-patient mental health facility Sempervirens.
In order to be housed at the MAC each person must be at least 18, committed to getting permanent housing and willing to abide by the rules, which include no drug or alcohol possession, no pets and a curfew from 11 p.m. to 6 a.m.
While families were given months to get on their feet, the goal under the new model, Hewitt said, is to get each person in and out of the MAC within 30 days. So far, just over a month into the program, three people have been placed into permanent housing.
Once a client is living at the MAC, he or she meets with a case manager and a housing specialist to figure out what his or her housing needs are. A client could require permanent supportive housing, which offers long-term help and services, or just some financial help with a security deposit and maybe a couple months' rent while looking for work.
After the intake interview, Hewitt said staff sets about helping the clients apartment-hunt. "We get out on the streets every day, pound the pavement, look for signs in windows." The county also works with property managers and has a list of landlords to check in with. But the process is more or less the same as it is for anyone — "looking at computer every day, checking Craigslist to see what's new. It's just like, if you imagine a college student looking for a place to live."
Staff tries to find people housing that meets their specific needs. Keel mentioned one man who's hoping to find a place near the rest home where his mother lives. Two other men currently in the MAC are friends, and they're excited about finding a place together, Keel said.
The current population of the MAC is both diverse and challenging, Hewitt explained. Some have spent time in Sempervirens suffering from serious mental illnesses but have since stabilized thanks to medication. Others are barely out of their teens. "So it's a very mixed population, which is unusual for this type of program," Keel said.
Somewhere between five and seven of the people now in the MAC had been living in the greenbelt often called Devil's Playground. Others were living near the boardwalk in Old Town Eureka and a couple had been staying near the Humboldt County Library.
The transition can be a challenge.
"It's a big change of life for them, to go from living free — as much as you're free out there homeless — to going into a facility that has routine and you're expected to follow it," Hewitt said. "You share a room. You can't smoke at night. So it's a big change. And some people do go through the intake process and decide, 'This isn't gonna work for me.'"
It's a common public perception that homelessness is a choice, but all the women in the meeting agreed that that's very rarely true.
"When you talk to them for a while you find out that they had to leave their home when they were 9 or 10 years old because their step-parents or parents were abusing them," Hewitt said. "They may have failed out of the foster care system. They've essentially been on the street since they were a child. They've faced multiple rejections from everywhere you can imagine. So I don't know if you can consider that a choice."
Keel said psychology plays a role.
"I think that people who are raised in very negative, demeaning, abusive situations will really have a hard time believing that they're deserving of having something that's stable and comfortable and good for them — because they've never had that," she said.
# # #
The MAC is serving fewer people under the new model. While a family of six could sometimes squeeze into one bedroom, the new population is different. "What we've found out is the kind of clients we're getting are very vulnerable, very high-end, very complicated," LaHaie said. "So, many of them are going to be more successful having their own room." Keel estimated that the MAC's capacity under this new model is 40, far fewer than under the old model. At yesterday's meeting LaHaie reported that 29 people are in there now.
But Eureka Community Development Director Rob Holmlund pointed out during the meeting that if the MAC succeeds in its goal of moving people in and out within 30 days, it will be able to place 400 people per year into permanent housing. Even half of that amount would represent a significant improvement over the previous model.
The biggest challenge of employing the Housing First model in Eureka will be finding enough low-income housing to serve the clients. Focus Strategies is currently studying that issue and plans to report on the city's housing inventory at the Oct. 6 meeting of the Eureka City Council, but everyone involved seems to agree that more is needed.
The county offers programs through the U.S. Department of Housing and Urban Development (HUD) that lower housing barriers in part by working with landlords to guarantee rent payments, but many landlords are understandably hesitant.
"You're talking about housing people that have significant alcohol and substance-use problems, mental health issues … so they're very challenging people to house," Hewitt said. "But we've been really fortunate to have some landlords that are willing to take a chance with us."
With county mental health case managers offering support to people in their new apartments and houses, the Housing First model has already proven effective in many cases.
"I didn't think it would ever work when I started doing it, what, six years ago," Hewitt said. "And I cannot believe the people that we have put into permanent supportive housing who are still there in their apartments and doing really well. So it does work."
Of the 18 families living in the MAC last year, all but two (who voluntarily dropped out of the program) are now living out in the community, housed in places of their choosing around the county, Keel said. "They continue to be served there the same way they were served at the MAC — except not getting the cooking done for them. So the families are learning more about how to take care of their own needs, and they get integrated with after-care into the community through a variety of services … so that they're not relying on us for the long term."
The individuals in the MAC now still have a long way to go, but Keel said she's already noticed dramatic changes in the appearance of clients after they've had rest, attention and a few regular meals.
"It's just outstanding," Keel said. "Even my staff that's been doing this for years —"
"You should do before-and-afters," LaHaie cut in. The women laughed, and LaHaie added, "Seriously!"
"We should! You're right," Hewitt chimed in excitedly. "I mean, they're just amazed. Every day my staff comes to me and says, 'I can't believe how blah-blah looks,' you know? [Clients are kept anonymous.] They're not pale anymore. They don't look like they're stressed out. They can take showers. They're clean."
Keel said one of RCAA's housing coordinators also happens to be a beautician, and she's been offering haircuts and beard trims.
"It was funny," Keel said. "I was at a community meeting [with MAC clients and staff] a week and a half ago. … I was looking over at this one man. This guy kept on walking past the window, and finally it dawned on me — 'That's so and so!' He was just sharp."
Hewitt said it's been good for both staff and clients to see these changes, and Keel added that such superficial improvements can have real impacts on clients' ability to find employment and housing, "and really interact with the world on a different level. My hope is that RCAA continues to be able to serve these clients with dignity and respect. And if they feel that coming from us there, my hope is they'll be able to take that out and feel like they're worthy of that dignity and respect out in the community."
While staff at RCAA and DHHS are hopeful about the program, Keel said nobody's under the impression that the MAC is the end-all solution to homelessness in Eureka.
"It's taking on a very specific population," she said. True solutions will require community-wide efforts. "The thing I love about Humboldt County, that makes me feel good about working here, is the collaboration between all of the agencies and providers," Keel said. "It really isn't just the MAC providing services to people who are homeless. It's really a whole continuum of care between different agencies and organizations. … And we all work together, I think, really well under the circumstances."
# # #
At yesterday's meeting, councilmembers and the public peppered officials with questions: How does the intake process work? Why haven't more people been housed? Why isn't there a central referral site?
LaHaie and Crandall said it's still early in this pilot program, and many things will likely be figured out in due time. Crandall reiterated that the Achilles heel in the program will be lining up an array of housing to accommodate clients as they move through the MAC.
But he said staff has made progress on achieving the goals suggested by Focus Strategies. To date the county and RCAA have spent $2.6 million on this project, Crandall said, and more funding has been lined up through Measure Z sales tax revenues, Mental Health Services Act funding and various grants. LaHaie said the existing funds will go fast, and more money will be needed.
Members of the public had more questions: What about the plan for a homeless camp? What about tiny houses? How about building a shelter at the Samoa Airport? Could the City declare a housing crisis in order to push through emergency rezoning?
"Right now this is kind of where we're at," Crandall said. "Please be patient with us. We're working as hard as we can to pilot a new model."
# # #
While the MAC works on setting up that new model, it has a list of items it needs to serve clients:
lockers
new underwear
gently used shoes and socks
books
men's belts
and RCAA is looking to hire people interested in working at the MAC
If you happen to have any of these items to spare, contact Lorey Keel at (707) 269-2052.
PREVIOUSLY: