On an overcast day at the North end of Clam Beach, the backdrop of squawking geese and crashing waves is overpowered by what sounds like a quartet of whizzing weedwackers.
An old man walking his dog pauses among the dunes and looks up.
"It's just batteries?" he asks. "That's incredible!"
The noise is coming from a high-speed quadcopter as it rips through the sky at 70 mph. Humboldt County's premiere drone racer, Wyll Soll, is at the controls, performing acrobatic loop-the-loops and barrel rolls.
"The sport is so new, a lot of the tricks haven't been named yet," Soll says. "And if they have, I wouldn't know them."
He has the characteristics of your typical 17-year old. Surfer hair licks up beneath a backwards ballcap, he spends substantial time perusing YouTube videos, and posters of Green Day and surfer John John Florence hang above his bed. But Soll, a senior at Northcoast Preparatory and Performing Arts Academy, can't be bothered with typical teenage pastimes like video games or television.
Soll builds and races drones. He made the switch from RC airplanes to quadcopters just seven months ago, but the Westhaven teen has already earned respect from some of the world's elite drone enthusiasts. In July, he placed 35th out of 94 semi-finalists at the 2015 FatShark U.S. National Drone Racing Championship in Sacramento. The accolade earned Soll his first sponsorship with Drone X Labs.
Until that point, he made do by piecing together low-end parts bought using his allowance and what he managed to earn from his summer job as a surf camp instructor. Soll learned to build drones by watching how-to videos on YouTube.
Wyll's mother, Joy Soll, said she is impressed with what her son has been able to accomplish on a limited budget.
"A lot of people who are into this sport have money, and Wyll has managed to do it just as well as the other guys without all the extra money," Joy Soll said. "He's been really creative and ingenious."
Joy Soll spoke with one of her son's online mentors, Alex Greve, who is better known by his internet handle IBCrazy, at the national championship.
"One of the more famous racers was a guy who goes by the name IBCrazy," Joy Soll said. "He puts directions on how to build antennas online. I talked to this guy because Wyll was the only racer I saw at the competition who built his own antenna. IBCrazy said 'I really admired Wyll — he actually went out and built it. Most people just buy my antenna from me.'"
Although he began flying RC planes only three years ago, aviation has been a lifelong passion that started with a paper airplane.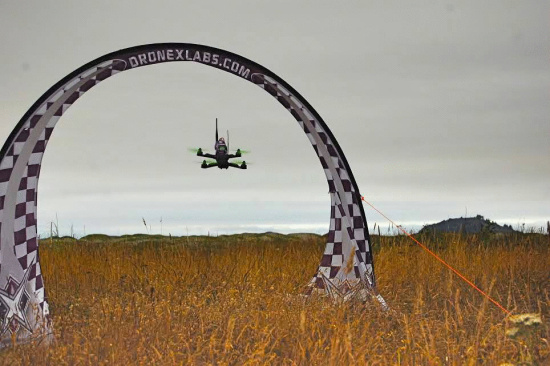 "When he was little, we took a paper airplane somewhere where there was an updraft and it disappeared," Joy Soll said. "He would test out different paper airplanes. Then he built jet models, but there was a bit of a hiatus."
Wyll's passion for flight was reignited when he fixed a busted RC plane given to him by his little brother's friend.
Since then, his bedroom has transformed into a aeronautic laboratory that's one part teengaer, two parts surfer and three parts electrical engineer.
RC gliders pepper his ceiling and spill out onto any wall space not dedicated to surfing posters. The only resemblance of a bedroom is the unkempt bed that sits parallel to a meticulously organized workstation. Tools, receivers, motors, flight controllers, servos, propellers, voltage regulators, wires, spare parts, all sectioned off in more than a dozen used yogurt containers.
"Start to finish I could build a drone in 10 to 12 hours," he said. "I learned a lot of [the electrical engineering] when I started flying planes. The switch to drones was pretty seamless."
After high school, Soll hopes to study aerospace engineering at Cal Poly San Luis Obispo and turn his hobby into a career.
"If I could design or fly these things for a living that would be awesome," he said.
However, Soll is not in favor of drone warfare.
"I don't support the military's use of weaponized drones," he said. "There's a lot of potential to do good but right now it's illegal to fly them for commercial use."
In the meantime, the somewhat granola teen, who spends most of his time outdoors and speaks with his parents on a first-name basis, is content living a Humboldt lifestyle, both flying drones around the redwoods and shooting curls at Camel Rock.
"The in-the-moment focus is very similar," Soll said. "The focus while riding a wave is like the focus required when you are flying."
One of the many flight videos Soll uploads to his YouTube Channel Wyll Surf Air.