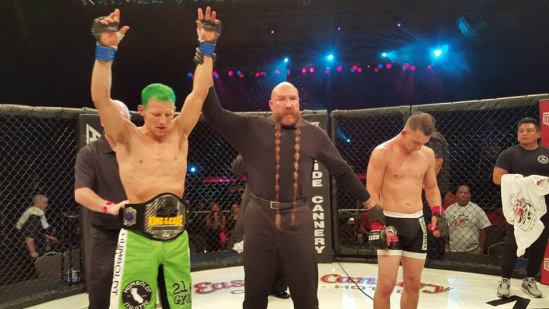 As a child, Cass Bell wasn't allowed to play contact sports. Now he beats people up for a living.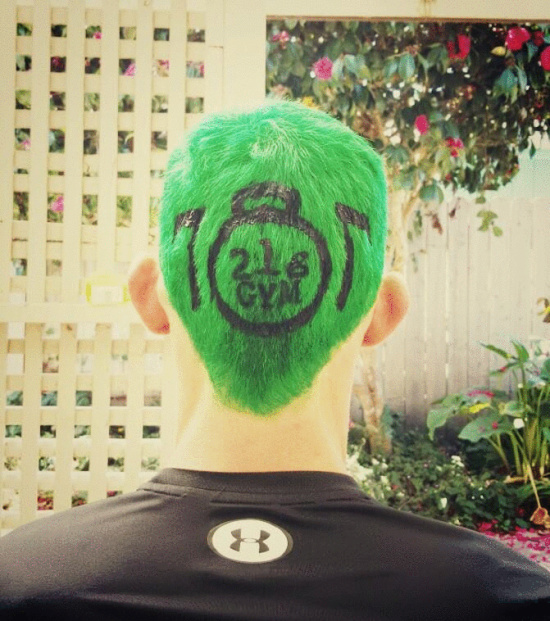 The 28-year old began training as a mixed martial arts fighter three years ago, but he's already risen to the ranks of King of the Cage Bantamweight Champion.
Bell won the coveted amateur-league title on Dec. 5 in Las Vegas by submitting former champion Jason Roope with a standing-guillotine choke hold 56 seconds into the second round.
"I never thought I'd be fighting for the King of the Cage belt this early," Bell said. "I thought, 'I'm from Humboldt County; I can't make it that far.'"
Now the Arcata native represents Humboldt County as one of the top ranked amateur fighters in the Western United States. A kettle bell shaved into the back of his mint green hair bears the 707 area code — a tribute to the county he still calls home.
After the fight, the 6-foot, 147-pound fighter was praised by UFC President Dana White and one-time UFC Welterweight Champion Matt Serra, who were in attendance filming a reality TV series.
"The win ranked me up big time," Bell said. "Dana said, 'Good job; keep it up, I'm sure I'll be seeing you soon.'"
Bell said Sera was excited to tell him how impressed he was with his fighting skills.
"Sera said 'Man, I can't believe you're a white belt!'" Bell recalled. "'I thought you were at least a purple belt.'"
Bell wrestled during his years as an undersized teenager (often behind his mom's back) and now trains as an MMA fighter every day. However, Bell said ranking up a belt in one specific martial arts class is too time-consuming to be a priority.
"I don't really have time for the classes," he said. "Wrestling, boxing, muay Thai, grappling, kickboxing — I'm learning everything."
Bell plans to defend his championship belt a few more times and then make a run at the pro circuit. His future wasn't always as clear.
In his early years, he pedaled a paper route for the Tri-City Weekly, worked at the Arcata Co-Op, and eventually fell into the Humboldt grow scene.
"I tried to be a grower, and that worked out pretty well for me, but also got me into trouble," Bell said. "Then I had two kids, found the gym, and now I'm doing well."
Bell credits much of his success to local trainer Juan Thompson, who needed some convincing before he accepted to train Bell.
"One of his family members was trying to convince me about this kid that wants to fight. I assumed he was just another knucklehead," Thompson said. "But they kept bugging me so I said, 'Bring him in to let me see.' I beat him up pretty good the first day; then I beat him up pretty good the second day. By the end of the week I was convinced he could stay."
Now Bell spends his days going back and forth between training at 21 Grams Gym and working as a fight coach at Cult Conditioning and Strength in Arcata.
Bell said if he can successfully defend his belt in an upcoming match, he may be offered a live televised fight at the Hard Rock Casino in Las Vegas.
"I'm going really slow with trying to rank my way up to No. 1," Bell said. "If i get my butt kicked, that just means I have more to work on. I need to find all my weaknesses before I can go pro. I want to fight in UFC and be a champion one day."