UPDATE, MONDAY AFTERNOON: Planet Fitness responds!
###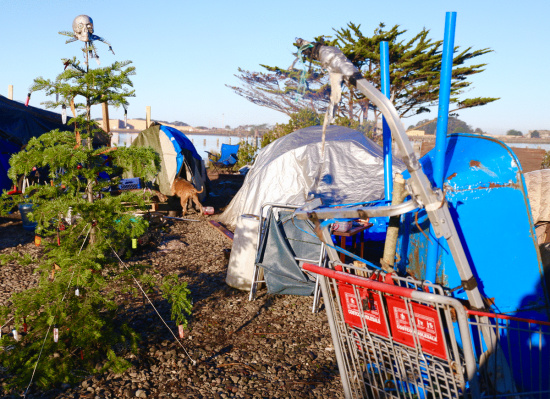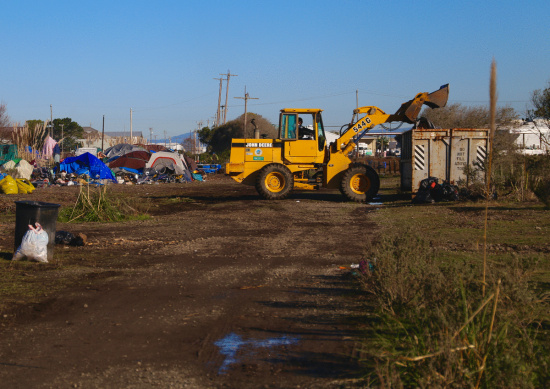 On this, the last day of 2015, a familiar scene played out at Palco Marsh, home of Humboldt County's largest homeless encampment.
On a chilly, damp Thursday morning, City of Eureka workers, assisted by inmate crews and a hulking front loader, cleaned up trash, illegal camping elements and unclaimed items from amongst encampments along the Humboldt Bay. Meanwhile, Eureka Police officials continued to notify marsh dwellers of plans to shrink the footprint of the area where they would temporarily allow camping as they attempt to come into compliance with the open space management plan passed by the Eureka City Council in October. Even if alternative housing was secured, many campers we talked to expressed a lack of desire to leave the area.
Homelessness in Eureka continues to be complicated.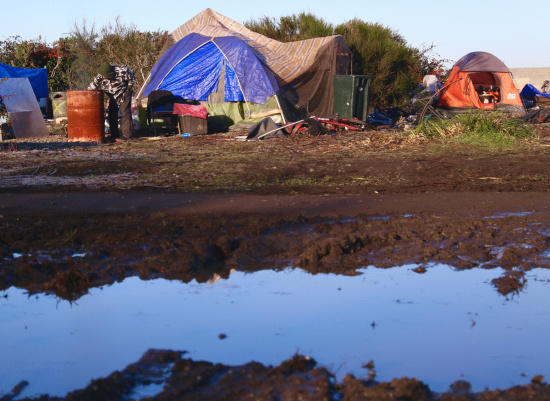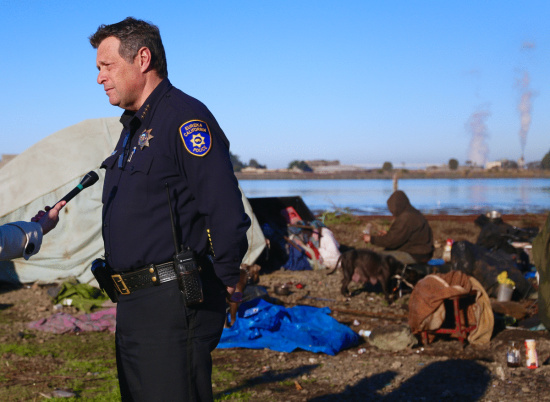 "Just another Thursday," said Eureka Police Chief Andy Mills who said he often visits the weekly marsh cleanups to get a sense of what's happening in the area.
Lately EPD has been handing out out flyers which lay out latest set boundaries where people can, for now, camp without fear of being cited.
"There's nobody down here who can say they have not been fully informed of what's going on," Mills said.
Less tent sprawl makes for easier access for law enforcement, fire and paramedics should they need to assist or police marsh residents. While there is currently no timeframe, the eventual plan is still to clear the area of encampments completely. Those who refuse to leave will face stricter enforcement.
"Ultimately people will go to jail," Mills said. "There are very few people out here that can't be taken to jail for something, but we have chosen to try and work with this community as much as we possibly can. Some just don't want to go."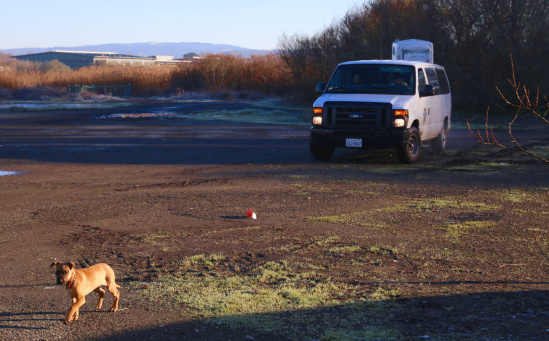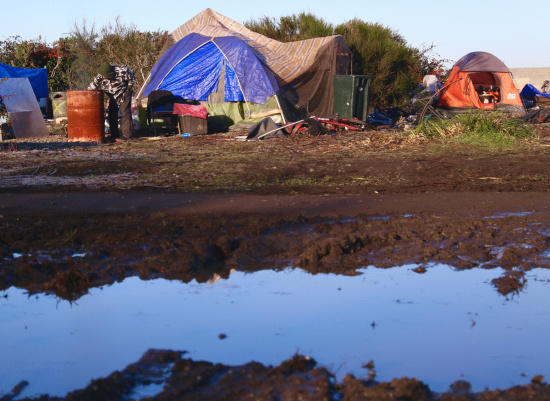 The flyers distributed recently at the marsh which draw from the City of Eureka's open space rules outline stricter guidelines for what types of materials campers can use:
No wood pallets (often used to keep tents off the wet ground)
No tires
No bricks/cement blocks
No landscaping rock
No fencing material/wood
No piping/plumbing
No large tarps attached to trees (used to expand living space)
No propane/stoves/grills
"Now we're not allowed generators," one camper said, exasperated. "It's getting colder. What are we supposed to do?"
Yesterday LoCO reported that a Facebook-stirred "direct action" protest was being planned coincide with today's actions. Members of the "Friends of Humboldt Houseless" group made it clear that they were prepared to intervene on behalf of campers should they witness officers "criminalizing and destroying folks' property." Seeing as the day turned out to be "just another Thursday," more or less, the houseless defenders that did gather instead served food to the area's residents and dialogued with EPD officials.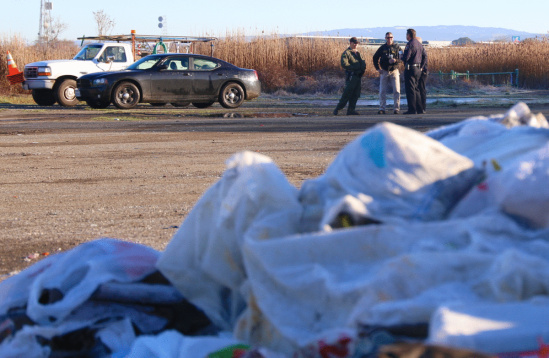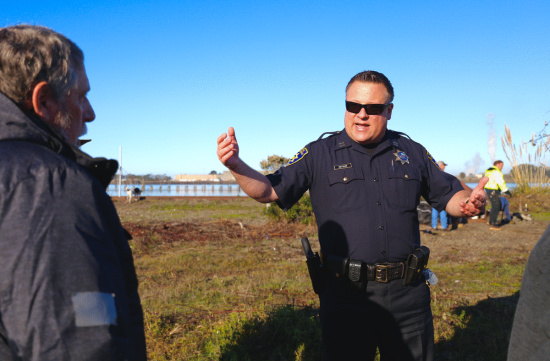 Aspects of EPD's enforcement going forward seemed up for debate Thursday. Nothing seemed concrete. Speaking with with Mills and EPD Captain Steve Watson, members from both Friends of the Palco Marsh and the Humboldt Unitarian Universalist Fellowship attempted to negotiate more time to move for the occupants of the nearly 40 encampments that sit outside the latest set of approved boundaries. The advocates said they would use the time to purchase better tents for campers.
"You would give us a week or two to get these tents and get things set up?" asked HUUF member Chris Chapin of Captain Watson. After listing a numerous caveats and conditions, Watson agreed to a little grace . We're going to go ahead and include some audio of the exchange between Watson and advocates in an attempt to illustrate the flexibility with which EPD is approaching the homeless issue as well as their openness to community input.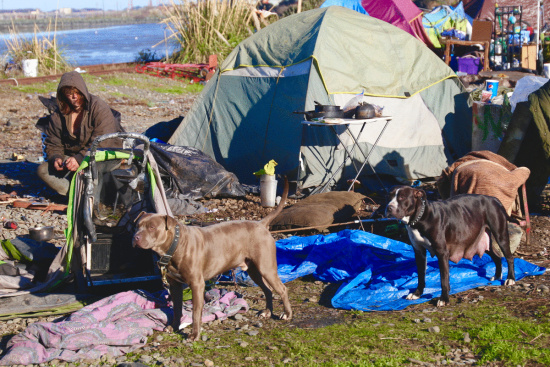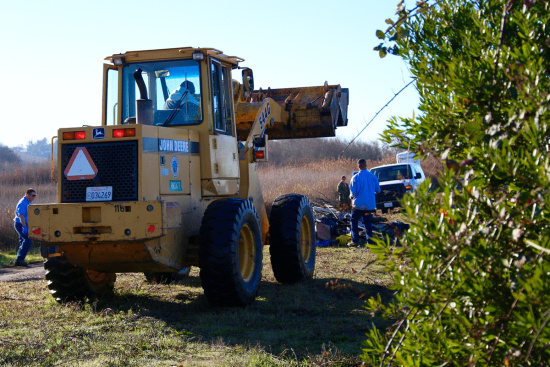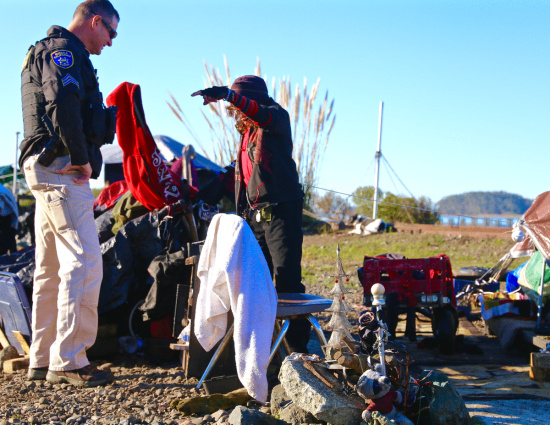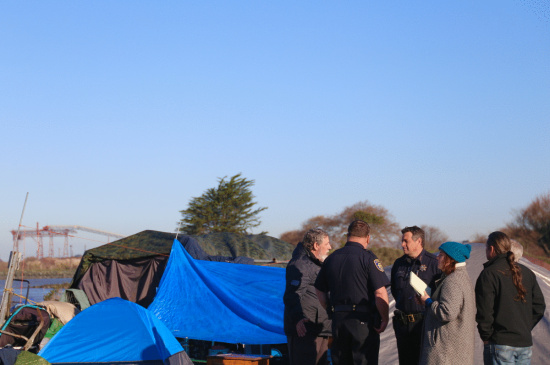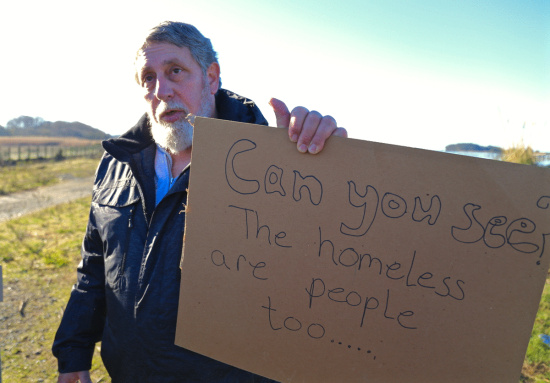 Side note: Since LoCO was spending some time at the marsh, we took the opportunity to ask a few of the regular residents there a question that had been burning our brains for a bit: Have y'all heard about the Planet Fitness opening up sometime in January in the greenbelt-adjacent Bayshore Mall offering shower and locker room services for $1 down and $10 a month? Seriously? Listen to the radio spot Planet Fitness is running locally below:
(AUDIO) Planet Fitness Eureka Ad
"It seems like they are advertising to us on the commercials," Palco Marsh denizen "Jeremy" told us. "Nobody will judge you? $10 a month for showers? I'm going to hit that shit up when they open!"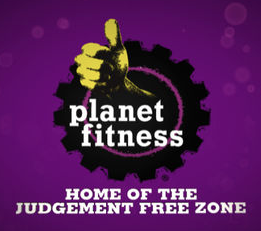 It's true that the Planet Fitness corporate mantra seems to be "Home of the Judgement Free Zone®." The marsh residents we talked to wondered if there would be a pool in the new location (there is not) but seemed satiated by the shower offer. Also, access to stationary bikes sounded appealing.
"What you do is find out if, with your membership, you can bring a guest," another resident named "Mike" wondered aloud.
"Yeah, that would be nice," camper "Memphis" agreed.
"Yeah, we'd shut 'em down. Their showers would be so clogged with dirt," Mike said before bursting into laughter. "$10 a month is a ridiculous. Hell, you can panhandle $10."