UPDATE, 5:23 p.m.: As Humboldt gets ready to head home from work to return to their domiciles, sadly, it appears AT&T internet users may be disconnected from the world through the night.
"We've got crews working through the night with the possibility of full resolution, tomorrow. But we're unable to predict a specific time yet," Matthew Cross, an AT&T spokesperson told us late Wednesday afternoon.
Stop by a bookstore on your way home, maybe. —AG
# # #
UPDATE, 3:09 p.m.: The County of Humboldt weighs in with its own press release:
At around 10:45 this morning a CalTrans work crew performing storm cleanup between Fortuna and Rio Dell unintentionally severed an AT&T fiber optic cable, which disrupted phone and internet service to Humboldt County. AT&T repair crews are on site but there is no expected time that service will be fully restored.

The Humboldt County Sheriff's Office can still receive 9-1-1 and emergency calls. All of the Sheriff's substations are currently open and staffed. If you have a non-emergency call, you can reach the Sheriff's Office at 707-445-7251.
Several county offices have been affected by the service disruption and email may be unavailable. You can contact staff via phone. Our phone directory is at humboldtgov.org/staff.

As there is currently no expected time for service restoration, family and friends are vulnerable at this time, especially with the impending storm set to hit our area. Please take time to check on your family, friends and neighbors to make sure they are safe.
# # #
UPDATE, 2:30 p.m.: The Outpost received a brief statement from Matthew Cross, AT&T spokesperson:
"Due to fiber damage by another company at mile marker 56.6 on Highway 101, some Eureka area customers are experiencing issues with their landline and wireless services. Our local crews are working to repair the equipment and restore service as soon as possible.

We apologize for this inconvenience."
# # #
UPDATE, 2:04 p.m.: More from Caltrans:
One of our maintenance crews was using a backhoe to clear out a culvert near U.S. Highway 101 in Humboldt County in preparation for this week's predicted storms. When using backhoes to clear culverts, a few inches of dirt and debris are removed from the area in front of the culvert to improve drainage.

This isn't the first time this crew has cleared this culvert in this manner. There was no indication that utilities existed under the ground near the culvert.

The crew was NOT digging at this location; the line was probably less than a foot from the surface for the backhoe to have cut it during clearing operations. We do check with utility companies before performing excavation activities if there's any indication that utilities may be nearby.
UPDATE, 1:19 p.m.: Caltrans claims responsibility for the cut line:
At around 11AM a Caltrans Maintenance crew performing storm cleanup with a backhoe at a culvert along U. S. Highway 101 between Fortuna and Rio Dell severed an unknown cable. Caltrans has been in touch with AT&T to confirm it is their fiber optic cable, and an AT&T repair crew is onsite.

More details will be provided as they are confirmed.
# # #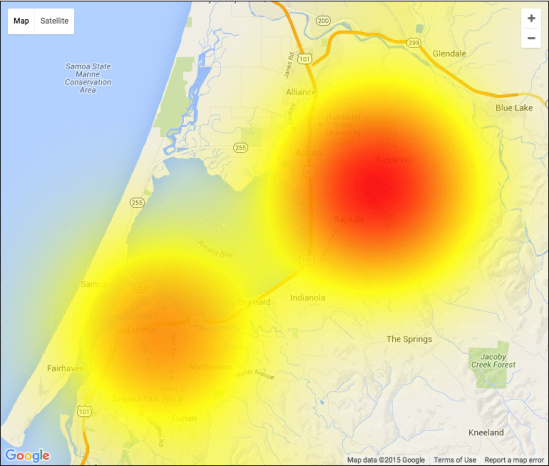 UPDATE, 11:25 a.m.: Humboldt County PIO Sean Quincey tells the Outpost that AT&T is telling him today's outage looks to be the result of a fiber line being cut, yet again. They are still looking to determine the location. Quincey notes that County buildings are without Internet.
# # #
Numerous Outpost readers are reporting that they are currently without internet and cell phone service. Having AT&T as a provider seems to be the common factor.
We're looking into possible causes for the loss of services. We are told that Sean Quincey, Public Information Officer with the County of Humboldt is currently on the line with AT&T and will get back to us shortly. In the meantime, if you'd like to chime in in the comment section on 1) whether or not you have AT&T 2) where you are located, that information could prove helpful.
Eureka Police Department PIO Brittany Powell tells us that city phone lines are unable to call out but the dispatch center is still receiving calls as usual.
As has been the case in the past, our state senator Mike McGuire is providing tweeted updates on the outage as he uncovers them. See a few of those below. We will update this post when we know more.
Cell and Internet across Humboldt County is either down or experiencing difficulty. OES & County are aware of situation. More to come.

— Mike McGuire (@ilike_mike) December 9, 2015
Humboldt Co Sheriff's Office: County 911 call center up & running. McKinleyville 911 calls being routed thru Eureka. Thank you, Humboldt SO!

— Mike McGuire (@ilike_mike) December 9, 2015
PREVIOUSLY: Massive AT&T Outage Takes Humboldt County Phones, Internet, Etc. Offline