Thomas Harmy Joseph Sr. was born October 1, 1943 in Fresno, California. As a Shoshoni/Pauite from Lone Pine, Tom embraced the beliefs and philosophies of his people. He dedicated his life to advocating for Indian rights, connecting to the natural environment, protecting his country, living a healthy spiritual life, and caretaking his children and grandchildren.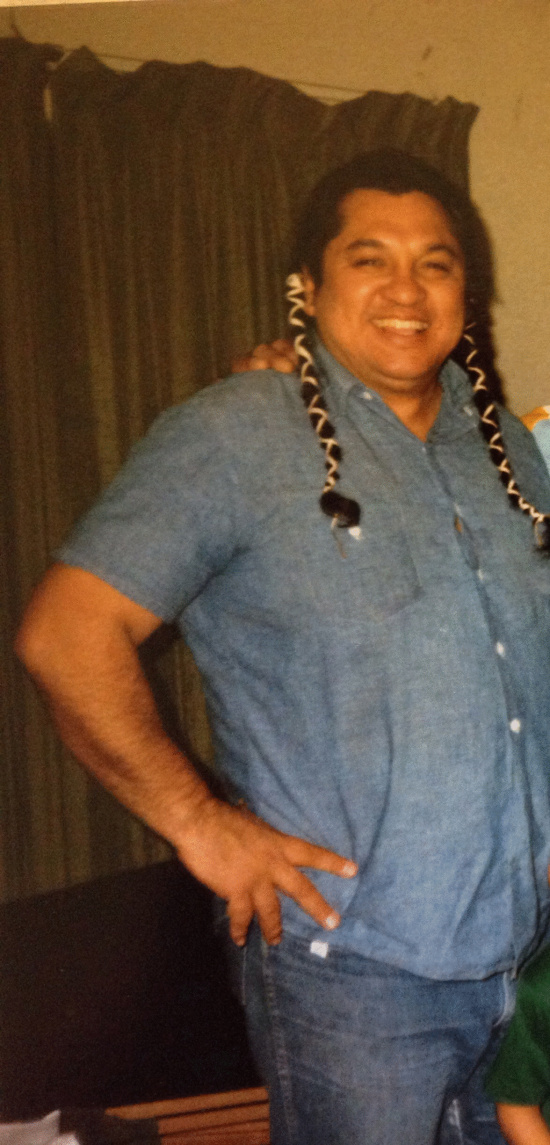 Tom's advocacy began as a student at UCLA, when he brought a group of students to participate in the occupation of Alcatraz. As a consultant for the inter-tribal council for the State of California, he lobbied in Washington, D.C., to protect the inherent rights of Indian people. He also collaborated with the Black Panthers during the civil rights movement. In 1978, he met his wife, Patricia, while they were both fighting the fish wars to maintain inherent fishing rights on the Klamath River. Tom loved to work with Indian people and traveled all over the country. He ran a recovery home in Lone Pine, California; he assisted youth in counseling and recovery in Canada; and he worked in forestry in Idaho.
Tom also had a sincere relationship with the natural environment. He loved to camp, hike, swim, hunt, gather, and fish. He knew how to be self-sufficient and he and his family could survive for months off of natural resources. Most importantly, Tom had a deep respect for the environment and talked to his children about the importance of being stewards of the land.
Tom treasured his service to his country as a Vietnam Veteran. He earned a national defense service medal, a Vietnam service medal with one star, a Vietnam campaign medal, a Presidential unit citation, a rifle sharp shooter badge, a pistol sharp shooter badge and a good conduct medal.
Tom had a strong connection to multiple forms of spirituality, including his love for the Latter Day Saint church. He was proud that he received a full-ride scholarship to Brigham Young University to play football and he shared stories of his honorable mission that he served in Arizona. Throughout his life, he maintained a relationship to the LDS church. He held priesthood and was temple-worthy. In addition, he cherished his children and grandchildren's participation in the local ceremonies of the Hupa, Yurok, and Karuk peoples. On many occasions, he would shed tears of joy and pride when his children and grandchildren would sing. He valued the family and community sweats and always felt cleansed, balanced and healthy afterwards. Tom looked forward to the many trips he took to his home to visit family and to participate in ceremonies.
In Tom's latter years, he advocated for youth; he was sought for guidance; and he took care of his children and grandchildren. Tom was known for his strength, kind heart, eloquence, humility, and hospitality. However, he often regarded his greatest accomplishment as his children and his grandchildren. He loved watching them play sports, participate in youth activities, take leadership roles, and make a difference in their communities. He was most proud of his children and grandchildren's love and value for each other. His wish was that they continue to communicate with each other, guide each other, support each other, and respect each other.
He is preceded in death by his mother, Martha Jefferson; his father, Orval Joseph; his uncle Richie Joseph; and his aunt Dorothy Joseph.
He is survived by his wife, Patricia Joseph; his children Onna Joseph, Bessie Ann and Ben Shorty, Eric and Brandy Joseph, Mikyo Jackson, Silischitawn Jackson, Nah-tes and Rachel Jackson, Thomas Joseph Jr., Kee-yeh' Joseph, Kin-sin-ta Joseph, and Kisdyante Joseph; his grandchildren, Winter Lyons, Napooi Shorty, Chee Shorty, Rotah Shorty, Keduescha Jackson, Lacey Mae Jackson, Quincy Jackson, Sarah Lewis, Brycee Hostler, Jonda Hostler, Nah-tes Jackson, Taryete Jackson, and David Jackson; his siblings, Loren Joseph, Melvin Joseph, Linda Joseph, Robert Joseph, Callie and Walt Lara, Holly and Malcolm Frederick, Kathy and Richie McClellan, Steve Hostler, and Cheri Buck; and his numerous nieces, nephews, family and friends from all over the country.
Pallbearers are his sons Mikyo Jackson, Nah-Tes Jackson, Silichitawn Jackson, Eric Joseph, Thomas Joseph Jr. and Grandsons, the Shorty Boys, Nah-Tes Jackson and his brothers Loren Joseph, Robert Joseph, and Melvin Joseph.
Services will be held at the Yurok Veteran's Cemetery in Tule Creek, California at 1 p.m. on Friday, Feb. 20th. A reception will follow at the American Legion Hall in Hoopa, California.
###
The above obituary was submitted by Thomas Joseph's family. The Lost Coast Outpost runs obituaries of Humboldt County residents at no charge. Email news@lostcoastoutpost.com.