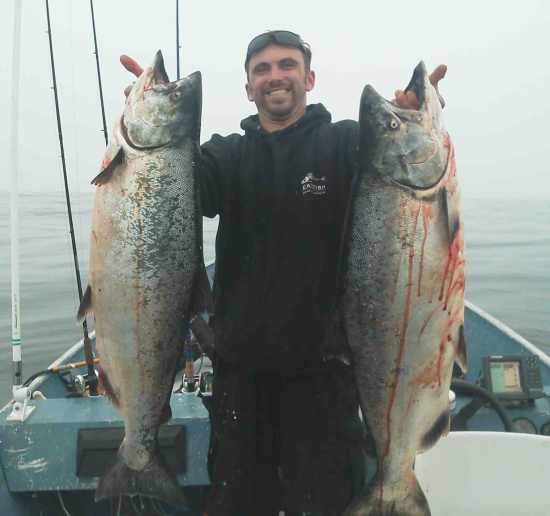 Jonathan Walsh Mellon left this earth way too soon for his new adventure on February 13th doing what he loved, being adventurous, wild and free. He was born on September 30th, 1981, son of Mark Mellon and Joe and Mona Pinochi.
To all his friends he was known as a free spirit, a charismatic soul who lived for his family, friends and fun times. He grew up with his two brothers, Cory and Casey Pinochi who were his sidekicks in his many shenanigans throughout the years. Jonathan was generous, kind, caring and was the type of guy who would give you the shirt off of his back. He lived for the outdoors and loved to spend his time hunting, fishing, abalone diving, hiking, snowboarding, camping and just being outside. He made friends easily and had friends from every aspect of his life. Jonathan was the life of the party and always rallied everyone for a trip to the hills.
Jonathan spent his early years giving his mother gray hair and learning how to hunt and fish. He soon became a skilled outdoorsman and enjoyed sharing his passion with friends and family. His mom knew at a young age of two that he was destined to be a skilled outdoorsman when she found him honing his hunting skills by practicing cleaning game by pulling the stuffing from his Easter bunny.
He was blessed to gain two brothers and another father figure with the marriage of his mom Mona and his stepdad Joe. Jonathan's favorite story to tell about this union was that he finally got cable T.V and Nintendo, being an only child he was ecstatic to gain two brothers as well.
He attended Freshwater until 6th grade and then went to Saint Bernard's where he graduated in 2000. He played baseball and football and couldn't wait for the weekend football games to end on Saturday so he could take off and go hunting. During his childhood and high school years he gained some lifelong friends that remained really close with him to this day including Justin, Johnny and Kenny and they often spent many wild trips together where there was nothing but fun, laughter and good times.
He went on to earn his AA from College of the Redwoods with a little push from his mom. In 2004 he met the love of his life Lacey Pope and they quickly became inseparable for the next decade. He had found someone that shared his love for the outdoors and he was eager to share that love with her. One of his favorite stories was a 4x4 buck they got miles down hill at Horse Mountain where he had to cut the buck in half and they each packed half out uphill back to camp. After that trip, he knew she was a keeper.
There were many trips with his brother Cory, Haley, Lacey and himself that created a unique bond between the four of them, they could often be found on hunting trips together up at Joe Massei's place. Many fond memories were made with Jonathan whether it was camping at the Forks of Salmon, going on midnight rides up Kneeland, duck hunting at his cousin Clancy's duck club with his uncles and cousins, hunting with Cory, Haley, Lacey, Kenny, his dad, Joe, Justin, Johnny, Nick, Brandon and Ryan. Summers were spent at the family cabin in Trinity Village where as young children he and his brothers slept out on the deck with numerous childhood friends including Matt, Maureen and Nick. The Cabin was still a favorite hangout into his adulthood, he loved the river, loved having friends up there to hangout at the decks and the midnight trips to Denny to shoot guns or a moonlit swim in the river via spotlight. He thoroughly enjoyed all of his trips to Squaw Valley where he shredded the mountain with no fear. The J st. houses where Jonathan, his girlfriend Lacey, his brother Cory and his sister-in-law Haley were neighbors were known as the central hub for many friends to come and visit, have a venison/abalone/salmon feast, play horseshoes and enjoy each other. His friends were his family and he had some very close bonds with them. Jonathan was a lover of people and he met some very close friends later on in life as well that became some of his very best friends. He could often be found on adventures with his friends Mike and Jesse.
Jonathan is his mom's sunshine; he is the center of her world. Growing up, Mona and Jonathan adventured around the West Coast. The only criteria for selecting their vehicle was whether they could both sleep in the back of it. These trips helped shape him into the venturesome, family oriented man he was. He was her rock during her battle with cancer and he cherished every moment they had together whether it was her directing him in his life accomplishments or just spending family time together. Another very special person in his life is his Grandpa Jack Walsh, they shared a very special bond. This was apparent when Jack got lost out at the ranch and the search party couldn't find him, but Jonathan knew right where he was and went and got him. Jonathan and his grandpa had a unique connection and always shared a shot of wild turkey when they were together. He held a very special place in his heart for his nephews Kade and Lucca, and his niece Kamryn. Jonathan was so excited about taking his nephews hunting that he bought Kade a gun for his first birthday and took him on many trips to the hills with his brother Cory to teach Kade how to shoot it. He had already started instilling his love for the outdoors with the boys as they accompanied him on the family hunting trip this last hunting season.
Jonathan was a lover of all, including animals, especially his dogs Gin, Chet and his old hunting partner Buck. He was caught on numerous occasions helping bottle feed baby kittens with Lacey and Haley. His love of animals wasn't always apparent to everyone because he often blamed his soft spot for animals on Haley and Lacey. Most of the dog emergency kit that accompanied the many trips he went on was utilized for his own personal injuries.
Jonathan was a selfless individual who would lend a hand to anyone that needed it without asking for anything in return. He had mastered construction skills over the last several years which proved to be very useful in many of his personal projects, as well as projects he helped others with, most recently helping his brother Cory with their new fixer upper as he called it in Trinity Village. He also went over to Redding and helped his brother Casey put on a new roof at his new house. He was a very hard worker and could always be counted on whether to help work, guide a hunting or fishing trip or just be along for the ride. Jonathan never turned anyone down and was always there for everybody that needed him. He was a very upbeat person and kept a positive attitude towards life. This characteristic is what drew people to him, his sense of humor was contagious and his smile could light up a room. Jonathan's zest for life was unmatched by anyone and he didn't live to work, he worked to live his venturesome life how he wanted. Jonathan would say "Life is a garden, you've got to dig it!" and he lived every moment of his life that way.
The celebration of Jonathan's life will be Sunday the 22nd at Ocean View Cemetary, St. Bernard's side at 12:30 and reception to follow at 2 o'clock at the Elk's Lodge in Eureka. In lieu of flowers, donations can be made to an account at Coast Central Credit Union account number #197127 and in care of Mona Walsh Pinochi to promote and fund youth hunter safety or a charity of your choice. Jonathan is survived by his parents Mark Mellon and Joe and Mona Pinochi, his brothers Cory (Haley) and Casey (Karen) Pinochi,. Tim Mellon and his sister Brandy Mellon as well as his uncle K.C. Mellon and Grandma Lee Walashek. On the Walsh side of his large family he is survived by his grandparents Dr. Jack and Mary Walsh, his aunts and uncles Linda Bareilles (Ken), Danny Walsh (Tracey), Rosie Wahlund(Ron), Pat, Kitty Kathol(Lorenzo), Lizzy Day (Tom), Heidi Beauchamp(Ron), Betsy Homen(Frank). On the Pinochi side he is survived by Paula Fredrickson, Pat McNamera(Joe), Teresa Levin(Marc) and a plethora of cousins. He is smiling down from heaven knowing that his friends and family are coming back together to celebrate his life.
###
The above obituary was submitted by Jonathan Mellon's family. The Lost Coast Outpost runs obituaries of Humboldt County residents at no charge. Email news@lostcoastoutpost.com.