Update 8:20 a.m.: Brittany Powell, spokesperson for the Eureka Police Department wrote,
The crash was called into us on 02/18/15 at about 2:29 a.m. The vehicle was a 98 Chevy pickup and was found flipped over. It hit a hydrant and Kristina's causing structural damage. Officers reviewed surveillance from a nearby business and saw the driver and passenger leave on foot eastbound on 4th Street. A small blood trail was followed by officers but the trail was lost.

Anyone with information is asked to call the Eureka Police Department at (707) 441-4060.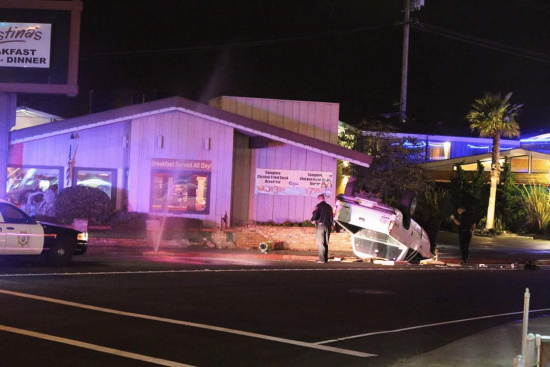 An officer examines evidence from the accident as a fire hydrant sprays water onto a nearby business. [Photo provided by a reader.]
At approximately 2:30 this morning, a truck rolled over on the corner of Broadway and 5th Street in Eureka. A fire hydrant was hit and water sprayed into the street. Kristina's, a nearby business sustained structural damage in the accident. One lane was temporarily blocked.
According to the scanner, the driver and passenger fled the scene. Law enforcement followed a blood trail to 4th Street. However, the trail was lost.
We've requested more information from the Eureka Police Department and will update as soon as possible.