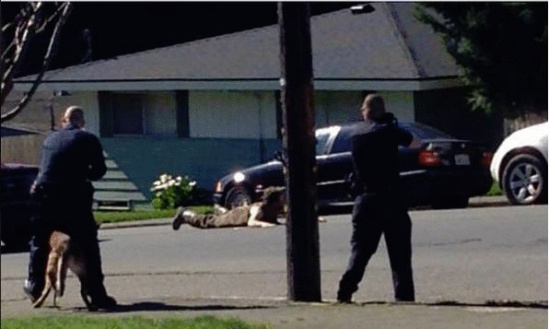 Officers hold a hunter at gunpoint. [Photo by Sheri Rocha Myer.]
A few minutes after noon today (Sunday,) officers responded to the report of a man firing a rifle on H Street in Eureka. Officers arrived and held the man at gunpoint while they ascertained what had occurred. According to scanner traffic and a neighbor, the man came home from duck hunting and interrupted a burglary at his home. The burglars ran off and the man fired two shots.
Sheri Rocha Myer, who lives near the incident on Manzanita Avenue, said she was outside doing yard-work when she noticed an older, navy blue Chevy Suburban idling in a nearby alleyway. She was looking intently at the vehicle and observed a handicapped sticker on the license plate when two loud gunshots shattered the neighborhood hum.
Two individuals came running towards the Chevy. "One was a black guy in his twenties [and the other was] a young kid [of 11 or 12] still carrying a bag," Myer said. "Right behind them was a guy in camo waders with a shotgun. He's screaming, 'Stop them! Stop them!" She said he yelled that the two running had stolen his property.
Myer said she tried to call 911 but it was busy because so many "people are calling 911 on the crazy guy with the shotgun." Meanwhile, the driver of the Chevy pulled out of the alley and picked up the two running individuals, she explained.
The duck hunter got in his vehicle and then Eureka Police officers arrived on the scene. They didn't know about the escaping suspects, Myers said. The officers had only heard from neighbors about a man firing a gun, she added, so the officers forced the duck hunter from his truck at gunpoint. (See video below.)
By the time that law enforcement had sorted out what had really occurred, Myer said, the suspects were long gone. She added that one of the officers reassured her, "We don't treat all of our victims this way."
Myer described the vehicle as an older, navy blue Chevrolet 1500 Suburban driven by a "short-haired white guy."
Tough day for the officers who did their best with the information they had and an even tougher day for the poor duck hunter.