Can marijuana marketing improve society? Maybe not on a one pound level, but when marketed on a larger scale … possibly.
On Saturday at the Ganjier Spring Kickoff in Redway, an employee from Harborside Dispensary gave tips on how to convince buyers to purchase cannabis. He called this creating "bag appeal." While he talked, a number of growers leaned forward intently, scratching notes on pads. They were hoping to improve their chances of being a successful farmer and making their product more desirable.
But some of those vending at Saturday's gathering were moving beyond "bag appeal" into connecting their product to consumers' values. While the man from Harborside talked about how a pound of cannabis can be presented more attractively, the vendors' area at this event provided some striking examples of farmers seeking to convey ideas about their products with subtle and not so subtle techniques. Some used visual images to convey a set of values. Some went beyond mere appearance.
One of the most thoroughly integrated brands was House of Aficionado with a sophisticated gold and black display promoting high-end merchandise. The brand seeks to impress the buyer with the sense of purchasing only the finest quality products. With strain names like White Cashmere and products like Magarillos—large cannabis joints handmade by a master cigar roller from Cuba and leafed with 24k gold—the brand is designed to appeal to luxury minded cannabis fans.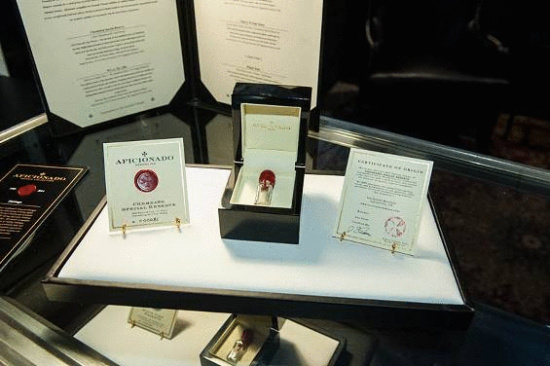 The lines are clean. The image is classy. Cannabis as a luxury product. [Photo from Aficionado's Facebook page.]
At the other end was Happy Day Farms which reached out to an entirely different consumer with its rustic wooden boxes and mason jars of marijuana. Each container was labeled with a handmade tag advertising their product as Clean Green certified. Their booth promoted their farm which delivers organic vegetables to CSA subscribers as well as provides cannabis to other consumers.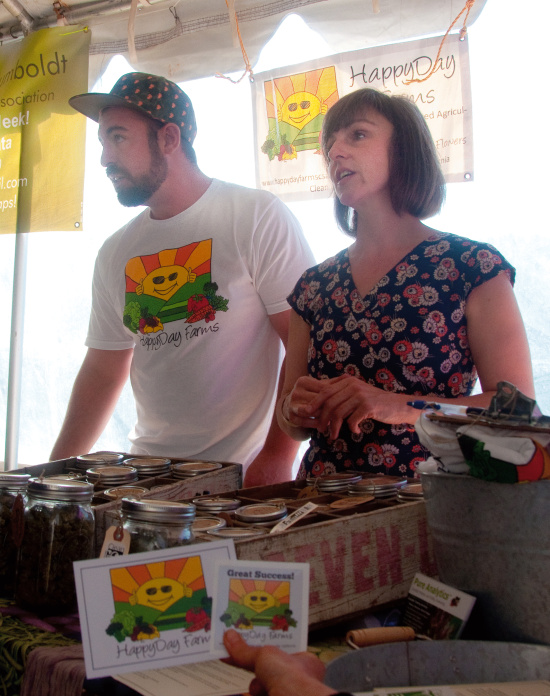 Sunshine and wholesome values are conveyed with mason jars and wooden handled tin buckets. Cannabis as a natural farm product. [Photo by Kym Kemp.]
Copying mainstream business models, each brand is multi-dimensional—portrayed not only at events but on websites. Aficionado's website offers elegant images that convey a chance to step into a wealthier world. The descriptions there speak to the high end consumer. They portray a quality product that is carefully vetted. The website says,
Aficionado has been custom tailoring highly exclusive designer cannabis for a small group of private clients ​for over 20 years. By uniting legendary heirloom genetics and visionary artisanship, Aficionado exemplifies the Emerald Triangle tradition of crafting boutique cannabis that must be, at once, exceptionally bold and refined. Strictly produced in limited numbers and characterized by unparalleled quality- our exclusive varieties are reserved only for the most serious connoisseurs.
On the other hand, Happy Days Farms focuses on agricultural images but also highlights their cannabis grow. The two aspects are woven together. The website twines a down-home image with a matter-of-fact acceptance of marijuana growing.
Grandpa's saying was "Let us be happy in our work." This is my fundamental life motto and I'm thrilled to live it while providing nourishment and medicine for my community…

As a board member of the Emerald Growers Association, I represent Sungrown cannabis and the farmers who grow it using ecologically sound best management practices.
The site offers environmentally concerned cannabis consumers a sense that they are not harming the environment and are partnering with mom and pop farmers in creating a healthy high.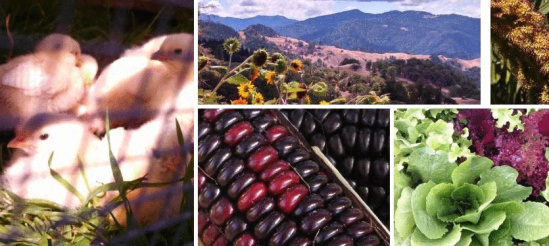 Header from Happy Day Farms website.
These two organizations are seeking to market cannabis to consumers within the blurry grey area of medical marijuana law. They have to stand out to the consumer but not draw unfavorable attention from law enforcement.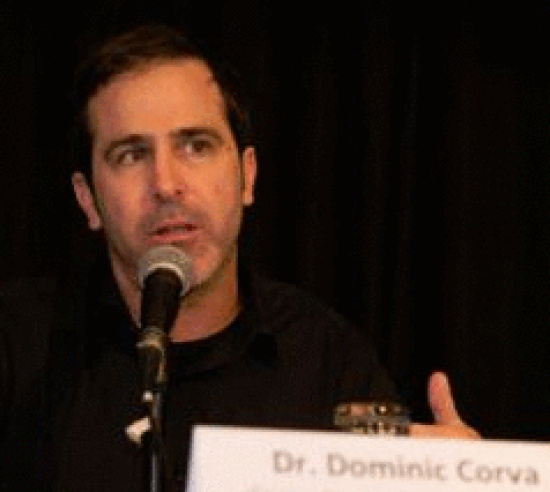 Dominic Corva, Executive Director for the Center for the Study of the Cannnabis and Social Policy says that this kind of positive branding is good for cannabis growers and consumers as a whole. He says, "For economic reasons, [these cannabis growers] are harnessing themselves to a set of social values that are ultimately good for society."
Corva (his photo on the right was found here) says that growers who market to the values consumers hold, may or may not believe in the intrinsic good of cleanly grown marijuana and environmentally healthy practices. However, by connecting their operation to these values, they are more likely to be following sound farming practices. He pointed out, "It is an interesting [strategy] that harnesses folks that are interested in preserving their income with social values—values they may believe in but that are now buttressed by economic forces."
Corva went on to say that cannabis growers that market their product this way are "gaining the public's trust by standing out and stepping forward. The game that is being played is not just about selling agriculture products… Law enforcement is less likely to be able to say these are ecological damaging grows."
In California, Corva says, law enforcement has realized that it can gain public support by highlighting and going after "bad actors," growers that damage the environment. "Especially in California, what law enforcement has going for it is focusing on the environmental." Corva said that law enforcement has been able to focus the spotlight on the environmental damages caused by some growers. "If [the public] thinks that all cannabis farmers are irresponsible, it hurts the brand of cannabis."
Then, acknowledging environmentally damaging marijuana grows that have been found, he added, "Some of [the growers who damage the environment] should be gone after."
Corva says that, on the other hand, by presenting "a familiar, socially conscious face" some growers are raising the whole brand of cannabis. "It is a viable strategy," he says.
Kevin Jodrey (photo on the left found at this link) wrapped up the Ganjier Spring Fling on a panel entitled The Future of Small Farming Communities and Healing the Land. He related an anecdote about what happened when the head of Rolex was asked by a reporter how the watch business was going. According to Jodrey, the head of Rolex laughed at the question. He said, "We're not in the watch business. We're in the luxury business and we're doing great!" Jodrey made clear that perception was an important tool in protecting the small farmers' interests.
Will many of the mom and pop cannabis farmers at the event attempt to step up their game and market a brand in a way that harnesses them to a set of social values? If so, according to Dominic Corva, this could be good for society as a whole.

Vegetable seeds were marketed at one booth alongside cannabis seeds. [Photo by Kym Kemp.]