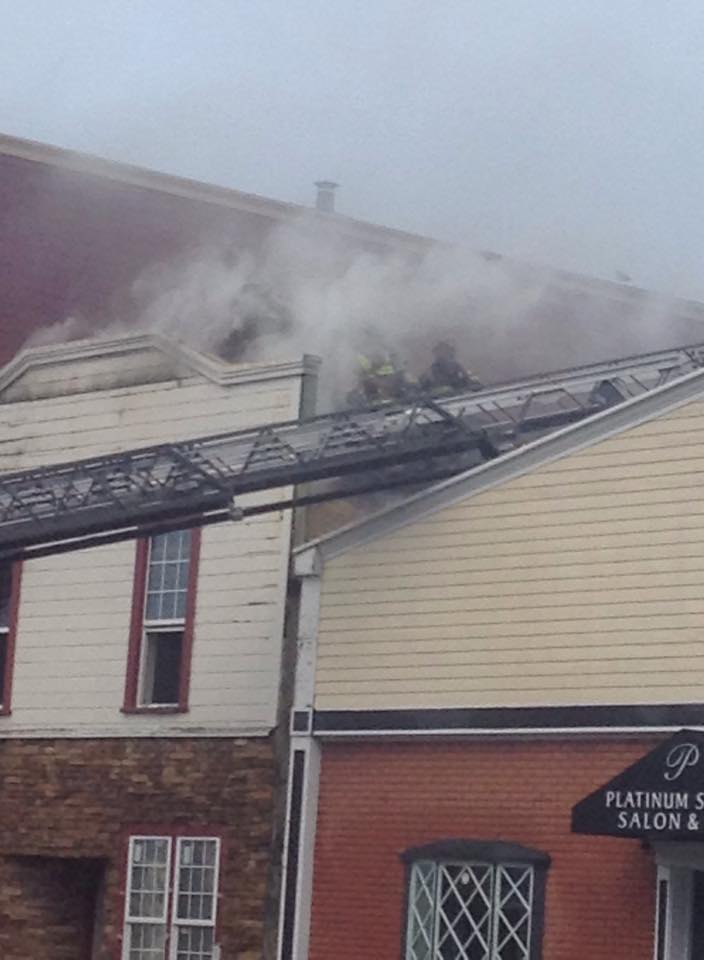 Photo submitted by LoCO reader Maranda Schmidt.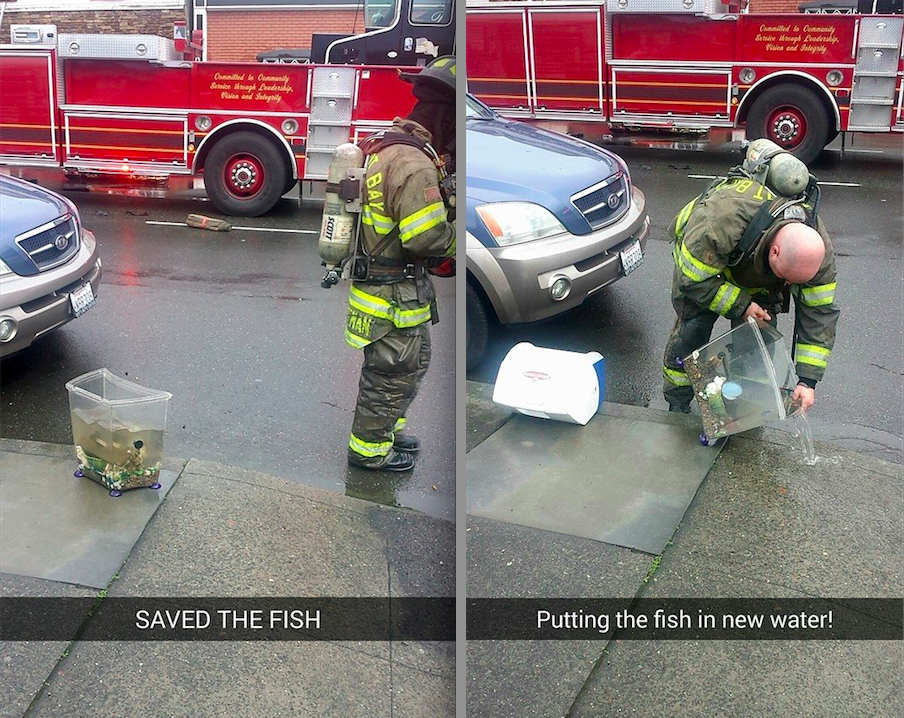 UPDATE 10:28 a.m.: KBAE DJ Sabina Gallier was on the scene this morning and captured the above photos of a firefighter rescuing fish from the residence.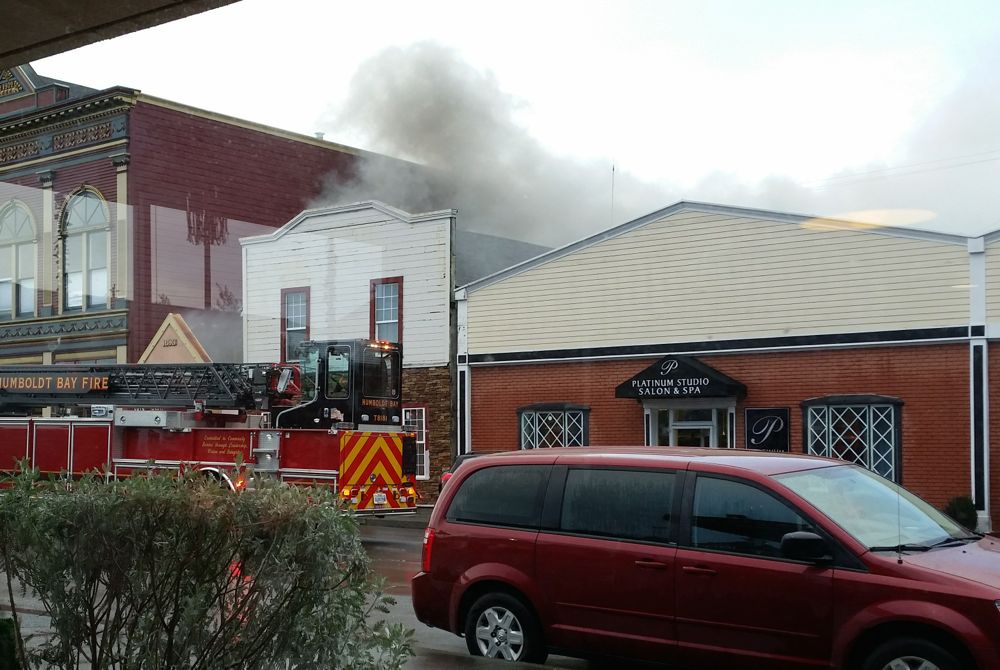 View from inside Denny's. Photo submitted by LoCO reader Phil Bradley.
UPDATE 9:45 a.m.: As commenters have pointed out, the property where the fire took place, 117/119 5th Street, is owned by the notorious Floyd and Betty Squires, who have been engaged in legal battles with the City of Eureka for years now over countless safety code violations at their numerous local properties. Court documents note that the property has been subject to numerous property code violations and fines as well as criminal and civil charges.
UPDATE 9:12 a.m.: The Outpost interviewed Humboldt Bay Fire Battalion Chief Chris Emmons on the scene:
# # #
UPDATE 9:05 a.m.: Eureka Police tweet,
5th between A and C street is blocked due to a structure fire. Avoid the area pic.twitter.com/oXohZ4rXna

— Eureka Police (@Eureka_Police) February 9, 2015
# # #
UPDATE 8:58 a.m.: Another photo from our reporter on the scene, Ryan Burns,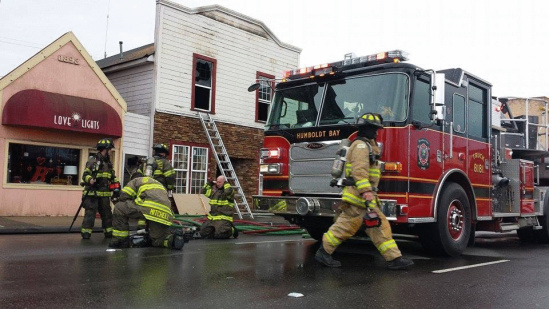 # # #
UPDATE 8:55 a.m.: Photos by Ryan Burns: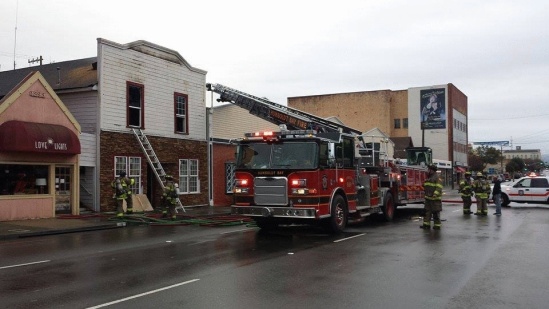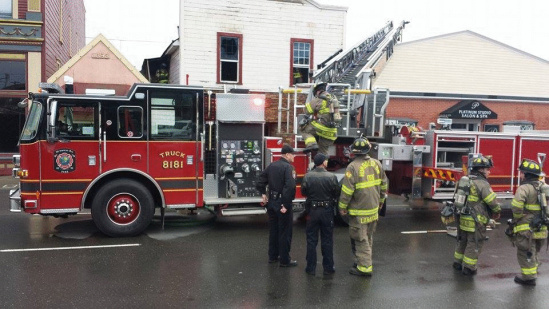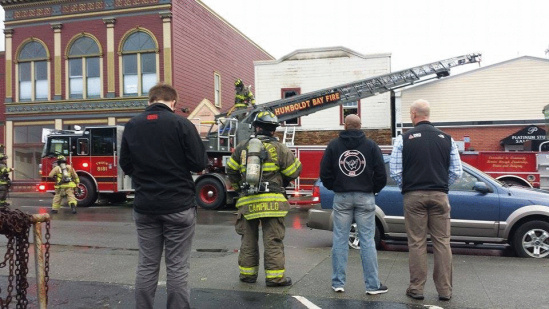 # # #
UPDATE 8:48 a.m.: The incident commander has updated the report to dispatch. As heard on the scanner, he is now saying there is one burn victim treated and a second has "fled the scene."
CHP dispatch gps indicates the fire is on 5th Street.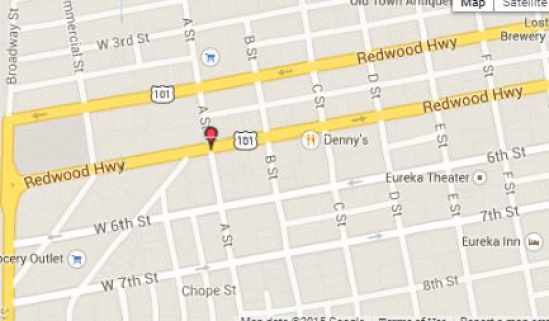 UPDATE 8:44 a.m.: "Majority of the fire knocked down," says scanner traffic. Reports also indicate that two victims have been treated.
# # #
Original post: According to scanner traffic, Humboldt Bay Fire is responding to a structure fire in the 100 block of 4th Street. Fifth Street has been closed in the area. There is a report of one victim with "significant second degree" burns. Please avoid the area. We will update with more information as soon as possible.