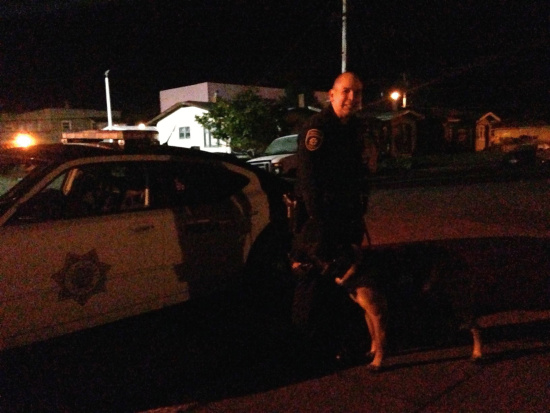 Officer Leonard La France and his K9 partner, Vex, after helping catch a suspect in burglary this morning. [Photo by Elizabeth Berrien.]
A Henderson Center woman and well-known wire artist, Elizabeth Berrien, told the Outpost that she began her New Year "fighting crime." A burglar attempted to break into her home about 3:40 this morning but quick thinking (the North Coast Journal recently explored whether she is the smartest person in Humboldt) led to an arrest of a man suspected of not only trying to enter her home but also the home of another couple on D Street about an hour earlier.
While sleeping, Elizabeth Berrien heard her doorbell ring. "I figured it was a drunk," she said. Then she added dryly, "I was remotely curious if it was a drunk I knew… ." Getting up, she put on her robe and she headed downstairs slowly. "I took my time getting to the door," she said. She didn't open it or indicate that she was home but, looking through the window, she saw what she described as a "skinny dude" headed down the street.
She did a few things without turning on the lights and was almost ready to go back to bed when she thought she heard someone moving around outside. She called 911 as she quietly walked upstairs. (Scanner traffic shows this occurred at approximately 3:51 a.m.) There, away from immediate harm, she continued talking to the operator. "It felt like I talked to her forever," Berrien said. She continued to hear noises and even saw someone with a flashlight enter into her detached garage as she spoke to the operator. She was relieved when she was told that officers were at her home.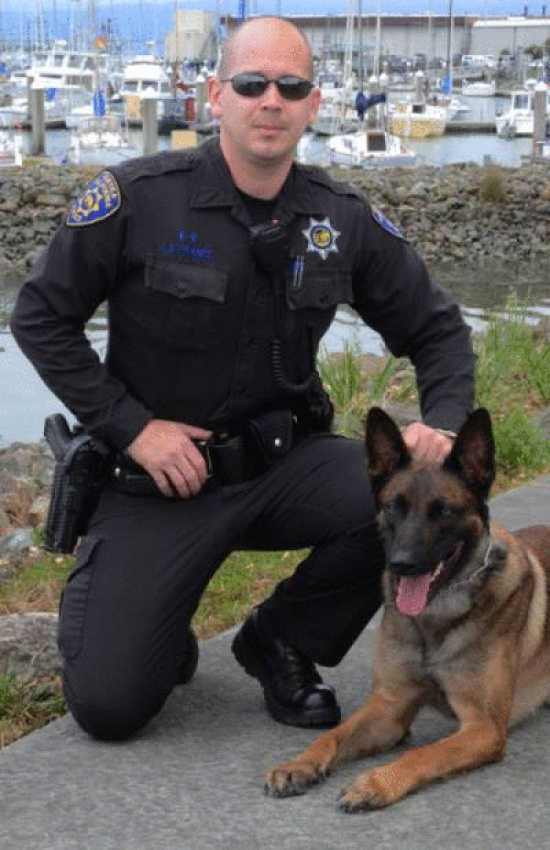 Eureka Police Officers, including a K9 unit had already been investigating an attempted break in a couple blocks away arrived quickly at her home. Vex, a Belgian Malinois police dog, and his handler, Officer Leonard La France, (See EPD photo left) had been tracking the attempted burglar from that case when, according to Captain Steve Watson, the 911 call from Berrien came in. The address was in the direction of the scent trail Vex had been following.
Multiple officers responded to Berrien's home. A suspect was spotted exiting the backyard with a flashlight. The officers, Watson said, "…had the impression he would have run without the K9." Scanner traffic indicates that the man was detained at 3:59 a.m.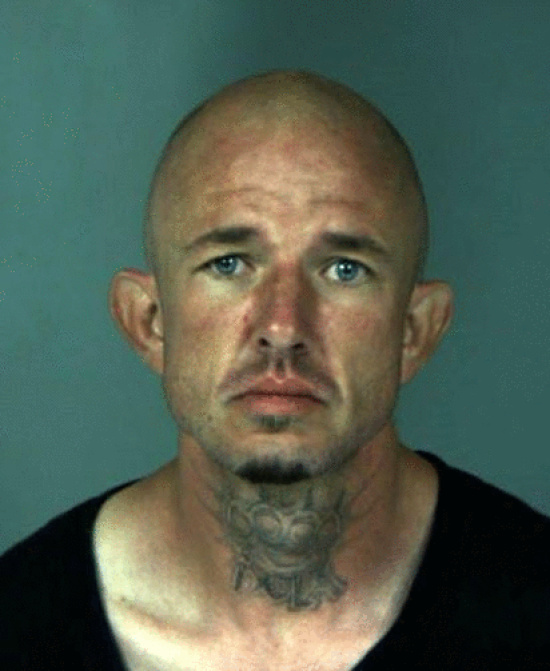 Nicholas Paul Boswell, 34 years old, (see mugshot right) formerly of Louisiana but recently arrested several times in Eureka for various crimes was taken into custody and booked.
Watson said in November, Boswell had been arrested by Officer Leornard La France and his K9 partner, Vex, when he had been found concealed in someone's backyard.
At Berrien's home, Boswell is suspected of having removed a porch light, a screen from a window and forced entry into her garage. Berrien said that when she went with the officers to the garage she could tell that someone had moved some of her belongings around.
In Boswell's possession at the time of arrest were two different garage door openers (neither were Berrien's) as well as other items. He was booked for Burglary, Attempted Burglary, Prowling and Possession of Burglary Tools.
After Boswell's arrest, Berrien said, "From that point on, it was kind of fun… ." Berrien talked with the officers and learned that "the burglar had taken off the glass dome around the light for a little more privacy [and the burglar] wasn't wearing gloves so they got to collect prints."
Berrien said, "I am determined to not start the New Year as a victim. I feel like someone who has successfully handled the challenge of an attempted home invasion." Berrien said that she had already planned to take a refresher course in martial arts. (She used to do Jiu-jitsu.) She also stated, "I'm going to put my shotgun together and go out and get more practice with it and just get more comfortable."
Captain Steve Watson believes, though he has not checked the statistics yet, that "residential burglaries are on the rise." He worries that the perceived increase in crime may lead to violence. "We don't want to have a frightened resident [accidentally] firing a weapon on police officers… There is a great deal of responsibility that comes with residents arming themselves. There may be officers outside that are trying to help them." He worries that officers could get injured or killed. "That is why communication with dispatch is really important," he explained. "We don't want any tragedies to occur."
Watson sympathizes with residents. An increase in crime, he said, can't help but make people "fed up and scared."
"When you break into a person's house that is a deep violation [and] the potential for violence is great," he explained.
Burglars may end up shot. "Probably it's just a matter of time before someone is going to break into the wrong house at the wrong time," Watson said.
He recommends that if someone believes a burglar is trying to enter their home while they are there, they should call 911, turn on lights, go to a "safe room and arm themselves" if possible, and maybe holler a warning if appropriate. "[Burglars] are trying to determine if the house is unoccupied," he said. "Show them [your home] is not going to be an easy target."
He also suggests taking some proactive measures. He recommends residents check if there is "adequate lighting where you park vehicles" and around the home. If the home is going to be empty, have someone collect newspapers and leave some lights as well as a radio on.
Watson also recommends supporting or forming a neighborhood watch. "Extra eyes can be really important," he said in reducing burglaries and other crimes.
As for Berrien, she said, "I was somewhat prepared, but I wasn't as prepared as I will be if it ever happens again."
She has some advice for those worried about crime in their neighborhoods. She urges women especially to take self-defense courses. "Don't panic," she said, "but let's get better prepared."
Video showing one of Elizabeth Berrien's wire sculptures.