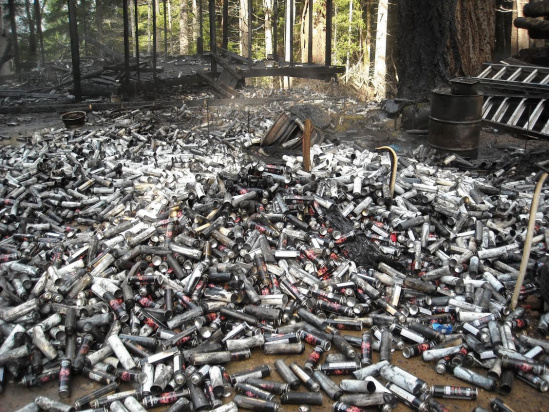 On November 14th, fire crews and law enforcement responded to the scene of a drug lab explosion in Rancho Sequoia. [Photo provided the Humboldt Co. Sheriff's Dept.]
When thousands of butane canisters tumbled in blackened heaps across the scene of a drug lab explosion last November, the story was one of the biggest on the Outpost last year. Few, however, thought to ask who would clean up the mess in southeastern Humboldt.
The canisters did get removed from the original site but the trash apparently didn't go far. Within just a few days of the explosion, heaps of burned butane cans were dumped near the main road not far from the town of Alderpoint. By November 17, masses of these cylinders were thrown over and around an illegal dump near Carter Creek which flows into the main stem of the Eel River near the Alderpoint Bridge.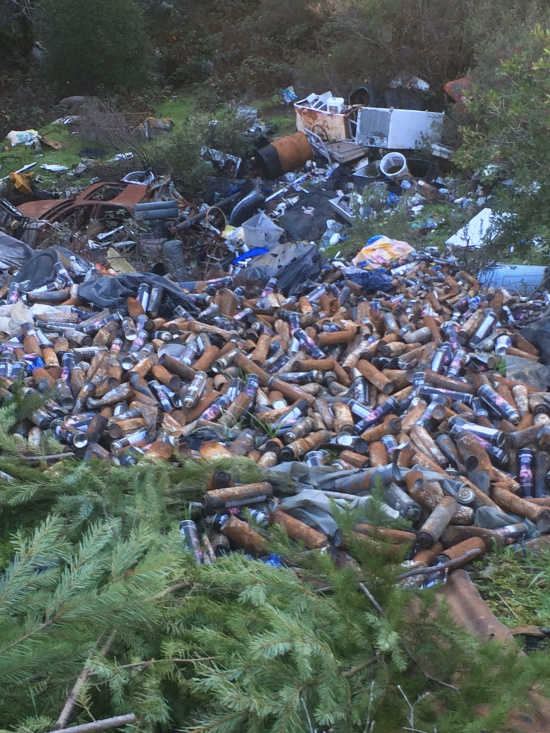 Thousands of burned butane cans—probably from a recent drug lab explosion—were tossed near the road and down a steep cliff at the scene of a longtime illegal dump site. [Remainder of the photos provided by a reader.]
Yesterday, a group of Southern Humboldt residents removed not only the cans but some of the cans and a total of 2440 pounds trash from the steep hillside.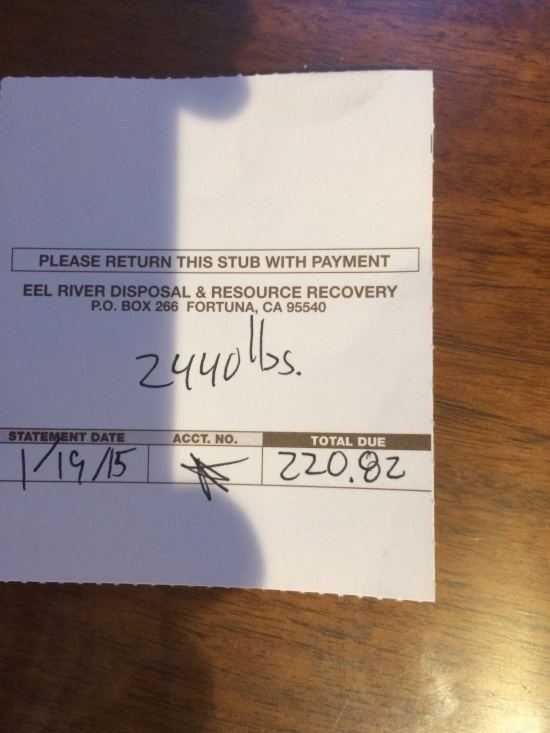 Receipt shows that 2440 pounds of trash were pulled out of the Carter Creek watershed.
Nocona Mendes, a Southern Humboldt resident, started the cleanup. He explained that he was disgusted by the sight of so much garbage dumped in sight of the road. "I just drove by the other day and saw all the garbage," he said. "It made me sick." Then, he decided he could fix the problem with a little help.
"I thought, 'I've got a dump trailer,'" he said so he posted a photo of the mess on his Facebook page and asked anyone who was interested in helping clean up the disaster to meet him at the dump site at noon yesterday. Several friends and family members arrived to assist with the cleanup.
"A lady with kids showed up, too," Mendes said so he put them to work gathering the trash.
Leeana Schultz whose family owns the Alderpoint Store said she was glad to help. "I have 5 kids and two of their best friends and we brought sandwiches and gloves to the guys who worked." Then she encouraged the kids to pitch in. "They were enthusiastic about helping," she said. "This is the perfect way to give back to the community—having them work and learn some kind of ethic." Schultz herself worked with her baby strapped on her back.
"It is hard to drive past that everyday and have my kids look at that on the school bus. It kind of puts a damper on things." Schultz said.
She's hoping to clean up other trashy areas nearby. She says wants to change Alderpoint's image. "I'm kinda trying to steer us away from that reputation," she explained.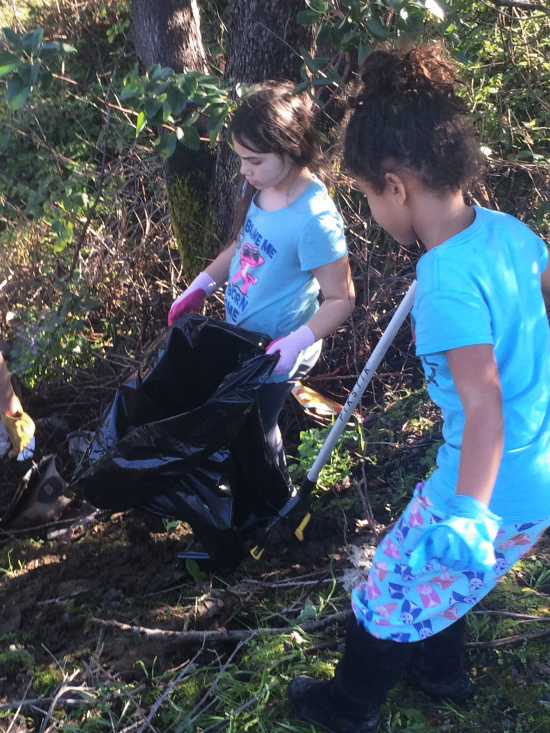 Wearing gloves, carrying bags and grabbers, two girls help load up the trash.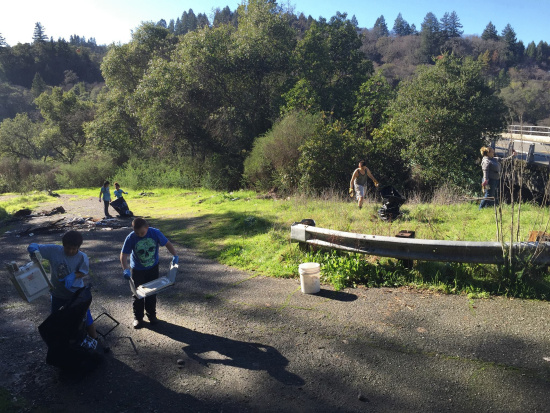 Both sides of the road near Carter Creek east of the Alderpoint Bridge were cleared.
Sadly, Schultz said, it was impossible to remove some of the garbage from the Carter Creek site. "We won't able to get all the trash unless we have rappelling gear," she noted. Nonetheless, the garbage next to the road was removed. "There is nothing there now," Schultz said. "If you look over the bank, it is a different story though. [Still,] it feels great and the kids feel great about doing it."
"The eyesore is gone," Nocona Mendes said. He said that people driving by were mostly appreciative. "Some people stopped and said thank you," he said. "Two people stopped and each gave me $100. That was cool. It helped pay for dumping."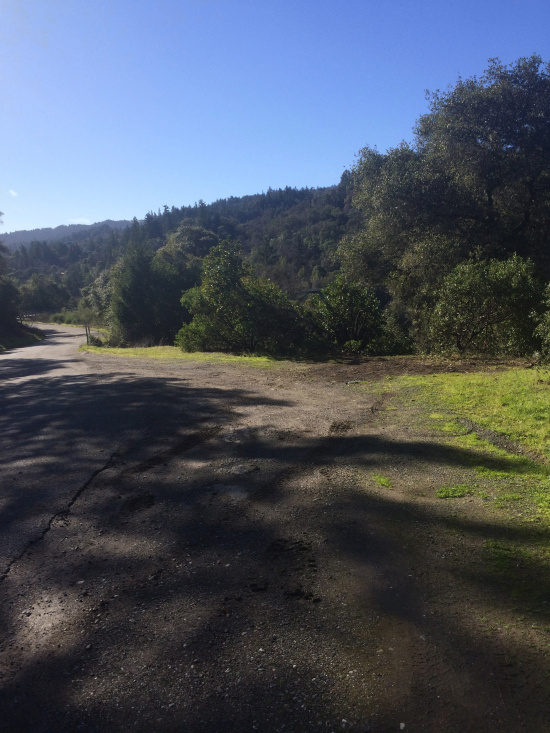 The countryside looks clear from the road.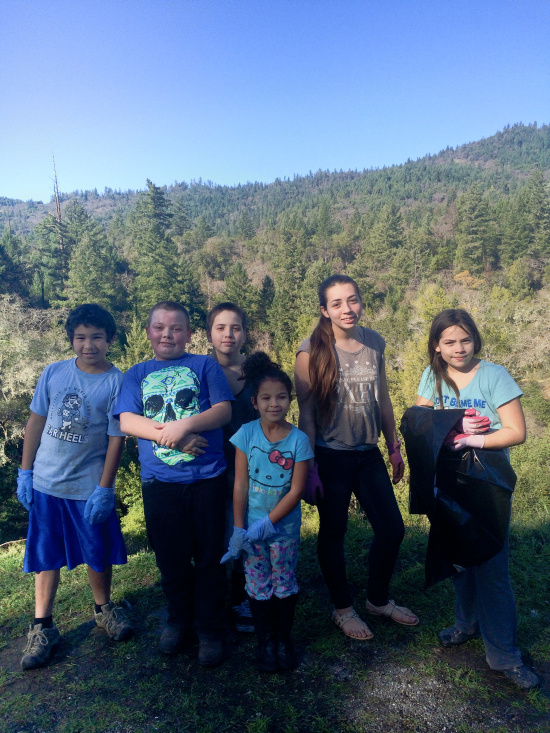 The kids look satisfied with their labor.
"I think I did it because of my dad," he explained. "When I was a little kid, we lived down by Redway Beach. Sometimes, he pulled me in a little wagon and we'd go down to the parking lot and pick up trash. Now, I'm 27 with a big ass wagon and I decided to pick up trash again."
Thank you, Nocona's dad, for teaching your kid to clean up his community. He passed the lesson on to a new generation—a group of kids who gave up their Martin Luther King, Jr. holiday to make their neighborhood a little bit better.