SECOND UPDATE: KHUM's Mike Dronkers also interview HSU spokesman Frank Whitlatch. This interview, below, was much briefer.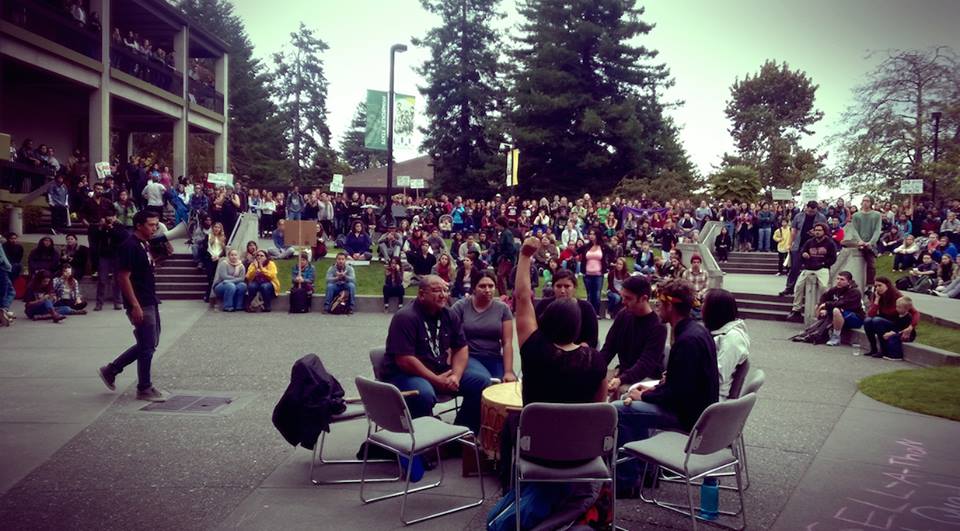 Image from Unified Students of Humboldt Facebook page.
UPDATE: KHUM's Mike Dronkers spoke with one of the student protesters, Sarah Caliguiri, on the air earlier today.
"There has been ethnotrauma and lots of feelings of distress from students of color," Caliguiri said. "And it's because we're living in a consistent state of fear of our programs being cut, our funds being cut. We're trying to get a higher education, and it's very challenging to do that with these special programs being cut on a regular basis."
Listen to the full interview below.
# # #
A number of HSU students have occupied and unofficially renamed a building on campus in protest. Students have been outraged since last October, when Dr. Jacquelyn Bolman, then-chair of HSU's Indian Natural Resource Science & Engineering Program (INRSEP), was suddenly and dramatically fired. (Two students recently spoke with KHUM's Cliff Berkowitz about the situation.)
Humboldt State officials will only say that Bolman's termination was a confidential personnel matter. Bolman was an at-will employee, so no reason was needed to fire her.
The first press release below was issued today by a group called Unified Students of Humboldt. Below that is a statement from HSU administration.
On the eve of January 19th, 2015 Martin Luther King Day, Native students and allies at Humboldt State University took residence at the Native American Forum on HSU campus, re-naming it the Dr. Jacquelyn Bolman Forum.

The announcement that students planned to remain in the building came after a 2-day long Native American Activism Conference, where speakers from across the state presented on a variety of issues faced by Indigenous Peoples at Humboldt State.

The Unified Students of Humboldt formed after the HSU administration abruptly and unjustly fired Dr. Jacquelyn Bolman, a nationally recognized Native scholar and mentor, and director of HSU's INRSEP (Indian Natural Resources Science and Engineering Program) for 9 years.

The manner in which Dr. Bolman was fired was a traumatic experience for many students. With no warning, 3 administrators removed Bolman and students from the INRSEP house, and changed the locks. To add insult to injury, Bolman's firing occurred 2 days before Indigenous Peoples' Week.

In October, the group organized some of the largest demonstrations seen on campus since the Vietnam War. They have made very clear that their demands are necessary for the success of Native students (see below), though HSU administration has yet to meaningfully respond.

Unified Students of Humboldt delivered this statement to the forums' first class,

"HSU is not living up to their own mission statement to support and celebrate diversity. We will occupy the Dr. Jacquelyn Bolman Forum until our demands are met.

Nationwide, Native American students continue to be overlooked by the educational system, and HSU is no exception. At one time, HSU was the premier destination for Native students in the state. However, in the past decade there has been a regular assault on our student programs and community."

Unified Students of Humboldt Demands:

1. Reinstate and secure Dr. Jacquelyn Bolman position as Director of INRSEP.

2. We demand full effective participation in a transparent hiring process for HSU staff, faculty and administration. We as students demand equal voting power on hiring, promotion, tenure committees and dismissal procedures in selecting and dismissing HSU staff, faculty and administration in order to ensure greater diversity at HSU.

3.Fully fund our Diversity Programs; including but not limited to the $40,000 promised to be restored by President Richmond to the INRSEP Program in a meeting last May.

4. Honor instead of retaliating against HSU staff and faculty who support students of color and our advocates including Antonio Lopez, Stephen Bell, Grace Cardenas and Jacquelyn Bolman, among many others. We demand these rights for our faculty and staff under the Whistleblowers Protection Act and Educational Code 66301 ( Section F) to protect their first Amendment rights.

5. We demand the dissolution of RISS (Retention and Inclusion of Student Success) and the programs in which it supports to be moved back into their respective Colleges. Faculty, Staff and Students who operate and participate in these programs should be the ultimate say in the fate of their programs.

6. Terminate Radha Webley [HSU's director of the Office of Diversity and Inclusion].

7. The Bolman Forum is not the BSS Forum and is for the Indigenous Community.
And here's the response sent by HSU's public relations office:
HSU Statement on Today's Sit-In

A sit-in by students and other individuals in the Native American Forum is disrupting classes during the first day of Spring Semester at Humboldt State University.

The university is reaching out to those who are protesting to discuss their concerns and urge them to leave the facility so that classes may continue as scheduled. The university recognizes and respects the students' right to protest and have their voices heard. However, the current action is affecting the education of other students. Five classes with high enrollment are scheduled to meet in the Native American Forum on Tuesday and Wednesday – the first class was held in the room with protestors present, and others are being relocated.

The top priorities for the university as it works to address the situation are safety and student learning.

The sit-in began following a two-day conference on Native American Activism. The student club called Civil Liberties Defense Center (HSU Chapter) had campus permission to use the space through 10 p.m. Monday evening, after which approximately 30 individuals chose to stay in the room overnight. They discussed their plans in advance with University Police, and asked officers many questions about options and consequences. The university does not know how long the protestors plan to continue the sit-in.

The concern of protestors appears to be last fall's departure of the director of Indian Natural Resource, Science and Engineering Program (INRSEP), though other issues have been raised in media reports and online. One other concern appears to be that the name of the Native American Forum may have been changed. It has not, and there have been no plans or discussions about doing so.

Campus officials have had ongoing dialogue with Native students and many others about issues and challenges related to diversity. The university remains deeply committed to diversity and to providing support to help all students be successful.
Note: This post has been updated more than once to include more information.