UPDATE 3:05 p.m.: Humboldt Bay Fire press release:
At 11:19 A.M. today crews from Humboldt Bay Fire responded to a reported structure fire at 808 Summer Street. The first arriving unit arrived on scene and reported a two-story wood framed residential structure to the rear of 808 Summer Street with heavy fire coming from the second floor windows. Initially crews were told that there may be occupants inside of the structure. An ambulance was requested to the scene. Fire crews immediately attacked the fire and searched the structure for victims. None were located. Personnel had the fire controlled within 30 minutes and completely out in one hour. There was extensive mop-up needed within the structure. The structure was a total loss. The cause of the fire is under investigation. Humboldt Bay Fire will provide more information next week.
###
Original post: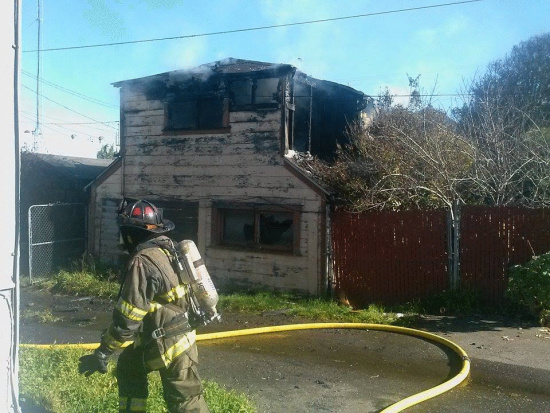 A home just off Broadway near the corner of Washington St. in Eureka was consumed by fire this morning.
The Humboldt Bay Fire District was called to the scene at about 11:30 a.m. and found the building "fully involved." Chief Ken Woods, who is at the scene, told the Outpost moments ago that firefighters were initially told that a person might have been trapped inside, though they quickly found that the building was unoccupied at the time.
Woods said that the department is currently treating the fire as "suspicious," based on an interview with residents.
The burned home is — or was — located just behind the vacant building that was most recently home to Liu's Restaurant.