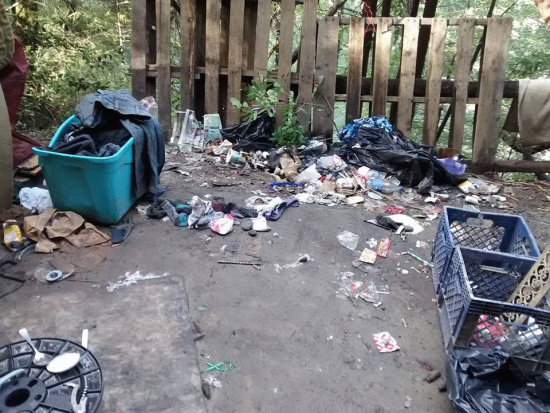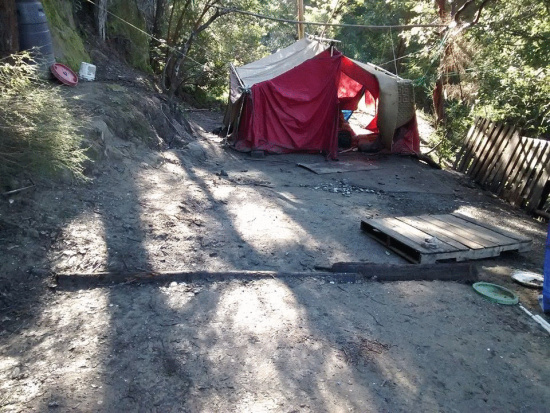 A homeless camp cleaned up on Friday. [Photo on the left pre-cleanup. Photo on the right post cleanup.]
Yesterday, 3600 pounds of trash went to the dump as part of a renewed support for a bi-weekly garbage cleanup in Southern Humboldt. Sickened by this video documenting trash which was posted on the Lost Coast Outpost last Saturday, PacOut Green Team member Amy Machado started the latest surge in cleanup energy and Humboldt Pride with a post on her personal Facebook page calling for people to organize and pick up garbage along the Eel River.
She soon understood that there was a lot more garbage than she had expected but there was also an already existing effort to cleanup the area. "Once I realized the scope of the problem then I wanted to work with groups," Machado explained. "Let's get people on board with something that is already happening."
The response to Machado's call for action has been phenomenal. She started a Facebook page that already has over 600 members. On Tuesday and Friday of this week, people excited to help joined long time trash activist Mike Miller on his regular biweekly cleanups in Southern Humboldt. On Tuesday, 1800 pounds of trash were removed.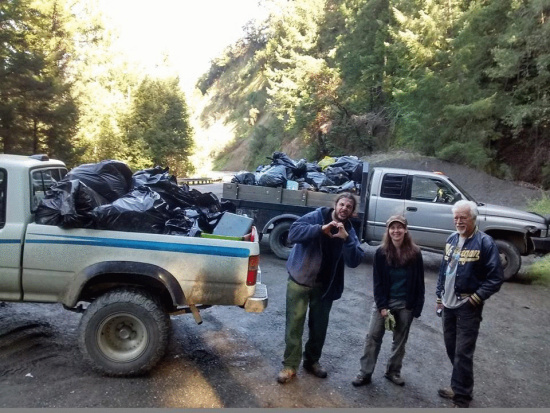 Southern Humboldt residents including Dusty Hughston and Kerry Reynolds pictured here joined with Mike Miller (far right) on Tuesday to pick up trash. [Photo from Eel River Cleanup Party.]
On Friday, 3600 pounds was taken out from an area north of Redway. The cleanup was hard, dirty work, said Chris Anderson who helped in the event. Some aspects, he said, were a little hard to deal with including a "bucket of human feces" and five to ten hypodermic needles strewn about. Anderson said there were also lots of little batteries. "In one camp, there were 40 or 50 little batteries," he said. "These small batteries…can leach into the water supply."
Anderson said that at this point most of the trash appears to be coming from homeless individuals. "We're cleaning up after people living out there," he said. He didn't see many of the homeless who live in the area but the one he did see was "super helpful." Mike Miller, the long time trash activist, he said, had been working with the individual in cleaning up the area previously. "He has created relationships with the [homeless,]" Anderson said. "He is an amazing man."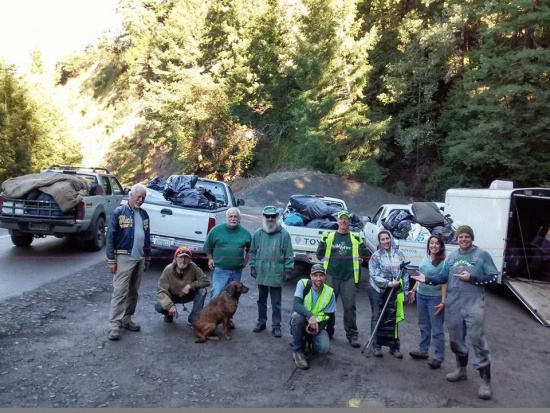 Pictured are a few of the estimated 10-15 folks that helped pick up trash on Friday. [Photo from Eel River Cleanup Party.]
KHUM DJ and LoCO contributor Mike Dronkers said that he was pleased to see the video he posted on the Lost Coast Outpost generate such a positive response. "I'm very excited that just pictures can move people," he said. He was so delighted with the results of this week's trash removal that he declared, "The Humboldt Pride runs deep with these people." [Hence, the title of this piece.]
Dronkers said that several weeks before he posted the video that moved Machado and others, KHUM was given a packet of photos by John Casali, a trash activist originally from Southern Humboldt. Dronkers said, "I cracked it open and thought 'this is going to take time.' We passed it around the KHUM staff. We didn't know what to do."
Finally, he decided he had to "let the photos speak." He took the images and loaded them into a movie making program. The video, he said, "Unlocked a lot of enthusiasm" that already existed in Humboldt for getting rid of the trash. He mentioned that Surfrider and PacOut Green Team were recent forerunners of the current cleanups, too.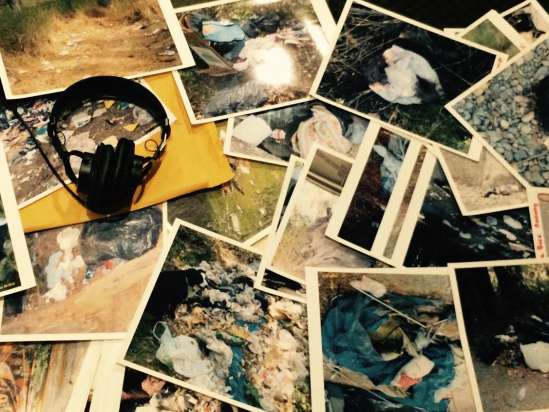 The packet of trash photos was spread out in KHUM for the staff to contemplate. [Photo provided by Mike Dronkers.]
Amy Machado, the force behind the recent efforts, eventually envisions trash cleanup parties with live music and a party atmosphere. Right now though the focus of the Eel River Cleanup group is on rolling up sleeves and getting rid of garbage on bi-weekly basis. On Tuesdays and Fridays volunteers gather in front of Tiger Lily bookstore on the north end of Garberville at 11 a.m. Can't show up to shovel trash? You can donate money to help here at the fundraising page for the Eel River Cleanup Party.
Fired up to do something now? Be part of the LoCO Movement:
This Sunday, January 25, [today or tomorrow depending on when you're reading this] at 10 a.m. Southern Humboldt Technical Rescue will be practicing their rescue skills and removing the large number of remaining butane canisters that were dumped near Alderpoint Road. Nocona Mendes who already worked on the site will be donating the use of his truck and trailer. Volunteers are needed to bag trash, puncture the butane cans (to reduce costs of dumping) and load the trucks. Money is needed to cover dump fees. Trucks and trailers would be useful, too.
Redheaded Blackbelt and the Lost Coast Outpost are sponsoring the cleanup. Alderpoint Store is contributing gloves, bags, and water as well as the contents of a donation jar set up for the purpose of cleaning up this site.
LoCO will be there documenting and interviewing the participants. Come introduce yourself and join in the Humboldt Pride.
As Chris Anderson said, "It is a powerful thing to see the community coming together."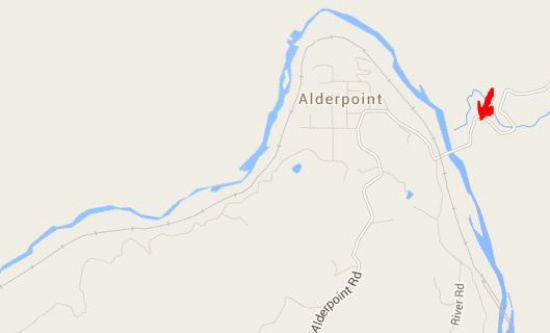 Approximate location of the cleanup site.
Previously: