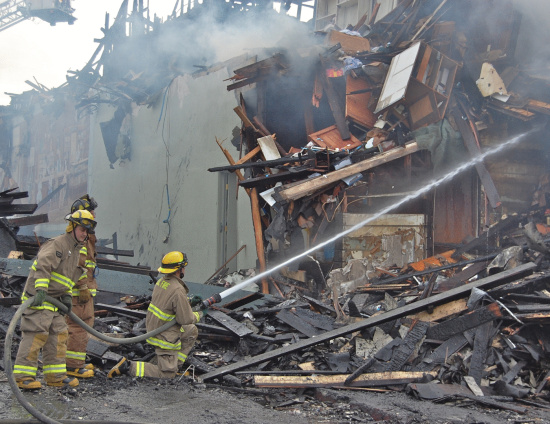 UPDATE, 3:46 p.m.: Main Street Fortuna between 9th and 12th streets remains closed as firefighters continue to battle hot spots as they're uncovered in the building. Officials on the scene expect they'll be babysitting this thing through the night.
City of Fortuna release below:
To allow for the ongoing fire investigation and to ensure the safety of the public, the Fortuna Police Department will be continuing to enforce the closure of Main Street from 9th Street to 12th Street throughout the night. The Fortuna Fire Department and city staff will reassess the need for the closure in the morning.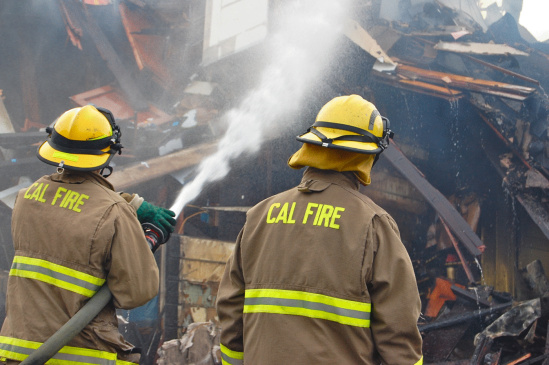 # # #
UPDATE, 12:50 p.m.: Horizon Business Products' cat mascot Gidget was found, safe and sound. (Second Update: HBP has announced via Facebook that the previous cat report was premature, sadly.)
# # #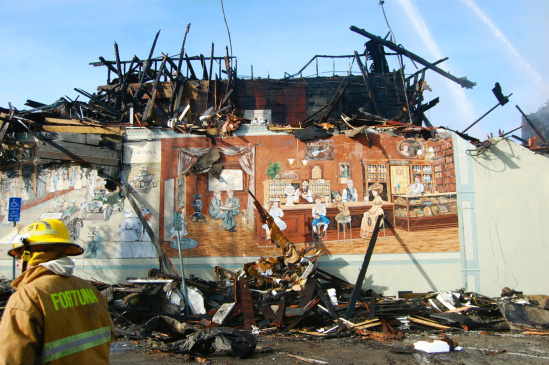 Crews from the City of Fortuna and various fire departments countywide are diligently working to make safe the smoldering onetime Star Hotel on Fortuna's Main Street. The top floor of the building is currently being scraped by an excavator supplied by nearby Leonardo Logging.
Officials on the scene note that the mostly redwood building was retrofitted in 1992 and has a steel beams running between floors. Does that mean that the bottom floor can be salvaged for future reconstruction? Odds are low, but it remains a possibility.
Meanwhile the businesses that occupy the building are processing this morning's events. LoCO spoke with thankfully well-insured North Coast Music owner Aaron Souza who reported that most of his inventory and studio space is a loss — though he mentioned he was able to grab his personal guitar and computer before having to vacate.
PREVIOUSLY: