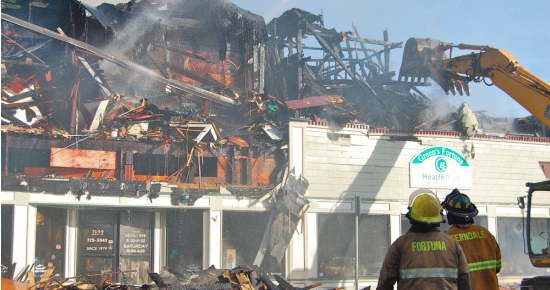 Crews from the City of Fortuna continue to cleanup the wreckage from Wednesday's fire that destroyed the historic Star Hotel Building on Main Street (you can somewhat watch their progress live on LoCO's CAMMED page).
But for those feeling the urge to lend a financial hand to the people whose businesses were decimated by the flames, a GoFundMe campaign has been set up online. LoCO received a message from Dakota Daetwiler, the campaign's starter and owner of Dakota Designs art gallery, one of five businesses that occupied space on the Star Hotel Building's ground floor. Her "Fortuna Strong" page has already raised over $1,300 toward her goal of $10,000 that, if achieved, will be equally distributed among those affected.
For those who wish to contribute, clicking here is gonna get that ball rolling. Fortuna Strong!
PREVIOUS FORTUNA FIRE COVERAGE: