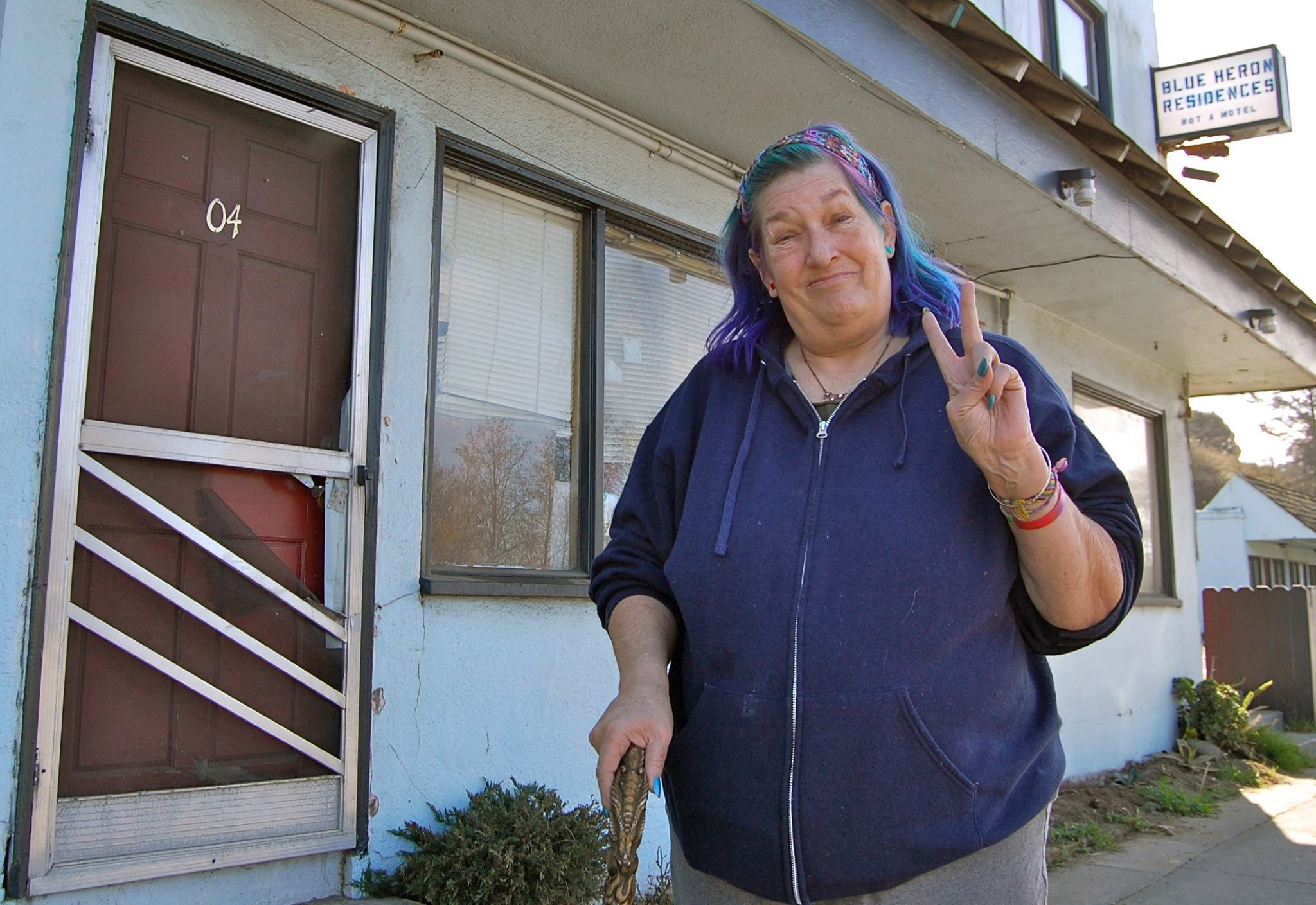 Catherine Nichols stands outside her unit at the Blue Heron Lodge. Photo by Andrew Goff.
Catherine Nichols has been living at the Blue Heron Lodge for 10 years, and she'll be the first to tell you that the place is a nightmare. The rooms are infested with cockroaches and spider eggs, many of the residents are drug addicts, some of the managers over the years have been drug dealers, she said, and the cops show up regularly.
But for Nichols, the place is still home. She lives on the ground floor of the detached two-story unit, sharing the single bedroom with her husband and 18-year-old daughter, who recently graduated from Eureka High School.
"There's love in this house," Nichols said. "There's God in this house."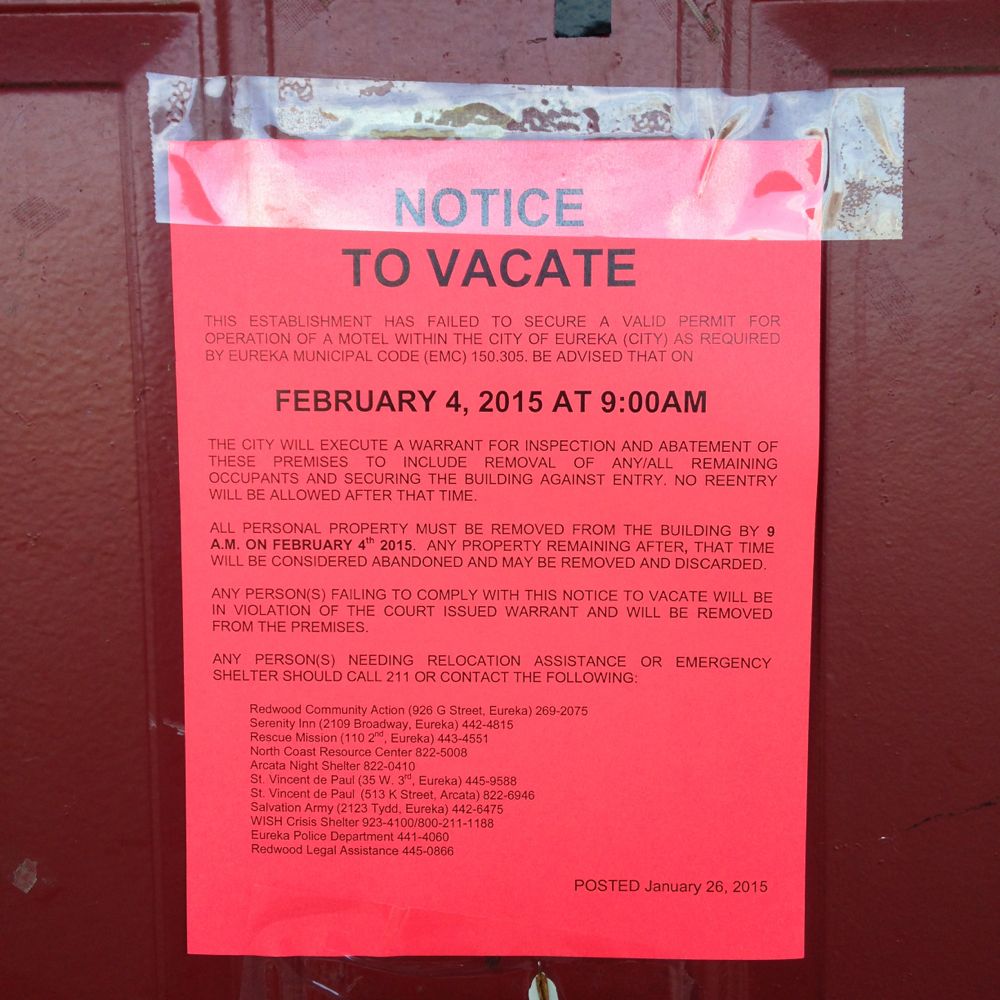 So when she learned that the City of Eureka is evicting all the residents and shutting the place down, she actually felt devastated.
"We've been here a very long time," she said. "We have stuff people collect over the years — it's like a lifetime worth of stuff." Her voice quavered as she started to cry. "I'm sorry," she said. "I'm just so distraught. We're gonna end up leaving a lot behind that we really treasure."
Nichols said she never wanted to live at the Blue Heron, but she couldn't find anyone else who would rent to her. In the 10 years since then she and her family have seen some rough things.
"My daughter was in bed one day and we heard this guy out by the dumpster screaming and hollering," Nichols said. "My daughter looked out the window and said, 'Oh my god, mommy! There's a guy out there with four needles in his arm.'"
Nichols said she was recently diagnosed with cancer, so being uprooted now is even more traumatic.
The City had posted red "Notice to Vacate" signs on every residence door recently, but Nichols said that notorious property owners Floyd Squires later called and spoke to her husband, telling him to tear down the notices and not to worry — nobody would be made to move out.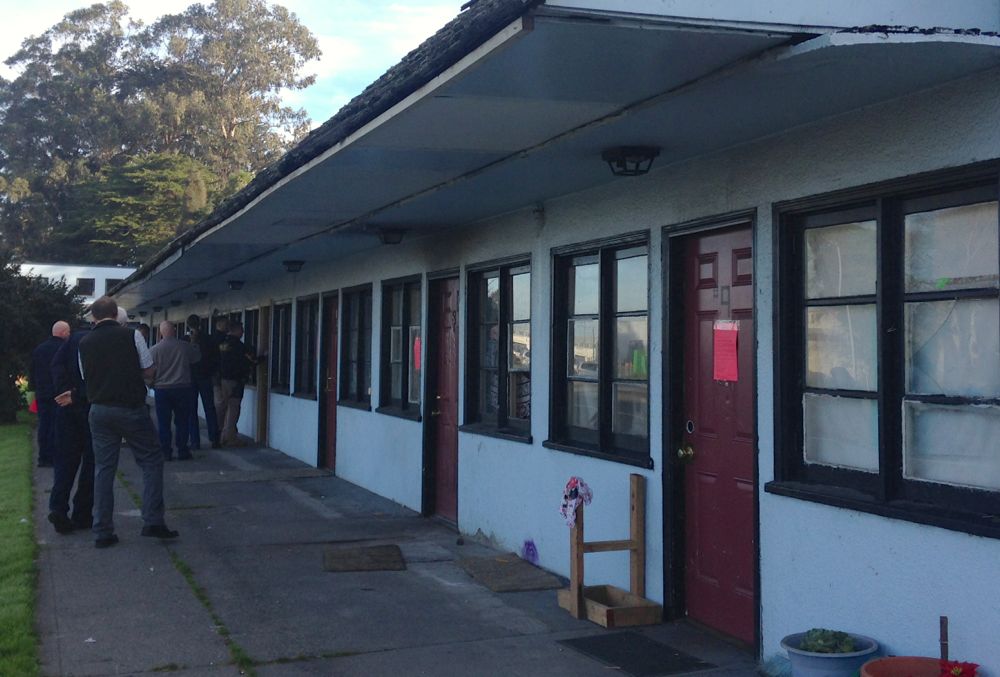 Photo courtesy City of Eureka.
But officials with the city and the Humboldt County Department of Health and Human Services showed up again this week to inform tenants that they must be gone by Feb. 4. The fliers posted on each door warn, "Any person(s) failing to comply with this notice to vacate will be in violation of the court issued warrant and will be removed from the premises."
Nichols said she's back where she was a decade ago, trying to find a place willing to rent to her, and now it's even more difficult because of the stigma of the Blue Heron.
"At this point nobody wants to rent to us because of where we're from," she said. "It's a catch-22; it's terrible."
The fliers posted onsite list a variety of local agencies offering shelter and assistance, but Nichols said she hasn't had any luck. And she resents being lumped in with the rest of the tenants at the Blue Heron.
"We're just trying to do the best we can with what we have — which is nothing," she said. "But we're still trying to do the best we can and not be a drain on society."
One last insult to injury: For months Nichols had been bugging Squires to replace their refrigerator. He showed up with a new one Monday, she said — the same day she learned of her pending eviction.
Calls to a number listed for Floyd and Betty Squires were unanswered.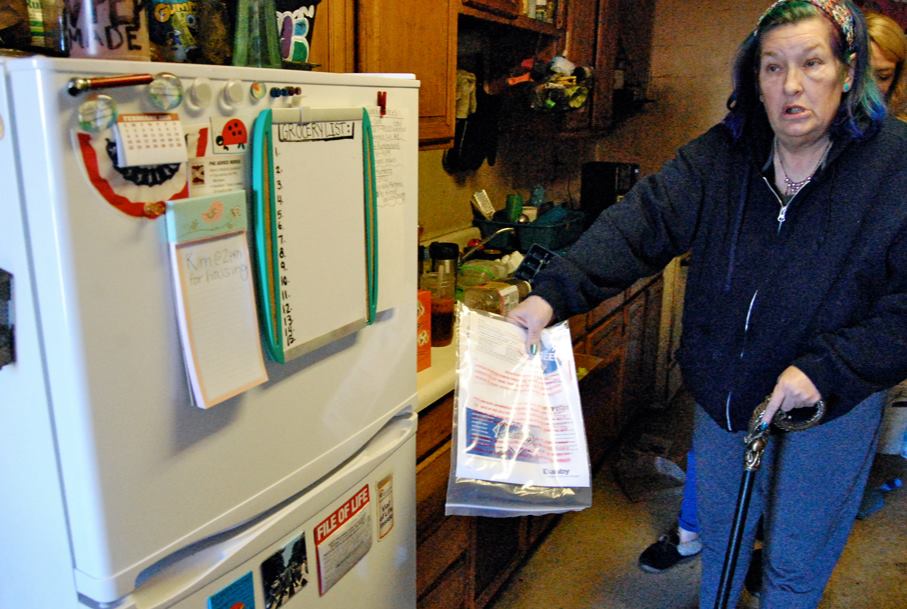 The new refrigerator. Photo by Andrew Goff.
Asked if it's possible that she and her family might end up someplace better than the Blue Heron Nichols said, "I am praying to God we do."
Local photojournalist Nick Adams has been documenting the lives of many local homeless people, including a disabled, alcoholic man named Guy, whose bleak life was actually improved by getting placed in the Blue Heron. Adams created the short documentary video below.