[Submitted to the Outpost by Tia's daughter Deena.]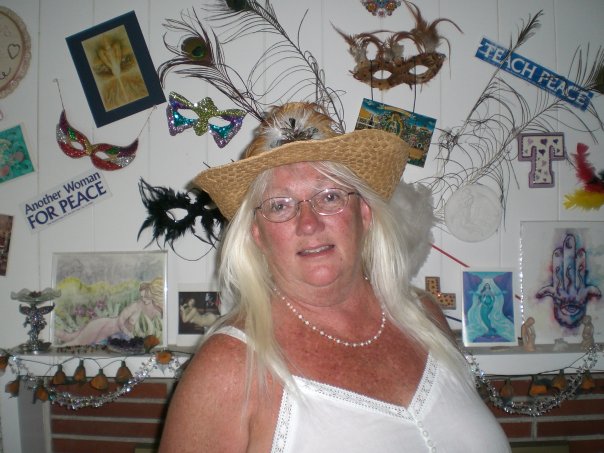 Tia Marietta Faull was born on January 14, 1947. She passed away peacefully at her home in Arcata, California on December 29, 2014. Tia was born in Southern California to Bob and Helen Stevens. She was raised in Manhattan Beach and lived there for over 40 years. She started taking ballet at a young age, and her passion for dance only grew as she got older. She studied dance at several studios including the American School of Dance in Hollywood, and in high school competed in the Battle of the Bands at the Hollywood Bowl. She graduated from Mira Costa High School in Manhattan Beach in 1965.
Tia was a true flower child and had many adventures in the late 60's and early 70's! After she had her daughter, Tia got a job at Little Company of Mary Hospital in Torrance as a radiology transporter, where she worked for 14 years. She truly loved her job and her co-workers, and always went above and beyond what was expected of her. She loved people, and her positive spirit brightened many patients' days.
One of Tia's dearest friends gave her the nickname "Mother of the People", as she was a caretaker and mother to so many. Tia was very close to her parents and took care of them both until they passed. After her father's death, Tia moved to Humboldt County in 2001 to be closer to her daughter Deena. She immediately fell in love with the natural beauty of the area and spent many of her days at the beach. Even when it became too difficult for her to physically get to the beach because of her health, she held the roar of the ocean waves close to her heart. She would often promise her grandson that as soon as she felt a little better she would take him to the beach.
Tia was truly a one-of-a-kind. Her bright spirit, zest for life, and sparkling light will surely live on in all those whose lives were fortunate to have been touched by her. She is survived by her brother Bob Stevens, her daughter Deena Faull, her beloved grandson Ryder Robinson, her dog Red Rock, and her two cats Star Shine and Tasha. A celebration of Tia's life will take place on January 18th at 2:00pm at Merryman's Beach House at Moonstone Beach in Trinidad. Tia would be honored by donations to Miranda's Rescue for Large and Small Animals (http://mirandasrescue.org/donate) or to the Companion Animal Foundation (http://www.cafanimals.org/).