UPDATE 2:21 p.m.: Jodie Underwood, a spokesperson for the Drug Enforcement Administration, stated that the raids today are part of "an ongoing money laundering and marijuana investigation." She added, "This is a multi-state enforcement operation in Oregon and California."
At this point, she said, there have been no arrests.
###
Original post: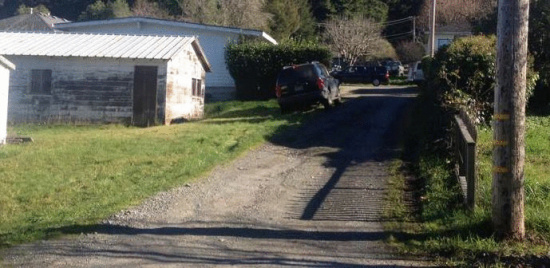 Drug Enforcement agents driving unmarked vehicles raid a home today on LK Wood Boulevard. [Photo provided by Anonymous.]
The Drug Enforcement Administration (DEA) is raiding three residences today during a large marijuana investigation. Two of the homes are in Humboldt County and one is in Trinity County. Currently, the Humboldt County Drug Task Force (DTF) is assisting the DEA at the 2900 block of LK Wood Boulevard and at residence at Mill Creek in McKinleyville. Trinity County officers are assisting at a third address at Oden Flat in Salyer.
Jodie Underwood, a public information officer for the DEA, was unable to divulge any information. She stated this was "an ongoing investigation so I can't comment at this time. "
Lt. Wayne Hanson of the Humboldt County Sheriff's Office said that eight or nine members of the Drug Task Force were participating in the raids today. He said that it is common practice for local officers to assist as they know the area and "we have the local radio communications in case something goes wrong."
Hanson said that there have been no arrests so far in today's operation. "Usually in a federal investigation," he said, "they like to complete the investigation before they arrest anybody."