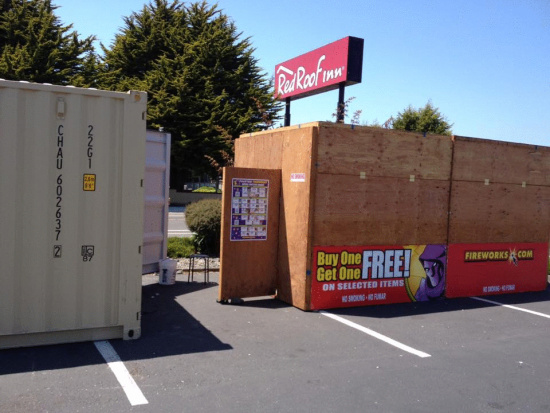 UPDATE, 5:01 p.m.: Catalyst member Mike Robinson tells the Outpost that Arcata Police have returned the fireworks. The word police gave him is that a few juveniles were responsible for the heist and are now megabusted.
"We'll be up and running again tomorrow," Robinson told LoCO.
Hallelujah.
###
Original Post: As we've heard, freedom isn't free, but last night some wrong-headed, America-loving thieves believed that the best annual fireworks supply should be. For them, at least.
A fireworks booth located in the Valley West Shopping Center parking lot and operated by members of Catalyst Church had over a thousand dollars worth of celebratory explosives lifted from it. According to co-pastor and LoCO contributor Bethany Cseh, the crooks cut through several locks that secured the booth's adjacent storage unit. Naturally, they snagged the best kaboomers.
"The big six-hundred dollar one was stolen and a few one-hundred dollar packages," said Cseh. "They're still taking inventory."
As per the nature of the nonprofits fireworks industry, the church is liable for the cost of the missing fireworks. Anyone with information should call Arcata Police at 707-822-2428.