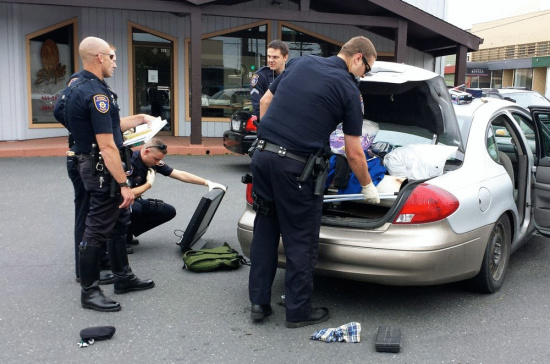 Two wanted felons were arrested in Eureka this evening after being pulled over in a car full of stolen goods and fleeing through downtown, according to the Eureka Police Department.
Acting Watch Commander Tim Cooper told the Outpost that a fellow officer recognized a man named Little Eagle Moon, who was wanted on several felony charges, in a car driving north on H Street. The officer ran Moon's name and confirmed that Moon was not only wanted but also considered armed and dangerous, Cooper said.
After calling for backup, the officer pulled the car over at the intersection of Sixth and E streets. While the female driver immediately complied with the traffic stop, pulling into the parking lot at the northeast corner of the intersection, Moon and another man jumped out of the car and ran in separate directions, Cooper said.
Officers split up and chased the men down Fourth, Fifth and Sixth streets, eventually overtaking and arresting them both, according to Cooper. Moon was wanted on charges of bringing drugs into the county jail, possession of a concealed firearm and possession of stolen property. The other man, who was identified as Gene Chester Nelson, had felony warrants for armed robbery.
Two women were in the car — one had been driving without a license, Cooper said — and they, too, were arrested at the scene. Inside the car, officers found "what appears to be large burglary tools," Cooper said, including multiple pairs of bolt cutters. Also in the car were large amounts of jewelry and "a lot" of newer electronics, including a high-definition television.
"We're probably gonna be out here a while — and back at headquarters — trying to piece together the [theft] victims," Cooper said. One of the men arrested had a bag of methamphetamine on him, according to Cooper.
While the officers dug through the car, pulling out a purse full of jewelry and laying various weapons on the hood, the two women sat confined in the back of one squad car with the two men in the back of another.
Below are some pictures from the scene.