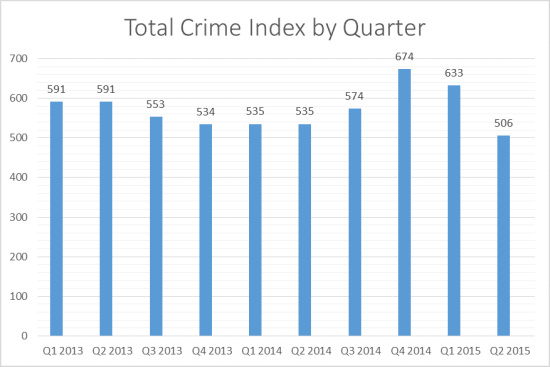 From the Eureka Police Department:
The Eureka Police Department 2015 second quarter crime statistics have been recorded. Offenses reported as crime statistics are determined by the FBI Uniform Crime Report Program (UCR) and are classified as crimes against persons (violent crime) and crimes against property (property crime).

Violent crime during the second quarter of 2015 increased 20% compared to the first quarter, from 25 reports to 30. There was no change when comparing the second quarters of 2014 and 2015. Despite quarter two's increase in violent crime, the trend line continues to go down.

The trend line for property crime continues to rise; however, when comparing the first quarter to the second quarter of 2015, property crime went down 21.7%. The second quarter of 2015 was down 5.7% property crime reports when comparing it to the second quarter of 2014.

Overall, the second quarter of 2015 had the lowest number of crime reports taken since January of 2013.

The attached graphs show violent crime reports, property crime reports, and total crime by quarter. The total numbers for all reported categories can be found on the Eureka Police Department website.