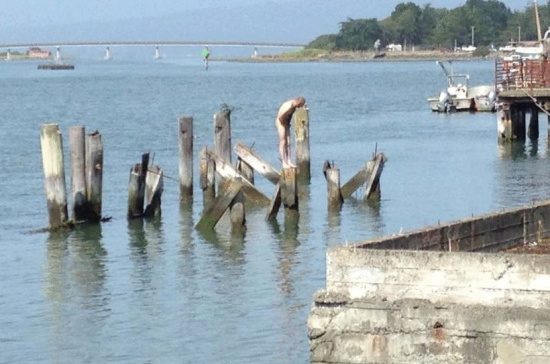 UPDATE, 5 p.m.: Eureka Police Captain Brian Stephens explained that, prior to his stand in the bay, the man caused disturbances at both the Eureka branch of the North Coast Co-op and the Eureka Rescue Mission. He entered the bay via a boat, only to climb onto the pylon and take off all his clothes, Stephens explained.
Here's audio from the interview with Captain Stephens.
# # #
Original post:
Humboldt County Sheriff's deputies this afternoon rescued a man found standing naked on a pylon in Humboldt Bay, near the foot of Commercial Street in Eureka.
Deputies pulled a boat next to the pylon and helped the man off his perch. He was then taken to a nearby dock where he could be heard explaining to officers with the Eureka Police Department, "I got real scared and I jumped in the fucking water."
The Outpost's John Ferrara is on the scene and reports that the man resisted constraints and repeatedly yelled, "Somebody help me!"
He was given an injection — presumably a sedative, Ferrara reports — and loaded into an ambulance.