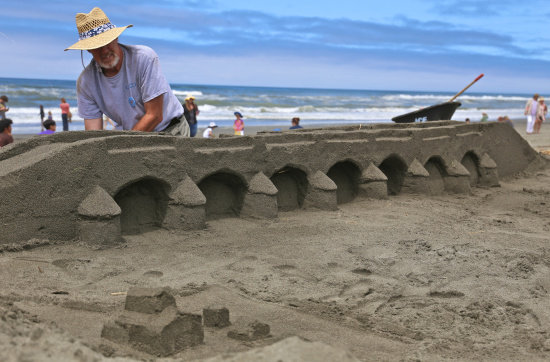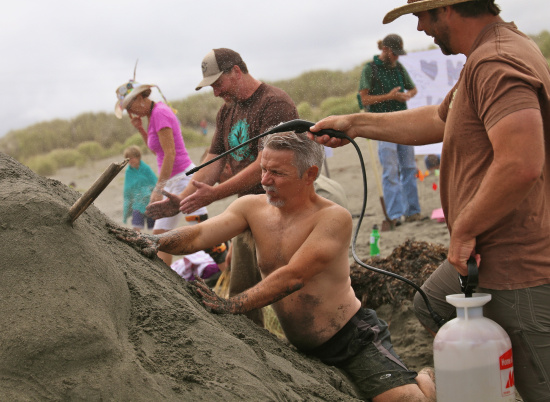 Sand, man! You better believe Humboldt played at the beach Saturday during Friends of the Dunes' 20th annual Sand Sculpture Festival. Like any rational human would, your Lost Coast Outpost chose to spend this sublime summer day looking at carefully shaped, wetted sand art.
In case you care, our favorite entries were the sculptures of Fernbridge, famous luck dragon Falcor and, of course, the bison constructed by "Team Owen," a crew assembled to honor local 10-year-old Owen Greacen who recently passed away.
LoCO is pretty sure we took photos of every sculpture, but if we didn't rest assured you'll be able to find them all later on Friends of the Dunes website where local every-kind-of-artist Steven Vander Meer curates an impressive archive of photos of sculptures from year's past.
Note: We left before the winners were announced so we could hustle these photos online, so if someone at FOD wants to email us later with this year's list of awards that would be swell.
UPDATE: And, as promised, here are the winners:
Golden Shovel Award: Wildberries
People's Choice Award: Team Owen
Best of Show: Falcor Cold Medinas
Most Imaginative: Team Invertebabes
Most Dedicated Diggers: iGanadores
Best Youth Sculpture: Strawberry Pancake
Photos, now.