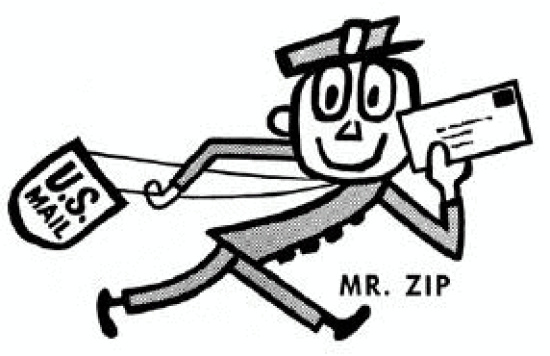 Last year, as mail fans may recall, the U.S. Postal Service announced that it would be closing and consolidating mail sorting facilities all over the country, including the one here in Eureka. That would have meant multi-day delays in sending and receiving first-class mail, as all our letters, magazines and the like were diverted through Medford, Ore.
Last we heard, that was still the plan, but no! Turns out we've been given a reprieve, along with nearly all the other mail sorting centers across this great land.
Yesterday, your Outpost correspondent was reminded about this issue by none other than Fourth District Supervisor Virginia Bass, who'd heard from a local resident that the blade of the guillotine had been stayed. For the time being, at least, our mail won't be diverted 190 miles north, though that ruling could be reversed next year according to a very dry public statement from the USPS, pasted at the bottom of this post.
The planned closure of Eureka's sorting facility, which stemmed from an Orwellian-sounding 2011 effort called "The Network Rationalization Initiative," was supposed to take effect this very month. But a USPS spokesman out of San Francisco, Gus Ruiz, explained that the federal agency reevaluated matters after seeing an explosion in the volume of packages being mailed. First class, single-piece mail — your typical letters, bills, junk mail, etc. — has decreased and will continue to decline thanks to the Internet, Ruiz said.
"But we've seen a double-digit increase in [the volume of] parcels," he added. Starting last fall, in the run-up to the consumerist bonanza that is Christmas season, package shipments increased dramatically — also thanks to the Internet, Ruiz said. What surprised the agency was that the trend didn't slow much after the holiday season.
"It turns out the volume we saw is now basically an everyday occurrence," Ruiz said. "It's steadily increasing as more people shop online."
What Ruiz didn't mention was the considerable political pressure and public blowback to the planned closures. Locally, for example, Congressman Jared Huffman wrote an angry letter to the Postmaster General and organized a town hall meeting, to which he brought USPS representatives to listen to the community's concerns.
The American Postal Workers Union was also vocal in its objections, and Mike Hetticher, president of the Local 1056 in Eureka, told the Outpost today that the decision to delay closure was good news.
"It's a big time relief," he said. "That [closure] was gonna create chaos. Not only does it affect postal workers here; it affects everybody in the community."
Hetticher calculated that a first class letter sent locally — meaning to and from anywhere in the region from Crescent City south to Leggett, roughly — would take as long as five to seven days to arrive, compared to the one-day turnaround that's typical now.
While the Postal Service plans to revisit this issue next year, Hetticher said Humboldt County's sorting center, in particular, should be spared permanently.
"Logistically we're in unique situation from other areas," he said. Our geographic isolation — exacerbated by slide-prone roads such as State Route 199 and Del Norte County's "Last Chance Grade" — puts us at risk of major delays, Hetticher argued. The closure of Eureka's sorting facility would have affected 22 local postal workers' positions, according to his calculations.
Below is the press release from the U.S. Postal Service, which was evidently issued back in May with little or no fanfare. And, again, the thing is turgid bureaucratese, just so you're prepared.
The Postal Service will defer most of the plant consolidations that were scheduled to take place this summer as the final stage of its Network Rationalization Initiative.

The Network Rationalization Initiative is the multi-phase, multi-year effort announced in 2011 to balance mail processing infrastructure costs against current and anticipated mail volumes to successfully right-size the postal processing network.

The decision to extend implementation of the next phase of the initiative was based upon operational considerations to ensure that the Postal Service will continue to provide prompt, reliable and predictable service consistent with the published service standards.

Deferred consolidation activities will resume in 2016.

The Postal Service will continue to implement network efficiencies and to pursue service performance improvements as it has always done.