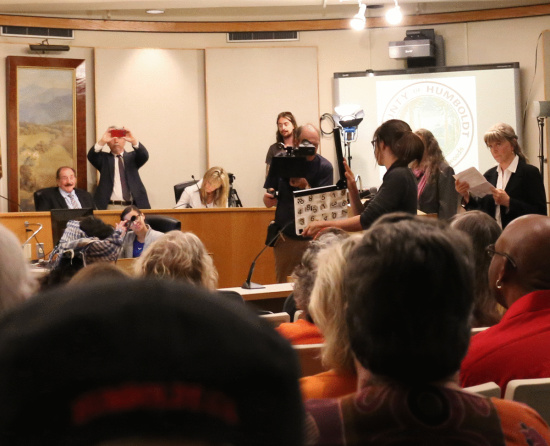 "Please, please regulate us … and bring us into the community … you and me can be free!"
So sings a concerned cannabis farmer, in '50s doo-wop style, from the public speakers podium to the Humboldt County Board of Supervisors seated before her. Soon after, a choir made up of other growers in the audience assembled in the supervisors' chambers leaps to their feet to join in the musical plea.
"Regulate us! … Regulate us! … Reg - u - late us, whoa - ooo!"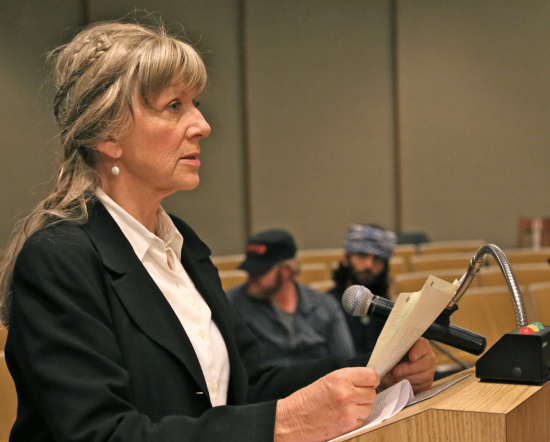 This was the scene inside the actual Humboldt County Board of Supervisors Chambers Friday, part of continued production for a new film version of Mary Jane: The Musical. Local theatergoers have likely caught one of the numerous stagings of the play since it debuted in 2011 on the Dell'Arte stage as part of the Mad River Festival in Blue Lake. Now, after a successful Kickstarter campaign raised over $10,000, the lyrical look at our famous industry-in-transition is in film production on its way to the big screen.
In addition to many of the actors who've been with the production since the beginning, Mary Jane has recruited some new legendary star power. You might have noticed earlier this week when Humboldt's Facebook crowd "like"ed-up various pictures of one-time Lou Grant Ed Asner hanging with the locals. He's in the movie! Yesterday, the longtime fixture on screens large and small shot some scenes out at the ol' Pulp Mill site.
"Ed was the chairman of the board of directors of the evil corporation which will take over the weed market once its legalized," said Zuzka Sabata, one of Mary Jane's stars and songwriters. (See Asner chilling with the crew below.)
To be clear, this new version of Mary Jane will not solely be the stage production brought to the screen. This is also a "Potumentary." According to director John Howarth, the fictional musical sections will intertwine with interviews with figures deeply knowledgable of the inner workings of Humboldt's cannabis community, from growers to government officials.
"The documentary will be woven in with the sort of fictional stuff," Howarth said adding that he wants to highlight many sides of the industry. "We want to deal with the dark side as well as the bright side."
Mary Jane is scheduled to shoot throughout the month of June and should be completed by spring of next year, just in time for the next expected legalization push. Howarth said, at that point, its not exactly clear how the film will be distributed. The focus now is shooting the thing.
"We've got some thoughts on it," he said on Mary Jane's future. "But we'll wait and see what develops."