Rio Dell Police Department press release:
On Tuesday, June 16, 2015 at 5:23 p.m., Rio Dell Police were dispatched to the intersection of Wildwood and Belleview avenues near the US 101 off‐ramp for a traffic collision involving a vehicle and an individual in a wheelchair. The victim, Edmund "Jamie" Edwards, 41, suffered major injuries and was provided medical aide by witnesses prior to the arrival of the Emergency Medical Services. Mr. Edwards was transported to Redwood Memorial Hospital where he succumbed to his injuries.
At this time, alcohol is not considered a factor in the collision and the cause of this accident is currently under investigation.
# # #
Those who wish to contribute to a GoFundMe page set up by the family to help pay for funeral services can do so here. The following text comes from that page:
Jamie Edwards has fought and battled for 17 years since a tragic accident left him paralyzed. Last night, he was tragically struck by a vehicle in Rio Dell. Sadly, he succumbed to his injuries. I am starting a small fundraiser to help his family pay for his services. Please consider donating to this awesome family! No donation is too small :)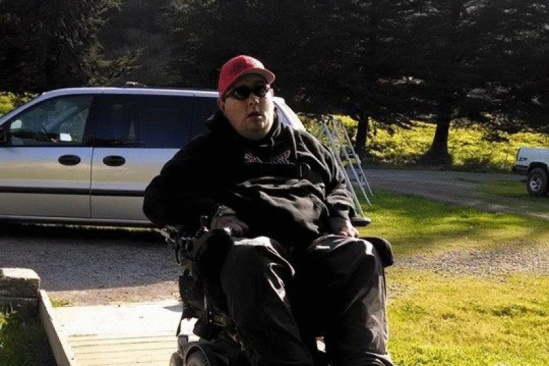 Jamie Edwards | Photo from GoFundMe