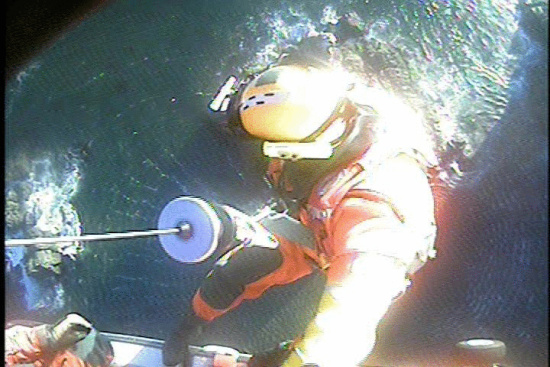 From Coast Guard Sector Humboldt Bay:
At 7:11 last night Coast Guard Sector Humboldt Bay received word that two individuals were stranded on off shore rocks just south of Trinidad Head. Onlookers situated alongside the bluffs overlooking Trinidad harbor spotted the two after their kayak sank 200 yards off the beach.

A Coast Guard MH-65D helicopter was launched from the Coast Guard station at Arcata airport and a Request for Assistance from Mariners was broadcast by the Sector Command Center over marine channel 16. The Coast Guard helicopter was on scene at 7:35 and located one female survivor in the water and a male survivor standing on an off shore rock. Two good samaritans from Trinidad Marina also arrived on scene in a 17 foot recreational vessel around 7:35 and pulled the female survivor from the water. The Coast Guard helicopter crew pulled the male survivor from the off shore rocks by lowering the rescue swimmer, AST2 Jon Rice to the rocks where he secured the kayaker with the survival strop. Then Flight Mechanic AMT3 Alex Bunz operated the helicopter hoist retrieving both the rescue swimmer and the stranded kayaker.

Mariners are reminded to always wear a life vest.