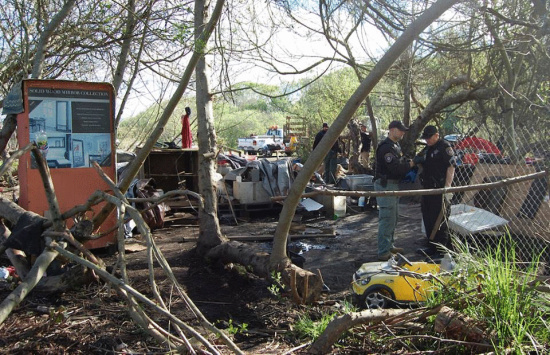 From the Eureka Police Department:
On the morning of 6/03/15, the Eureka Police Department conducted another enforcement operation in the greenbelt areas west of Broadway between Truesdale and West Del Norte Streets. This sweep was a follow-up to April's "Operation Safe Trails" aimed to remove the criminal element from among the camps due to the continuing violence and other assorted crimes associated with this group including robbery, theft, and shoplifting.

During the approximately 5-hour operation, officers contacted over 90 persons in and around the numerous illegal encampments in the area. 16 individuals were arrested for various outstanding felony and misdemeanor warrants. An additional 3 arrests were made for additional offenses including possession of methamphetamine, possession of drug use paraphernalia, and resisting arrest.

No individuals were cited or arrested for camping violations during the operation.
PREVIOUSLY