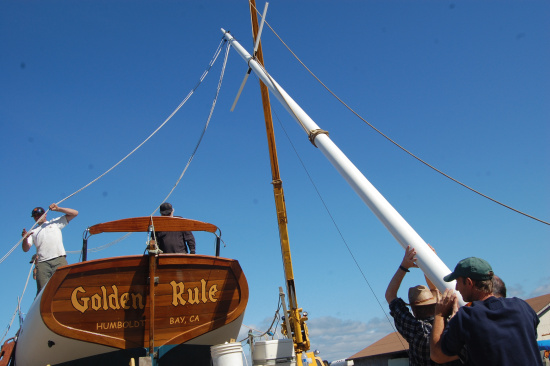 Michael Gonzales looked on atop the Golden Rule yesterday afternoon as a crew of volunteers hoisted his artwork high into the air. After a month of tireless work, the historical vessel's new mast was lowered into place for the first time.
The local artist built the mast from scratch using eight separate pieces of Douglas Fir that he fitted together and sanded down. Gonzales said volunteering on the ship has been a satisfying experience because the project allowed him to incorporate almost all of his artistic skills.
"It's been the most fun I've had in a long time," he said. "One day it's wood work, and the next day could be metal, painting or designing."
Shipwright Breckin "The Dutchman" Van Veldhuizen said the raising was mainly a test to check for proper measurements and that the mast would be removed again for minor adjustments.
"Everything went really smoothly," she said. "My main concern was that the mast wages were an eighth of an inch too big, but that can easily be adjusted."
However, the raising also symbolized the final stage of a restoration project four years in the making which began as a separate venture and is now financed by Veterans For Peace. The Golden Rule is a historical sailboat currently being restored by local volunteers at the Zerlang & Zerlang boat yard in Finntown. The vessel was used in an anti-war protest in 1959 that inspired organizations like Greenpeace and the Sea Shepherds.
The ketch is scheduled to arrive in San Diego for the VFP's annual convention August 1, where the organization will take ownership. However, the ship must pass several trials before it can begin its voyage, like being submerged in water for the first time in five years.
Restoration Coordinator of the Golden Rule Project Chuck Dewitt said the boat will likely leak for a few days until the wood has a chance to swell up. Then the crew plans to test the vessel's seaworthiness on the open ocean.
A Golden Rule re-launch party will be held on June 20, at the Zerlang boatyard at 4 p.m., followed by an after party at the Humboldt Bay Aquatic Center.
Volunteer Michael Gonzales said he's excited to see the vessel be completed and plans to brave the nearly 800 mile journey to San Diego.
"I can't wait for it to splash in the water," Gonzales said.