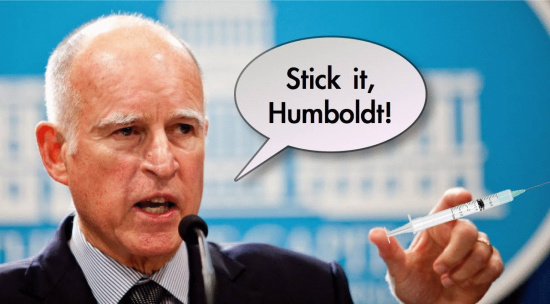 In a move that is certain to occasion much panic in certain Humboldt County school districts, Gov. Jerry Brown just signed one of the nation's toughest mandatory vaccination bills into law. The new law requires that all parents obtain vaccinations for their children before those children are allowed to enroll in school or day care programs, regardless of the parents' personal or religious beliefs. The only exemption allowed will be a doctor's note saying that vaccines are medically dangerous for a child with particular allergies or the like.
The Los Angeles Times has a complete story up on the new law today, which was prompted by last year's measles outbreak at Disneyland and the general resurgence of vaccine-preventable diseases like whooping cough. The Times reports that the law seems certain to be headed for a court challenge on religious liberty grounds.
In the meanwhile, Brown's signature means far more in Humboldt County than other California counties. Humboldt County has one of the worst kindergarten vaccination rates in the state, and certain districts schools — particularly those around Arcata, Hydesville and Southern Humboldt — are exceedingly low, some with fewer than 40 percent of kindergarteners having received their measles-mumps-rubella shots before matriculating.
Gov. Brown's statement upon signing the bill, known as Senate Bill 277:
To the Members of the California State Assembly:

SB 277 has occasioned widespread interest and controversy — with both proponents and opponents expressing their positions with eloquence and sincerity. After carefully reviewing the materials and arguments that have been presented, I have decided to sign this bill.

The science is clear that vaccines dramatically protect children against a number of infections and dangerous diseases. While it's true that no medical intervention is without risk, the evidence shows that immunization powerfully benefits and protects the community.

The Legislature, after considerable debate, specifically amended SB 277, to exempt a child from immunization whenever the child's physician concludes that there are "circumstances, including but not limited to, family medical history, for which the physician does not recommend immunization…"

Thus, SB 277, while requiring that school children be vaccinated, explicitly provides an exception when a physician blieves that circumstances — in the judgement and sound discretion of the physician — so warrant.

Sincerely,

Edmund G. Brown Jr.