UPDATE, 4:01 p.m.: GYB at ACV.

# # #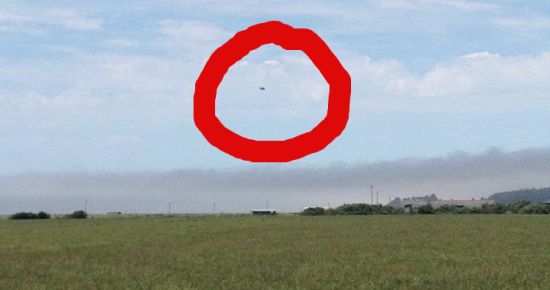 Original Post: As if a WWII-ish air raid in Humboldt's skies were not enough, LoCO just received word that none other than Goodyear Blimp just passed over Loleta headed north.
What is north of Loleta? Eureka! You found it, blimp!
In case you think we are making this up for some reason, please refer to the official Goodyear Blimp schedule. Yes. Now, we got the Loleta sighting call at about 2:38 p.m. It was seen over Cleone at around 12:15 p.m. and over Shelter Cove at around 1:30 p.m. Someone wanna do some blimp speed math real quick?
Emily Jacobs, Humboldt County Aviation Division program coordinator, tells us that the famous dirigible is staying at ACV tonight and is expected to land in about an hour when it will be tied down near the also-visiting Wings of Freedom Tour. (Double photo op!)
And now, some blimp watching music.