PREVIOUSLY: Board Set to Approve 10 Percent Raise for Sheriff-Coroner Mike Downey
###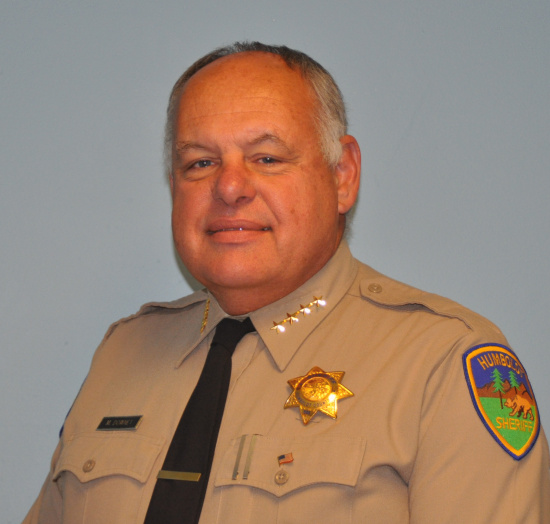 Sheriff-Coroner Mike Downey tells the NCJ's Thad Greenson that he objects to the term "raise," but however you phrase it: His base paycheck is going up by $1,242 a month starting very soon.
This morning the Board of Supervisors unanimously agreed to the post-consolidation bump after brief discussion. It had been originally scheduled for the consent calendar, items which usually go undiscussed entirely, but Board Chair Estelle Fennell had it pulled for discussion at the request, she said, of a constituent.
Most supervisors said that they understood public concern for the bottom line, but although original forecasts presented clear savings to the county as a result of the consolidation of the sheriff's and coroner's offices, they said, such was not the primary goal of consolidation. Supervisor Ryan Sundberg talked about how deputy coroners would formerly have to be called out at all hours, and how the office was near its breaking point.
"We were burning them out," Sundberg said. "With this change in structure, there is some relief to that."
Even if there are no clear savings due to consolidation in the first few years, Sundberg said, the move was worth it.
Supervisor Rex Bohn spoke briefly to one question floating around: Why would he support this increase to Downey's salary, when he has such vehement objections to a superficially similar raise for a member of the county counsel staff a couple of weeks ago? (See Times-Standard op-ed here, if you can.) The answer was simple, Bohn said: In Downey's case, the pay hike was recommended by both the county administrative officer and the human resources department. In the case of assistant county counsel Carolyn Ruth — who, like Downey, has been shouldering an extra workload — the request came only from her boss.
But supervisors mostly consensed around the county's policy we wrote about yesterday: If the department takes on new duties, the department head gets more cash. Several supervisors compared the new salary for Humboldt's Sheriff-Coroner with other vaguely similar counties around the region — Napa and Mendocino were mentioned, specifically — and concluded that we were still getting a deal.
All in favor? Five ayes.