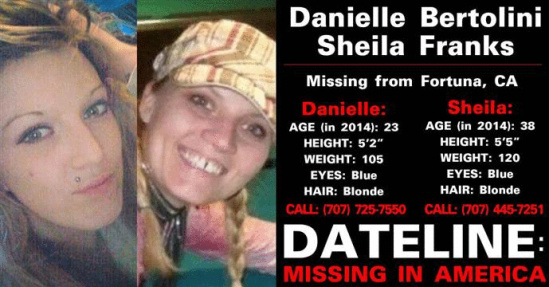 Dateline NBC's online "Missing in America" online series has turned its attention to two Humboldt County women who went missing one year ago: Danielle Bertolini and Sheila Franks, of Fortuna and Rio Dell respectively.
The two went missing within a couple of days of each other in February 2014, and family members and friends, who have have long been frustrated with the slow pace of the investigation, early on suspected that the two cases were linked. NBC manages to wheedle a new bit of information out of law enforcement — they believe the cases are linked as well, and they have identified the person who was last seen with both the women:
Fortuna Police Department Chief William Dobberstein told Dateline investigators believe the two women's cases are connected and there is a person of interest in the cases.

"Both cases are on-going investigations. We're working with the Humboldt County Sheriff's Department closely and following all our leads, but yes, we have identified a person of interest in both cases and it's the same man. We aren't releasing his name at this time," Chief Dobberstein said.
Read the whole Dateline article at this link.
PREVIOUSLY
ELSEWHERE