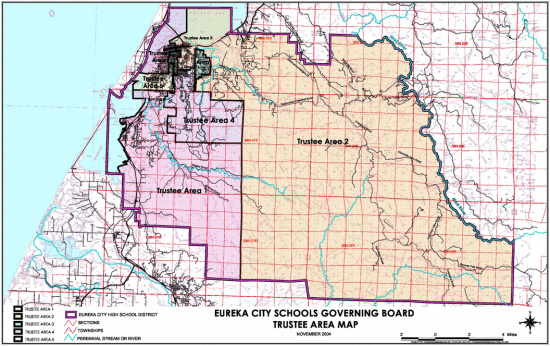 Eureka City Schools is looking to fill a vacancy on its trustee board after the recent resignation Hank Beck, who has served since 2011. One catch: You gotta be a registered voter who lives in the sprawling "Area 2" conveniently labeled on the enlargable map above.
Is that you? More details in the Eureka City Schools press release below:
The resignation of the Trustee to Area 2 on the Eureka City Schools Board of Education has created a vacancy that the Board has chosen to fill. The Board has voted to provisionally appoint a new member per Education Code 5091, 5093. The Governing Board cordially invites registered voters residing in Area 2 to apply for this position. This position serves from April 2, 2015, through the expiration of the position's term on December 4, 2015.

Trustee Area 2 includes areas within the city of Eureka and unincorporated areas to the east and southeast of Eureka. Within the City of Eureka, Trustee Area 2 lies approximately between "J" Street and Harrison Avenue, south to Carson Street. The unincorporated areas of Trustee Area 2 begin at Ryan Slough on Myrtle Avenue and extend east and north to the vicinity of Indianola Road. This portion of Area 2 includes the vicinities of Upper Mitchell Road, Lower Mitchell Road, Walker Point Road, Pigeon Point Road, Freshwater Road, Kneeland Road, and Greenwood Heights Road. Rural portions of Trustee Area 2 include areas east and southeast of Eureka serviced by upper Fickle Hill Road, Butler Valley Road, Mountain View Road, Showers Pass Road, and Tom Shaw Road. A map is available at the district office and on the district's webpage at EurekaCitySchools.org, under Governance, Board of Education, School Board Ward Maps.

In order to apply, interested applicants must submit a resume and letter explaining their qualifications to the Superintendent Fred Van Vleck at Eureka City Schools District Office, 2100 J Street, Eureka, by 4:00 p.m., on Monday, March 16, 2015.

On March 25, 2015, at 5:30 p.m., the Board will hold a special meeting to interview applicants. On March 26, 2015, at 11:00 a.m., the Board will appoint a Trustee to Area 2. The successful applicant will be seated and take the Oath of Office at the April 2, 2015 regular meeting.

The Board of Education views Board service as a voluntary contribution to the community and elects not to receive compensation. Board members may participate in the health and welfare benefits program provided for district employees.

If you have questions, please contact the Superintendent's office at 441-2414.