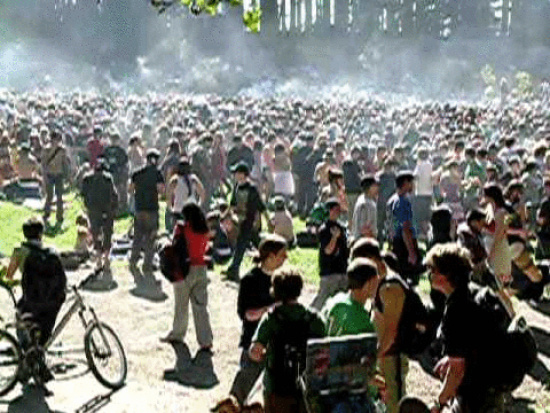 The Humboldt Center for Constitutional Rights would like to have a "free speech event" in Redwood Park on April 20. But, they say, an APD lieutenant told them that the police department has already reserved Redwood Park for every April 20 from now until Kingdom Come!
Press release from the Humboldt Center for Constitutional Rights:
Today, the Humboldt Center for Constitutional Rights (HumRights) sent a letter to Arcata City Manager Karen Diemer, urging her to reverse the city's denial of a permit submitted by the nonprofit for a free speech event at Redwood Park on April 20, 2015.

"The city has told us that we cannot use the public park to hold a free speech event on April 20," said HumRights founder Jeffrey Schwartz. "In doing so, the city says that police training has a higher priority than political expression."

In late July 2014, HumRights submitted an application to reserve Redwood Park on April 20, 2015. Shortly after submitting the request, an Arcata Recreation Division staff member informed HumRights that the Arcata Police Department had directed city employees not to allow reservations at the park on that day. The city directed HumRights staff to contact the police department directly about the reservation.

In September 2014, HumRights staff spoke with a police department lieutenant who explained that the department has a standing reservation at the park on April 20th of every year. The lieutenant stated that the department uses the picnic area, stage and building as a staging area and command post for public safety operations on that date. The lieutenant said the department would be happy to discuss sharing the picnic area with HumRights on that date.

When HumRights later contacted the lieutenant about sharing the space, he informed staff that he would no longer be able to move forward with discussions about sharing the space as a result of a federal lawsuit involving the city of Arcata and Redwood Park.

On December 23, 2014, the Arcata Recreation Division issued a denial of HumRights' event permit.
On February 4, 2015, HumRights board members Dave Meserve and Marcy Burstiner, joined by Outreach Director Kaci Poor, addressed the Arcata City Council and urged its members to look into the permit denial as an unconstitutional act of prior restraint.

"We want to stress that this is a not a marijuana issue," Poor said. "This is an issue of prior restraint. This is an issue of freedom of assembly and freedom of speech. The city should not be allowed to block off areas preeminently."

HumRights asks that the city reverse its event permit denial and reconsider its policy of blocking off Redwood Park to the public on April 20, 2015. Community members who would like to see the park re-opened to the public on that date are urged to contact Arcata Mayor Michael Winkler at mwinkler@cityofarcata.org, or 707-822-1857.
PREVIOUSLY:
SEVEN-O-HEAVEN GREATEST HITS: