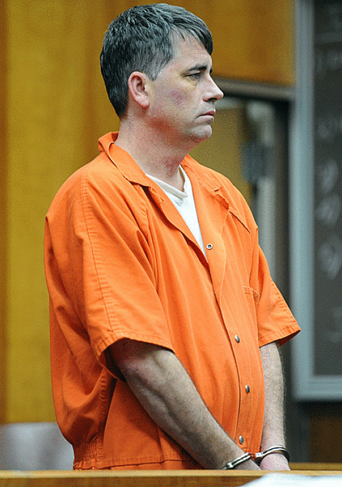 Gary Lee Bullock appeared in court again this afternoon, though the pretrial proceedings were rather uneventful.
As Judge John Feeney dealt with other cases, Bullock, a 45-year-old truck driver from Redway, sat glumly in the jury box handcuffed to a fellow prisoner. He stands accused of the Jan. 1, 2014 torture and murder of Father Eric Freed, late priest of St. Bernard's Catholic Church in Eureka.
When Bullock's case was finally called, Conflict Counsel Kaleb Cockrum, representing Bullock, submitted résumés of proposed expert witnesses. Last month Bullock entered a plea of not guilty by reason of insanity.
Feeney said he needed time to go over the résumés, and after some discussion with the attorneys he set a chamber meeting for next Tuesday at 3 p.m. Feeney also deferred setting a new trial date. The case has been postponed several times.
Deputy District Attorney Andrew Isaac told Feeney that the People want to add a special allegation of carjacking related to the incidents following Freed's murder.
Isaac, who is co-prosecuting the case with fellow Deputy DA Stacey Eads, also mentioned being inappropriately given a stack of Bullock's medical records from Singing Trees, a substance abuse rehab center in Southern Humboldt, though he said he has not opened the envelope containing those records.
The case will continue next week.