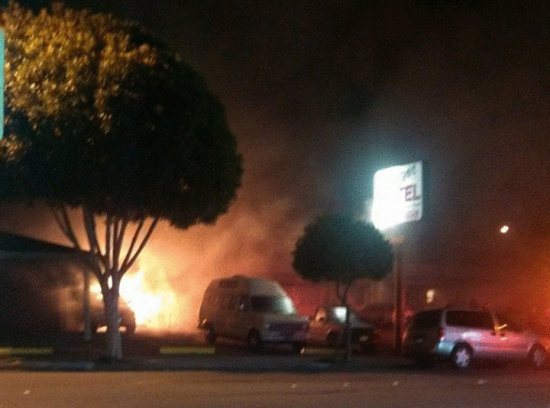 UPDATE, 9:22 a.m.: From Humboldt Bay Fire:
On March 4th 2015 at 0512 hours, Humboldt Bay Fire (HBF) was dispatched to a reported structure fire at the Budget Motel located at 1134 4th St. in Eureka. HBF responded with a full first alarm assignment consisting of three fire engines, one ladder truck, and two Chief Officers. Prior to HBF's arrival, the Eureka Police Department arrived on scene and began evacuating residents from the motel.

The first arriving HBF engine reported fire showing from an exterior alcove on the first floor of the motel. The crew immediately attacked the fire while the ladder truck crew began searching for residents. HBF crews rescued one occupant from the immediate fire area who was trapped by fire inside a storage area, and also assisted another occupant to safety who could not exit on their own due to smoke. One occupant was transported by City Ambulance to St. Joseph's Hospital for smoke inhalation while another was treated and released on scene.
Crews extinguished the fire and remained on scene for approximately two hours conducting overhaul to ensure the fire was indeed out. Red Cross also responded to the scene to assist any displaced residents.

The fire did approximately $10,000 in damage to the structure. The cause of the fire is under investigation.
###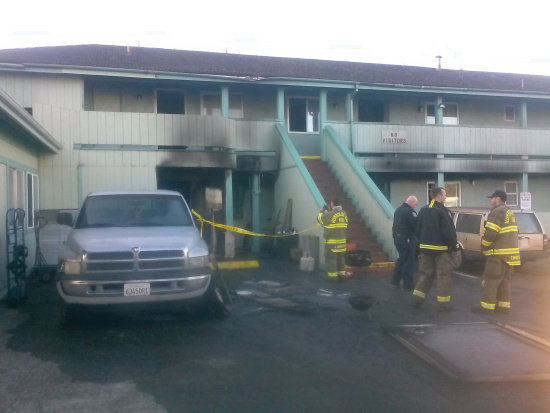 A fire broke out this morning at the Eureka's Budget Motel, which is on Fourth Street at the corner of M. According to firefighters still on the scene, the fire sent one person to the hospital. Another person suffered from minor smoke inhalation but refused treatment.
The fire started outside one of the downtown motel's storage rooms, near the lobby. The cause is still under investigation.
The Budget Motel is on the city of Eureka's list of "problem motels." When the city crunched the numbers prior to the closure of the Blue Heron, the Budget Motel came up second in total calls for police and fire service, second only to the Heron itself.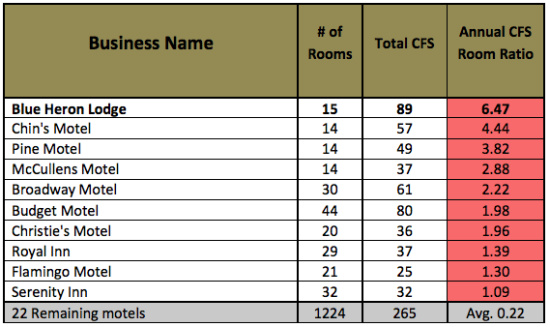 PREVIOUSLY